The 2019 Ram 1500 Limited: Bigger, lighter, quieter, classier half-ton pickup takes the fight to F-150 and new Silverado
Calgary, Alberta – All-new Ram trucks don't come along very often. The 2019 model is only the fifth ground-up new pickup since the name was reintroduced in 1981. It's a huge model for Fiat Chrysler Automobiles (FCA) in every way – big truck, big profits and a big challenge for supremacy in a full-size truck segment that's more competitive than ever.
Ford's refreshed F-150 remains the sales leader and Chevrolet has also just introduced an all-new Silverado, landing the new 1500 squarely in the middle of a three-way fight for bragging rights in a decades-old rivalry.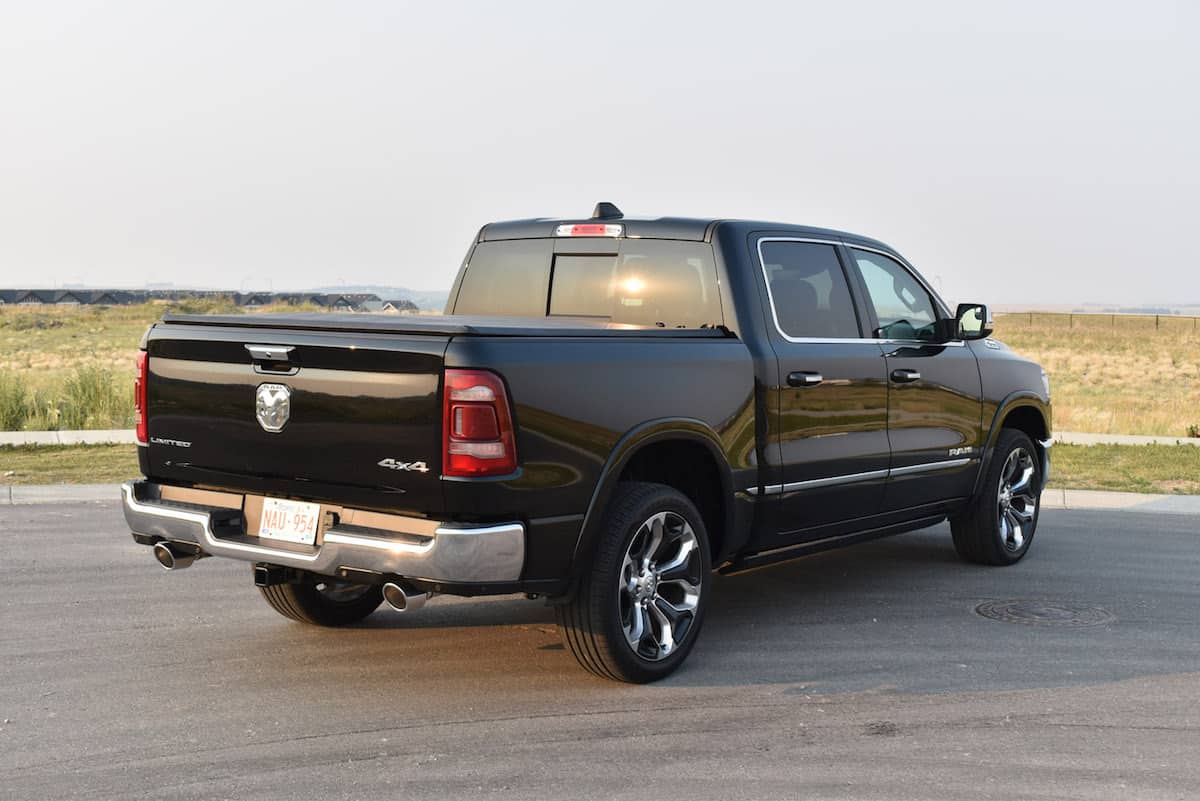 2019 Ram 1500 Release Date
The new Ram truck made its world debut at the 2018 North American International Auto Show (NAIAS) in Detroit and is now on sale across North America. Production switches to Sterling Heights, Michigan, from nearby Warren. Read more about the Ram 1500 release date here.
Interior of the New 2019 Ram 1500 Limited
It's no surprise that the 2019 Ram's interior has already won industry awards. Its originality, design touches and materials wouldn't be out of place in a big-name luxury sedan and help justify the lofty price tag of this Limited grade.
The massive, 12-inch central screen dominates the cabin. Its Uconnect interface is intuitive and we liked the facility to save the most-used 'apps' – functions like ventilated seats or FM radio – to a row of favourites along the bottom edge. There are still physical buttons for the most important stuff though – HVAC and audio volume controls among them – and in a suitably chunky size for ease of operation with work-gloved fingers.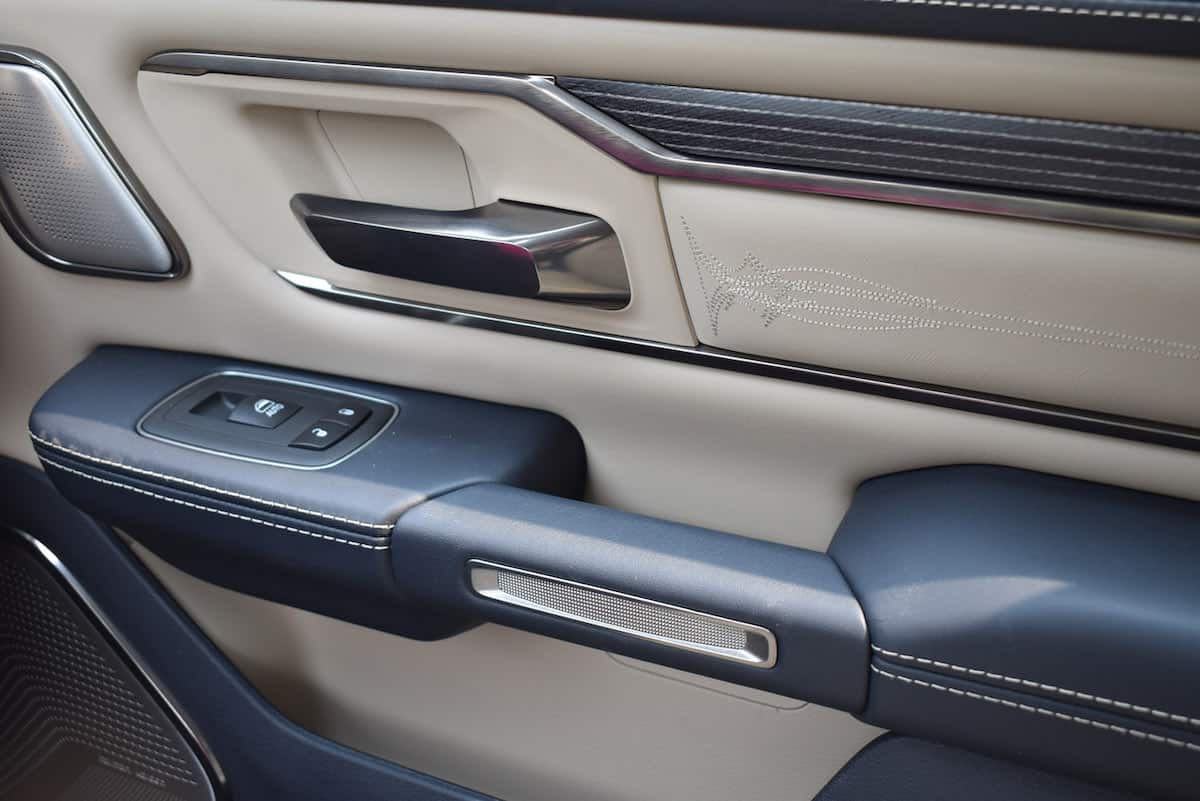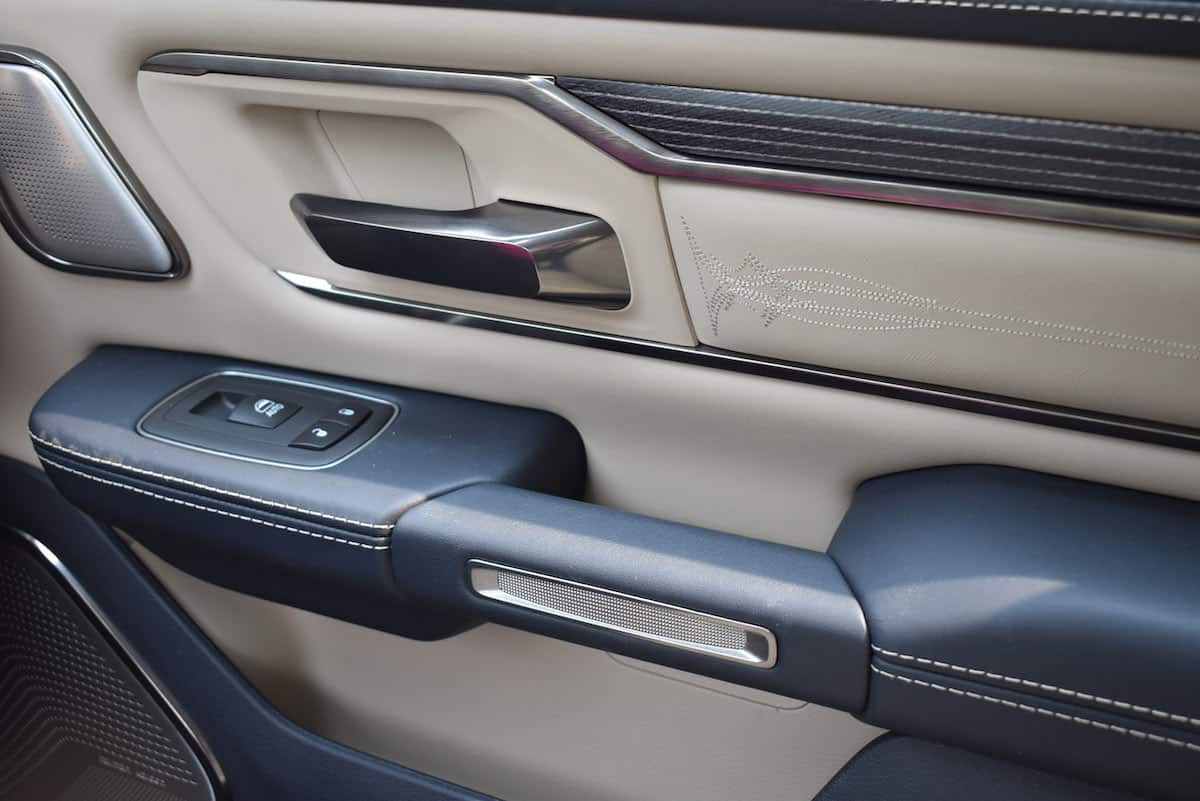 The latest infotainment technology is every bit as important to truck buyers as it is to car buyers, so the Ram needs to be right up to date – and is. There are USB-C ports, for example, as well as must-have Apple CarPlay and Android Auto connectivity. Updates to the Uconnect 4C system on this truck come over-the-air via a built-in wifi hotspot. During our week with the vehicle, the display prompted us to schedule a convenient time, such as overnight, and the update was completed without trouble.
The Harman Kardon 12-channel, 19-speaker audio system on the test truck comes as part of a C$3,895/US$2,695 Limited Level 1 equipment package; it's also available on Laramie and Longhorn grades. It's claimed to be the most powerful ever to be offered in a pickup and Grammy-winning Nashville music producer, Dave Cobb helped Harman Kardon's engineers with the final tuning. It sounds great, as you'd expect, and the brushed metal covers on the door speakers look great, too.
Also read: New Ram Truck's Laramie Longhorn Edition Goes Upscale Country
The audio isn't the only thing on the Limited that's country-influenced – there's a nod to Western wear in the stitching pattern of the interior leather trim. Right around the cabin, including the comfortable seats (ventilated and heated front and rear), the materials are high quality and the fit and finish excellent. We're not sure if this is as a result of production moving to Sterling Heights, but either way we're not complaining.
Overall, it's an impressive effort from the FCA interior design team, with nice details including the historical Ram truck silhouettes molded into the central storage bin, although the mathematical formulae on the inside of the bin lid are a quirky detail too far.
What others are saying about the new Ram interior:
NYDailyNews did a first drive review and stated, "With four inches of extra cab, it's unsurprising that the 2019 Ram Limited delivers an absolutely enormous interior, regardless of which row you happen to be sitting in."
While Autotrader.ca's Ram 1500 review describes "the first row is roomy enough, but the back row is fit for royalty. Not only are the front seats heated and ventilated on the Limited trim to go with the heated steering wheel and heated rear seats, adding the Level 1 equipment group gives ventilation to the second-row seats as well."
A Redesigned Ram 1500 for 2019
Designing a pickup truck is a tough brief in this image-conscious, fuel-conscious era: make it look tough, but avoid brick-like aerodynamics. Make it look high-end for private buyers, but keep it functional for work fleets. Ram stylists have walked the line and created a truck that's longer and wider, but also around 225 lb/100kg lighter than before. A cab-length increase of 4 inches creates interior space for fancy features and passenger comfort.
FCA, especially Jeep, has become something of a master at adding interesting brand details to its vehicles. Here the range-topping 1500 gets some bling Ram badging and lots of chrome, but the slim LED lighting adds sophistication and the overall effect stands out in a distinctive rather than ostentatious way.
The lines are made cleaner, and aerodynamics improved, by a step rail that lowers and raises automatically with door operation. Unfortunately, it's a little hasty to retract if front and rear occupants on the same side enter at different times, which can lead to some frustration and the occasional bump on the foot.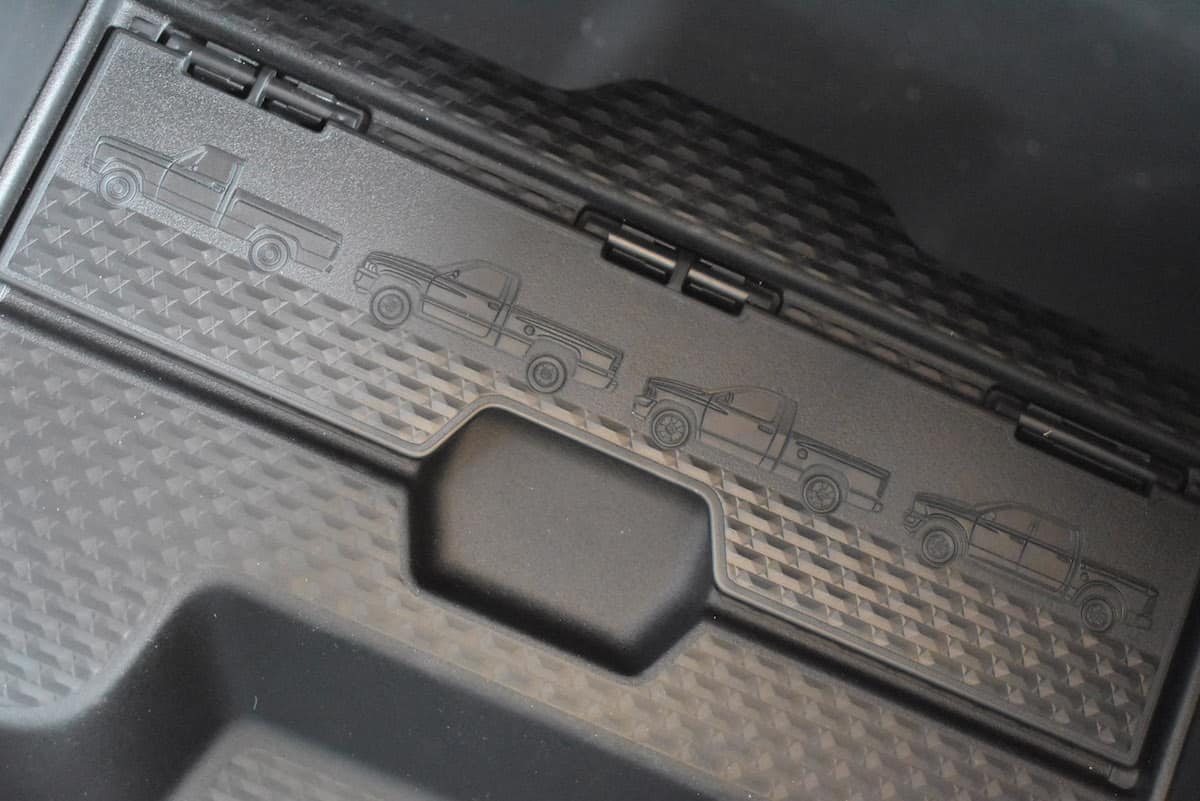 Review: 2019 Ram 1500

Limited Crew Cab 4×4
We spent a week with a Limited Crew Cab 4×4 (base price C$74,195/US$ $57,590) to see how it shapes up.
Our Driving Impressions
The 5.7-liter Hemi V8 is a mature engine – powerful at 395bhp (and 410 lb-ft), but quiet and smooth. It's well matched to the standard 8-speed automatic transmission. Consumption-wise, we easily matched the claimed 13.8L/100km (20mpg) combined figure, but the truck was mostly lightly laden, and we didn't tow. For the record, the towing capacity is 11,340 lb.
Noise and vibration from the powertrain are spectacularly well isolated from the cab by a number of innovative features. The first is active tuned mass modules (ATMMs), mounted one each side of the frame, which shake 180° out of phase from the powertrain vibrations, cancelling them out for the occupant from the seat, floor and steering column. The cabin also boasts an active noise cancelling system and acoustic glass. The result is excellent rolling refinement, even when the Hemi is in fuel-saving, four-cylinder mode.
Town driving isn't the Ram's natural habitat but it's actually pretty easy to operate. The remote tailgate dropdown is handy when loading up, but urban parking spaces are, inevitably, a tight squeeze.
It was a pity, then, that this particular 1500 still rode like a truck – you felt every bump, even if you didn't hear it. A couple of caveats though: one, we weren't able to drive the Ram with a heavy load in the bed (max payload is 1,770 lb), which might have settled things down; and two, this Limited came with standard, all-around Continental air suspension and optional 22-inch rims in place of the standard 20s. It would be well worth comparing the air suspension with the regular coil springs and new Hitachi frequency-response shocks, and the 22s with the 20s, before you buy.
Town driving isn't the Ram's natural habitat but it's actually pretty easy to operate. The remote tailgate dropdown is handy when loading up, but urban parking spaces are, inevitably, a tight squeeze. The electric power steering is light and accurate, and the back-up and 360° cameras are helpful when maneuvering. The latter is also part of the Limited Level 1 package, as are adaptive cruise and lane-keeping assistance systems that work well on the highway.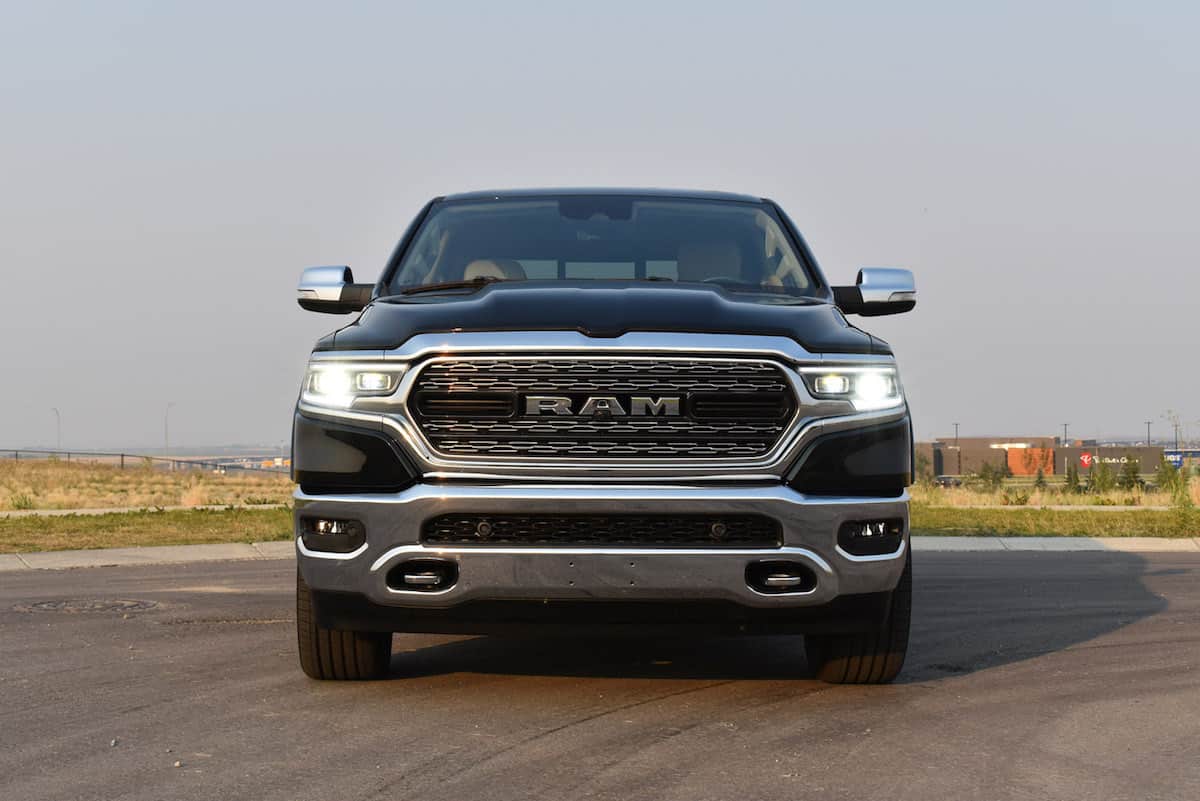 Takeaway
Truck buyers are increasingly seeking the same refinement, sophistication and family-friendly features as car and SUV consumers. The 2019 Ram 1500 meets those demands with its high-class interior and on-road refinement. Careful speccing would appear to be just as important here as it is for car buyers, but it shouldn't be hard to find the right combination given the huge number of permutations on offer.
The options currently available to 1500 buyers include a 3.6-liter V6 engine; a 3-liter diesel will follow in 2019. A fuel-saving, 48V eTorque mild hybrid system is standard on the V6 and a cost-option on the V8. There's no word yet on whether Ram will follow Ford in offering a full hybrid truck, but this new 'DT' 1500 shows that pickup trucks are evolving almost as quickly as cars, so expect further enhancements throughout its life. For now, it's state of the art.
Pros
Top-notch interior

Quietness and refinement

Easy to maneuver
Cons
Lumpy ride

Occasional design misstep

Hyperactive retractable step rails
2019 Ram 1500 Price
In the US, the new pickup will start at US$31,695 topping out at $57,690 for the Crew Limited 4×4 powered by the 5.7L Hemi V8 (less the $1,645 destination fee).
In Canada, expect to pay starting $43,795 for the Crew Tradesman 4×2, up to $74,595 for the Crew Limited 4×4 (less fees).
Read our 2019 Ram 1500 pricing post to see all models and price points.
Learn more here
Ram 1500 USA | Ram 1500 Canada