SANTA BARBARA, Calif. — Not only is Nissan thumbing its nose at the so-called demise of the sedan, it's doubling down with a new platform for the 2019 Altima it says is the most expensive it's ever done.
New Altima Pushes its AWD
In Canada, the news around the Altima is even more interesting, with all-wheel drive as standard equipment, a clear shot at Subaru, which has staked out a sizeable chunk of the Canadian market with a lineup of vehicles almost exclusively equipped with all-wheel drive, including the new 2018 Impreza and Subaru Legacy, review here.
It's a strong entrant in the all-wheel-drive sedan market, as well, with a stylish new design and snazzy interior that wouldn't be out of place in Nissan's luxury brand, Infiniti.
The all-wheel push is unique to Canada, as the American market will get a choice of front- and all-wheel drive.
Under the hood: Altima's 182-hp powerplant
What Canada won't get, however, is the 248-horsepower 2.0-litre high-output variable compression turbo engine. Nissan Canada has chosen to go with one engine only, a 2.5-litre, non-turbo, four-cylinder mill. In the U.S., the 2.5 is also the only choice available with all-wheel drive.
That engine's 182 horsepower and 178 pound-feet of torque will be more than adequate for most buyers, as it pairs nicely with the continuously variable transmission, a gearbox once worthy of hatred but which is now, at least in the latest Nissan/Infiniti vehicles, quite well-done. It simulates the feel of an automatic but still offers the fuel efficiency benefits of CVTs.
CVT Transmission
For smaller engines, the CVT arguably works better than many seven, eight, nine and 10-speed automatics, which in many applications seem to hunt too much for the right ratio when paired with less-torquey engines.
ProPilot Assist semi-autonomous driving aid
Also entering the lineup at a lower and lower price point is the ProPilot Assist semi-autonomous driving aid, which is one of the better ones in the market. That arrives as early as the SV trim level, only one step above the base S model.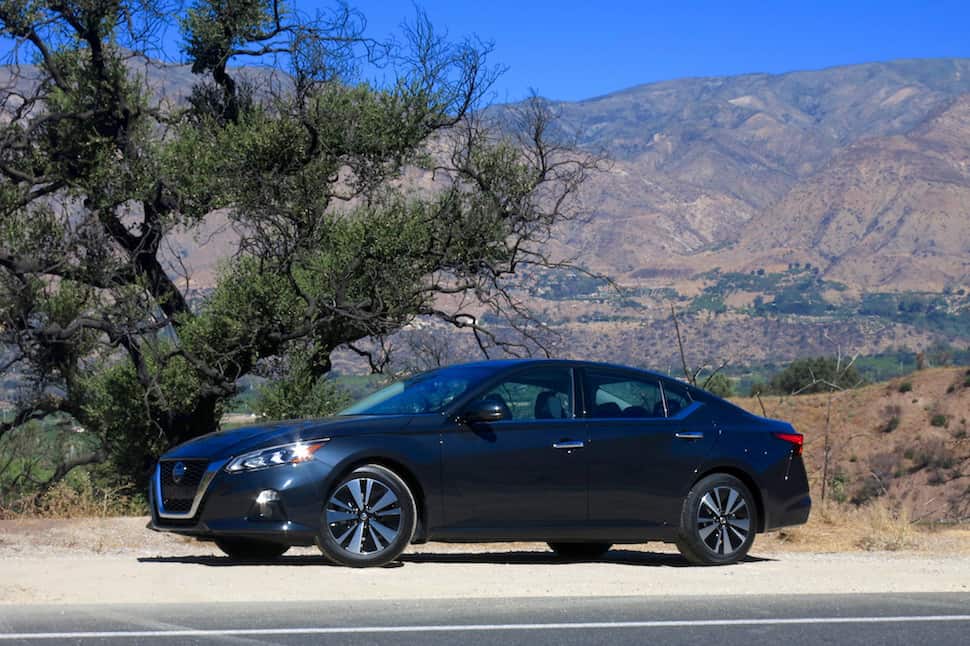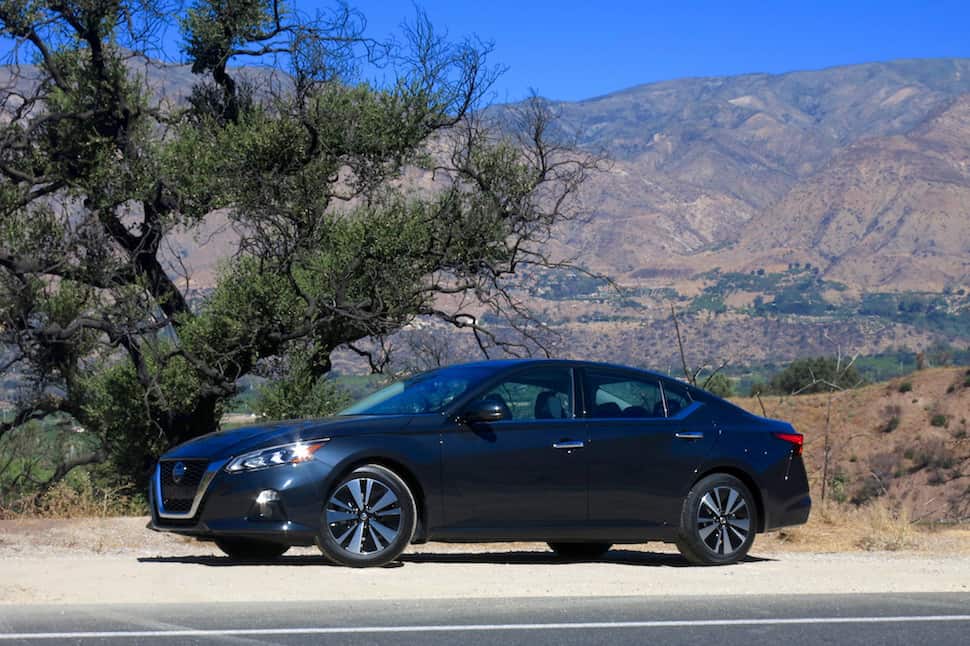 More 2019 Altima Features of Note
Canadians will also appreciate the standard remote engine start and standard heated seats. Platinum models, which feature Intelligent Climate Control (basically, automatic HVAC), will also automatically pre-heat or pre-cool the car when the remote start is activated. Drivers without Intelligent Climate Control can accomplish a similar objective by leaving the car set to the desired temperature when parking.
The list of standard equipment is impressive, but it's also reflected in the price, which starts at C$27,998. All models include: automatic emergency braking, driver alertness warning, rear door alert, rear view monitor, eight-way power driver's seat, 60/40 folding rear seat, Apple Car Play and Android Auto, seven-inch display between the tach and speedo, four USB ports (including USB-C) and heated outside mirrors. A large touchscreen display above the centre console controls audio, connectivity and, if equipped, navigation functions. It also includes actual volume and tuning knobs. That the most-used functions are brought out to actual buttons and switches is also something drivers will appreciate.
For the new model, Nissan has incorporated a number of changes that are immediately apparent when driving: first, engineers reduced longitudinal chassis stiffness (meaning from front to back) by 15 per cent to make bumps less apparent, while increasing side-to-side stiffness by 10 per cent to improve cornering.
On the twisty roads near Los Angeles, including the delightful Kanan Dume Road, the grip was impressive yet the ride was supple.
A sport setting for the transmission would be a welcome addition, to help the transmission stay at more aggressive gear ratios to assist accelerating out of corners.
Nissan has also improved what it calls Zero Gravity Seats, apparently inspired by NASA, with more side bolstering for better support in spirited driving. For our combined four hours in the car, they were comfortable.
Nissan's senior vice-president, R&D Americas, Takeshi Yamaguchi, joined us for dinner after our drive and pressed us for areas for improvement. It wasn't easy, but he listened to a couple of my suggestions, which included using the rear sonar sensors to detect whether the car is in a closed garage and thus disable the remote start, as well as sensing whether to turn the seat heaters on when the remote start is used during cold weather.
Yamaguchi said the technology is already on board the car for both ideas, and suggested they would be easy to implement.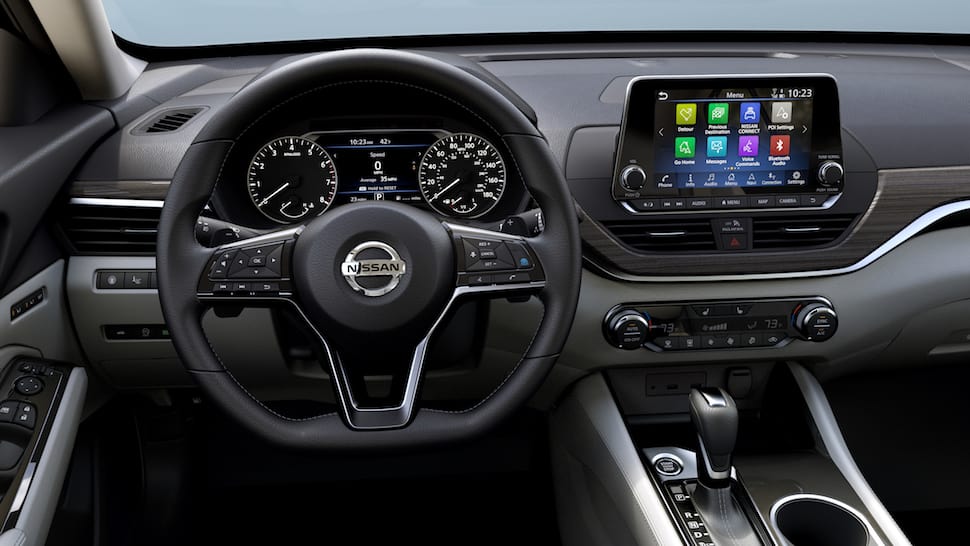 Nissan's Safety Shield 360, which arrives at SV trims and higher, adds pedestrian detection to the automatic emergency braking, as well as high-beam assist, rear automatic braking, lane departure warning, blind spot warning and rear cross traffic alert. Which is in addition to ProPilot Assist, which uses radar cruise control and lane centring technology to assist drivers in staying centred in the lane, even during turns, and maintaining a consistent gap with a vehicle ahead, even as that vehicle changes speed.
Also read: 2018 Nissan Maxima Review
ProPilot works better than some systems, which feel as though you're bouncing off the lane markings. It seems to get fooled from time to time when an exit lane opens and tries to steer toward it, but it takes very little pressure on the steering wheel to defeat that tendency, however. ProPilot also will not let drivers leave their hands off the steering wheel for long, with a series of increasingly obvious warnings that culminate in the car coming to a stop if those warnings go unheeded.
Nissan may have raised a few eyebrows with a base price for Altima of $27,998, but it's not far out of line with competitors Camry ($27,850), Accord ($26,590), or Mazda6 ($27,000), and none of those even offers all-wheel drive. Given the expense of adding all-wheel drive, it's an aggressive pricing strategy indeed.
Altima Edition One
For those seeking a bit of exclusivity, at launch, Nissan is offering the Edition One, which adds unique 19-inch wheels, Edition One floor mats, spoiler, external ground lighting, illuminated kick plates and Edition One badge. Only 250 will be available in Canada.
2019 Altima Release Date
The 2019 Altima is planned for a late-2018 launch.
To learn more check out Altima US | Altima Canada
The specs
Engine: 2.5-litre four-cylinder

Power: 182 hp

Torque: 178 lb-ft.

Transmission: continuously-variable transmission

Brakes: four-wheel discs

Steering: electric power-assist rack-and-pinion steering with rack-mounted assist motor

Suspension: strut with coil springs and stabilizer bars (front); multi-link with coil springs and stabilizer bar (rear)

Fuel economy (l/100 km, city/highway/combined): 9.1/6.5/7.9 (S, SV); 9.3/6.7/8.1 (Platinum, Edition One)
2019 Nissan Altima Price
In Canada:
Price: $27,998 (S); $31,498 (SV); $34,998 (Platinum); $35,998 (Edition One).
In US:
Pricing inbound.