What's more important fashion or function? Of course you'll say, "Well it depends…" With the Leatherman Tread, you can have a stylish bracelet and a bottle opener, screwdrivers, a cutting hook and even an oxygen-tank wrench…because we all need that on any given day.
The Leatherman Tread launched last year and is popping up on wrists across the continent. From motorcyclists to backyard mechanics to anyone not wanting to tow a tool kit, it's a fashion statement that says, "Hell yeah, I'm prepared!"
A travel multi-tool born out of necessity
Like many of the tools on a typical Leatherman product, the Tread was born out of necessity. When Ben Rivera, President of Leatherman was entering Disneyland, security didn't like the pocket-sized Skeletool he carried. Instead of leaving it at security he took it all the way back to the hotel room which probably didn't impress his waiting family. Feeling naked without a multi-tool, Rivera set out to design a tool that would be approved not only at Disneyland but also be TSA compliant.
Leatherman Tread links & accessories: a closer look
The Tread is crafted using high strength corrosion resistant 17-4 stainless steel and comes with the Leatherman 25-year guarantee. Each of the ten links includes two to three functions from screwdrivers, hex drives, box wrenches, a SIM card pick, a carbide glass breaker and also includes that bottle opener, cutting hook, – 29 tools in all. Even the edges of the links are filled with tools! Bring the Leatherman bit set along and they mount in the slots.
The Multi-tool wraps around your wrist but if you have a normal or smaller wrist it should be fitted so it doesn't dangle in the carburetor or salad. It's up to you to decide which of the links you will remove if your wrist is too slim for all ten links. Of course you'll need another Leatherman to remove the links (or a dime. A penny fits – if you still have one). It comes in stainless steel or for more money purchase the black model.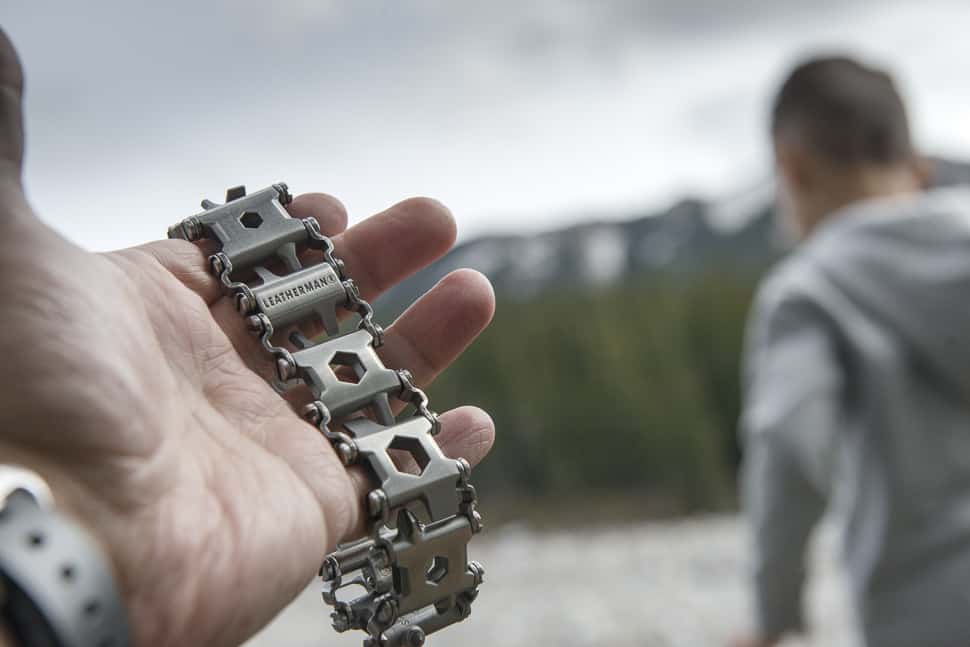 Durability and price
They had some pretty good engineers making the design. The links curve ever so slightly so the tools located between the links don't snag on clothes when it's around your wrist. When you remove it to use a tool, the links are engineered to lay flat so that you have a good handle to torque with. If you think it will break while twisting it forget it. Unless you are Thor, you are not going to cause any damage. The bottle opener takes a bit of practice but you'll have it mastered after the first dozen.
It is a Leatherman but you won't find a pair of pliers or a knife hiding in the links. For one thing, that would be awkward. And more importantly, pliers and knives are not allowed on planes or in amusement parks and that was the purpose of the Tread.
Weighing in at 168 grams it is rather heavy but easy to get used to. Be prepared to have everyone ogle your cool multi-tool on the road and at the bar. Sorry, this model does not come with a "chick magnet." You're on your own.
Price range
Starts at US$165 for the stainless steel to $220 for the black.