This Nissan S14 has a serious GT-R Complex. And an RB26 Swap
Within the Japanese domestic market, to the world of drifting, to the guy in Suburbia who just sold his drag Civic, a clean 240SX is arguably the most sought after car within the aftermarket arena these days. It simply appeals to different people for various reasons. From crazy S13 sliders to insane S14 RB25DET swaps, it's all new and exciting to the masses. But then there's Nguyen Nguyen's all-round, daily-driven S14, a car that is so far from just exciting, it's rather (as the cool kids say these days) completely disgusting. Absolute, pure dirtiness—a term synonymous with all that is good, is exactly what this formidable S14 is all about.
Also checkout: Timeless: A 1992 Nissan 240SX SE Feature with 1998 Silvia SR20DET implant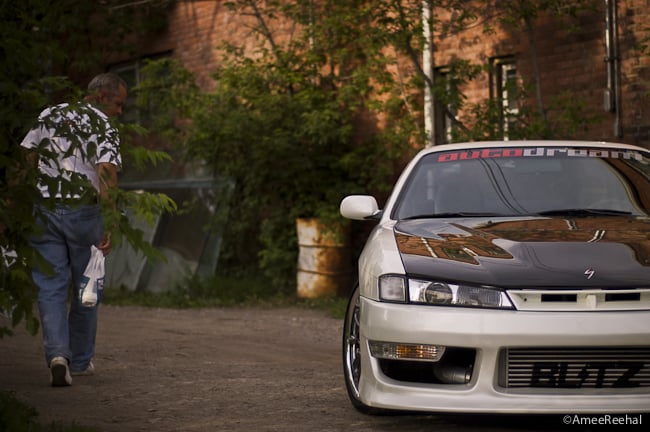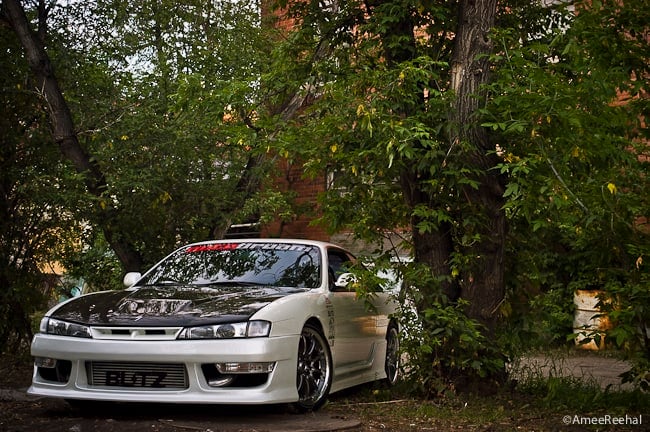 While many SR20-powered 240SX owners lay to bed each night blissfully dreaming of that coveted RB26DETT drop-in, only a handful are losing sleep in the garage actually doing it. It's not necessarily the high cost for this grand-daddy-of-them-all Skyline GT-R engine that will set anyone off, but rather the blood, sweat, and tears, not to mention custom parts and mad fabrications, required for the hefty 2568cc inline-6 swap. "A lot of people said it couldn't be done," Nguyen says, "that the engine is too heavy, weight distribution concerns, etc. It's definitely a lot of hard work and not that easy to do." Having done three such conversions to date at his Nissan-exclusive shop, Autodream, based in Calgary, Alberta, Canada, we'll take his word for it.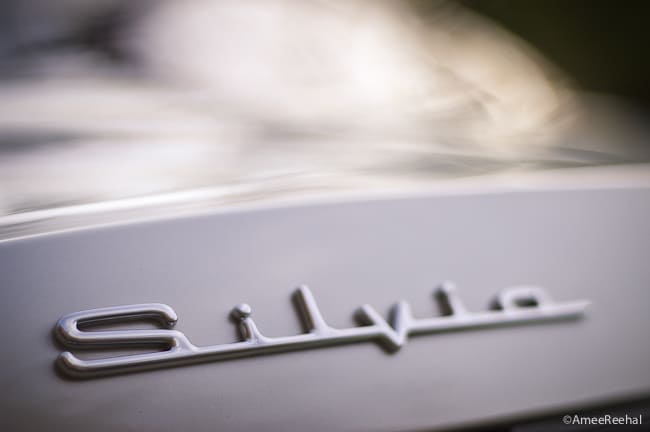 Perhaps the most prominent apprehension of the pessimist and seasoned tuner alike are the issues surrounding the transmission, particularly, how to snug an all-wheel drive design into a RWD car. Hey, let's bolt-on a Skyline R32 or R33 tranny and we're kosher, right? Sounds great but they're both rear-wheel drive systems as well. Ultimately, the RB25 transmission was installed, while the RB26 oil-pan modified to fit into the new tranny, along with the drive-shaft and motor mounts. Now, this RWD was blessed with an AWD soul, and when the dust finally settled the dirt kicked back up—precisely where all the debauchery begins.
The RB26DETT is a twin turbo engine but many tweakers, including Nguyen opted for the big single HKS T51R-KAI turbocharger, along with a HKS manifold both of which bolted on with precision. According to Nguyen, the single turbo is capable of more power, particularly on the top-end, "plus it looks way crazier." There is also an SC12 supercharger in this setup, but in pursuit for top-end performance, it was simply disconnected. Because the supercharger is belt-driven, it essentially steals power to make power, thus, robbing it from the top.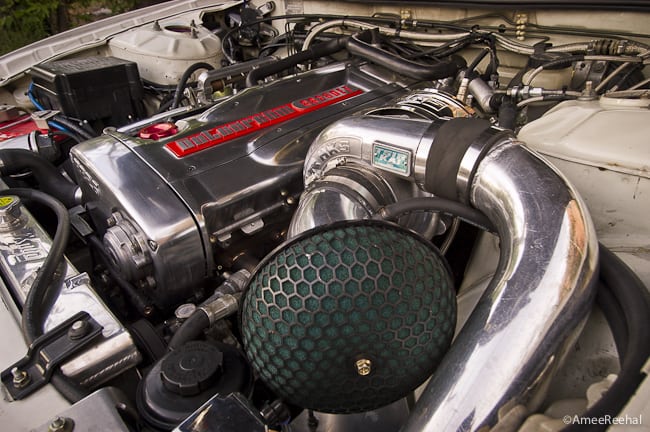 Adding to the dirty-dirty under the hood, a Blitz LM intercooler; an HKS SSQV blowoff valve; GReddy oil catch tank; KOYO aluminum radiator, and an HKS Hiper exhaust. Some of the custom parts include all the piping, the downpipe, engine mounts. This S14 has a new found thirst so 760cc MSD injectors were included, fed by a 300ZX fuel pump rated for over 600hp worth of guzzling. Managing fuel and upgrades are the A'PEX Power FC-D Jetro system with a boost control kit with an Innovate LM1 wideband sensor. Nissan uses an airflow meter that restricts airflow to the top-end, whereas the new map-based setup doesn't, the airflow meter was messy in the engine bay anyway – it had to go. Because the new ECU doesn't read air the same way, the airflow meter wasn't required and could be removed. To complete the driveline connection, a Skyline GT-R LSD from a retired R32 was coupled to a 1-piece driveshaft specifically made for the swap.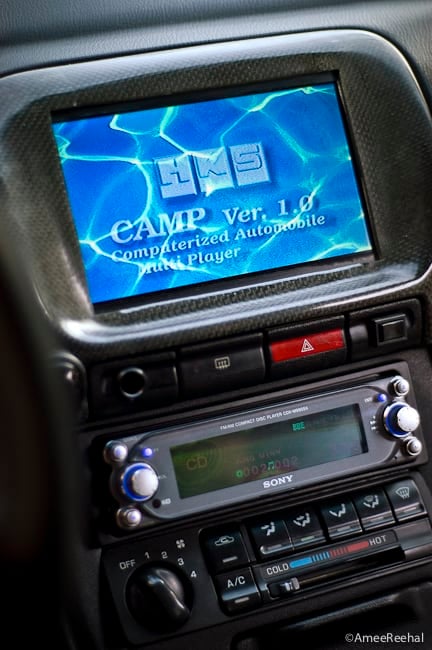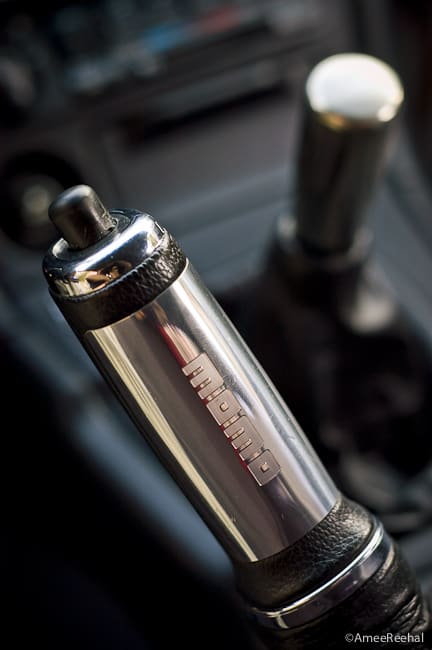 The mandate of this project was to build a well-rounded car, a daily driver that runs on pump fuel. Whereas many would pass out with content following the grueling GT-R swap, Nguyen takes it much further, and that's really what makes this S14 so filthy. The interior includes an S15 steering wheel and Nismo shift knob, MOMO Street Racer seat, and a host of Autometer gauges. The custom carbon fiber dash is fitted with an Eclipse CD5423 headunit; 5-inch LCD which also reads data from the HKS C.A.M.P setup to express the RB26's feelings on the screen. More I.C.E. includes Focal 3-way speakers, and two Eclipse 12-inch aluminum series subs, not in the trunk, but in custom enclosers housed in the rear wheel-well quarter panel. A Swiss Audio 16-band EQ makes it's way into the custom trunk rack, along with a couple Swiss Audio amplifiers.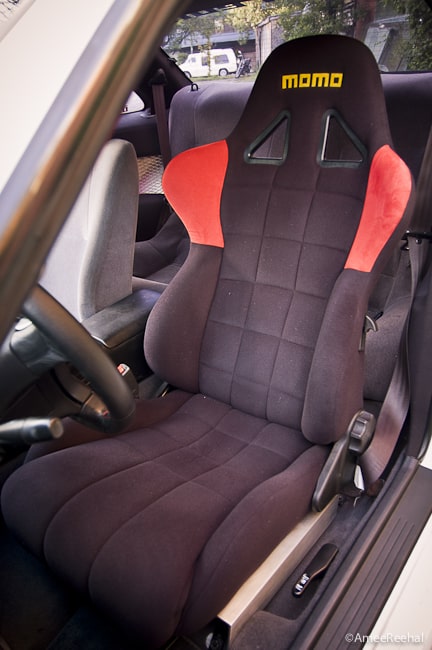 Previously owning a black car, Nguyen went with an Escalade pearl white paint this time around because he was "tired of keeping it clean." How fitting. Styling includes a VIS V-speed front bumper, VIS Techno-R rear bumper, and a VIS Vader carbon hood. This '95 Zenki S14 was fitted with a '97 Kouki headlight and taillight conversion that lends the car a more aggressive look while definitely branding some gritty distinctiveness.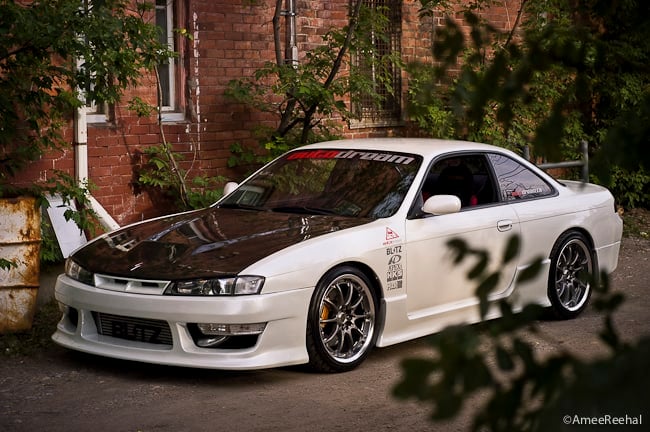 The rolling gear are Volk Racing GT-N, 18×8-inch up front and 19×9.5-inch in the rear, wrapped in Dunlop FM901s 225/40R18 and 265/35R19 respectively. The front brake assembly sees 4-piston Brembo calipers with off-the-shelf 300ZX calipers out back, all bolted up to the essential 5-lug conversion. The heavy RB26 and company are handled with front and rear Suspension Techniques sway bars, Energy Suspension bushings, and HKS Hiper coilovers keeping this RWD glued to the pavement.
Takeaway
After seeing a few fine examples of swapped 240s, you can look at it like this: either we have a brief trend here or a legitimate low-buck Supra slayer. Single turbo RB26s can rock 1000hp and the S14 is still lightweight compared to the Supra and even the GT-R for that matter. As the price of RB26s continues to become more reasonable, more and more swapped S14s continue to surface. With AEM recently releasing their EMS box for the RB26DETT/RB25DET they are banking on a swap as prolific as the SR. And with the possibility of building an S14 that will run many high-dollar cars, guys like Nguyen can be considered pioneers of something ready to take off and we didn't even get into the topic of the RB30.
As long as tuners continue to push the envelope the results will continue to be good, and if they exceed all expectations like this S14, they may even be considered downright dirty. It doesn't get much better than that.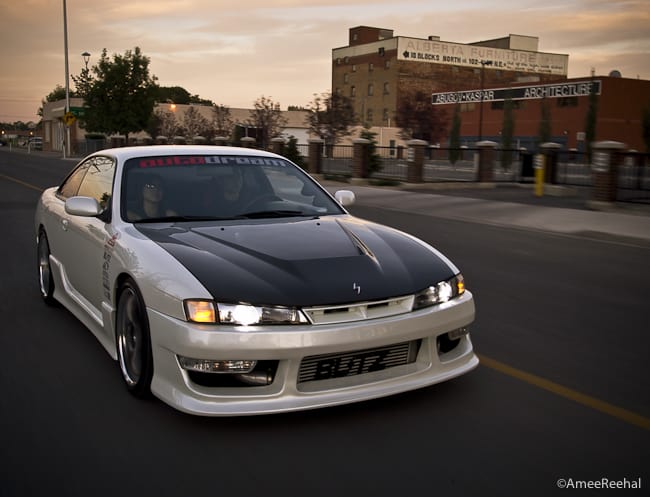 1995 Nissan 240SX SE with RB26 swap Tech Specs:
Engine
RB26 Skyline GT-R 2.5 liter inline-6
Engine Modifications
HKS T51R Kai Turbocharger; HKS SSQV blowoff valve; Blitz LM intercooler; Greddy oil catch tank; KOYO aluminum radiator; custom piping, downpipe, engine mounts, 1-piece driveshaft; HKS Hiper exhaust; A'PEX turbo timer; 760cc MSD injectors; 300ZX fuel pump; RB25 transmission.
Engine Management
A'PEX Power FC-D Jetro system with boost control kit and Innovate LM1 wideband sensor; HKS C.A.M.P (Computerized Automobile Multi Player) metering system
Suspension
Suspension Techniques front and rear sway bars; Energy Suspension bushings; HKS Hiper coilovers
Wheels, Tires, Brakes
Volk Racing GTN 18×8-inch (f), 18×9.5-inch (r); Dunlop FM901 225/40/18 (f), 265/35/18 (r); Brembo 4-piston calipers (f), 300ZX calipers (r); 5-lug conversion
Exterior
VIS V-speed front bumper, VIS Techno-R rear bumper, VIS Vader carbon fiber hood; Kouki headlight and taillight conversion; Escalade white pearl paint; HID conversion
Interior/I.C.E.
S15 steering wheel; MOMO Street Racer seat; Nismo shift knob; Autometer oil pressure and boost gauges; Custom carbon fiber dash mount with 5-inch LCD screen; Eclipse CD5423 headunit; Focal 165W3 3-way speakers; 2 Eclipse SW8122.4 12-inch Aluminum Series subwoofers in custom enclosures within rear wheel wells; Swiss Audio SEQ16 16-band equalizer; Swiss Audio SMR6002 and SMR9902 amplifiers in trunk;