Shelby unveils their latest off-road creation with the new $116,815 US Baja Raptor getting m
ajor upgrades to the suspension, power, and styling – and 610 lb.ft of torque.
EDITOR'S NOTE: You might also want to check out the new 6-clawed VelociRaptor 6X6 by Hennessey
We've been featuring and reviewing for years what is arguably the most capable, off-the-lot pickup ever offered. But for some Raptors owners, good just isn't good enough.
Even the new 2019 Raptor with a few new features for off-roaders may not be enough.
Shelby today announced the release of their new Raptor. You know, when your stock F-150 Raptor just isn't cutting it. Powered by Ford's twin-turbo V6 EcoBoost powertrain new for 2017-2018 (gone is the V8), this Baja rendition pickup finds a custom cold-air performance intake system and tune, feeding this new Ford Performance engine. So traversing rocks and climbing mountainsides shouldn't be an issue with 525-hp under the hood and more than enough torque at 610+ lb.ft.
Upgraded Raptor Suspension
But power aside, the real deal here is the upgraded undercarriage and footwork. Partnering with FOX Racing, Shelby enhanced the the four-corner adjustable system to include reliable technologies that adapt to any terrain from smooth streets to rigorous off-road trails with a simple 'no tool needed' adjustment — hence, for those of us just strolling through the suburbs, this machine does double-duty, rolling on 18-inch wheels wrapped in BFGoodrich KM2 35/12.50R18 tires.
And for those actually putting the Baja Raptor through its paces, the front 3-inch coiler internal bypass adjustable reservoir shocks and rear 3-inch external shocks should make any obstacle an inconvenience. Add adjustable dual speed controls, suspension undercoating protection, orange anodized aluminum hardware, and heat diffuser fins to level up over already capable OEM version.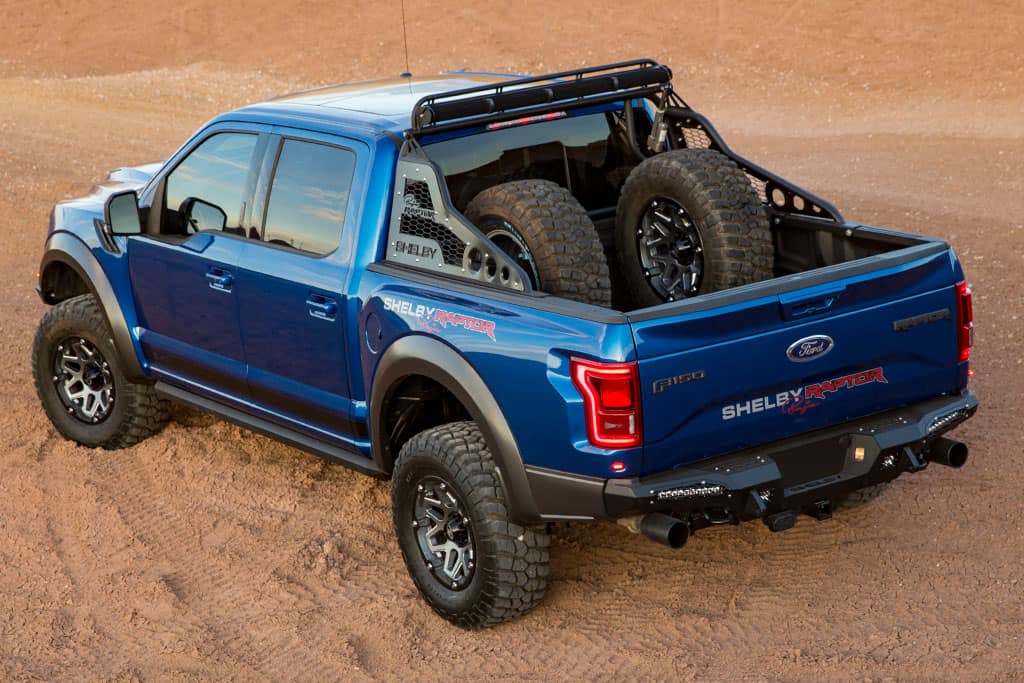 Baja Raptor Styling
Curbside, it the exterior changes are obvious: the front and rear bumpers are customized, so is the chase rack. The rear bed finds a rack to hold a couple spare tires alongside eight LED light configurations. Making entry a bit easier in the rugged 3-ft lifted beast are metal rock sliders with automatic running boards on either side. Up front, a fully functional ram air hood with Shelby lettering and striping ensures everybody knows this truck ain't like the others.
Inside, an official Shelby-registered CSM serial number adorns the dash, surrounded by Shelby Raptor Baja edition embroidered custom leather seats, floor-mats and console badging. Deep tinted windows and carbon fibre interior accents round things out.
Shelby Baja Raptor Price and Availability
Priced at $116,815 US for the full Shelby upgraded truck, consumers looking to transform their existing 2017-2018 Raptor into the Baja version can pay $48,650 for the conversion package upgrade, adding to the $68,165 price tag for the 'stock' Raptor dealer price.
Available only through authorized Shelby Ford dealers across North America, the Shelby Baja Raptors is now on sale. Again, the conversion can be done through the authorized dealers as well.
Learn more – Shelby Baja Raptor – $116,815 US
Also check out: Raptor Reviews
Photos: