We think Subaru's changes to the 2017 Impreza make the car better but will forcing buyers to pay more for safety sour the deal?
Just because a vehicle has been redesigned doesn't mean it will look significantly different. That's the case for the 2017 Subaru Impreza. This Japanese compact, arguably best known for its standard all-wheel drive, sports a brand new design this year, but you'd be excused for mistaking the changes for a styling refresh designed to give Subaru's marketing department something to talk about.
Built on all-new global platform
But Subaru has given its marketers something meatier to work with than a slightly altered appearance: The latest version of Subaru's entry-level Impreza is the first to be built around an all-new platform that will eventually underpin every car and crossover the company sells around the world.
Our initial impression is that the new platform has done this little car some good. Right away, we noticed the car's more comfortable ride, a nice change compared to the previous generation's unnecessarily firm suspension. But it might be a bit too soft now, demonstrating a tendency to float over large pavement undulations that can feel unsettling at highway speeds.
Also check out: 2018 Subaru Impreza Pricing Announced for 5-Door and Sedan Models
Subaru claims its new platform's extensive use of high-strength steel reduces the trifecta of noise, vibration, and harshness that make it into the cabin, but we never found the old Impreza particularly noisy to begin with.
More spacious cabin
More notable is the effect on the cabin, which feels more spacious than before, especially in the rear seating area, which has traditionally been Impreza's weak point. This was a good place for Subaru to focus its effort, considering the Impreza competes for buyers with the Honda Civic and Nissan Sentra, both of which are huge inside (well, huge for compact sedans).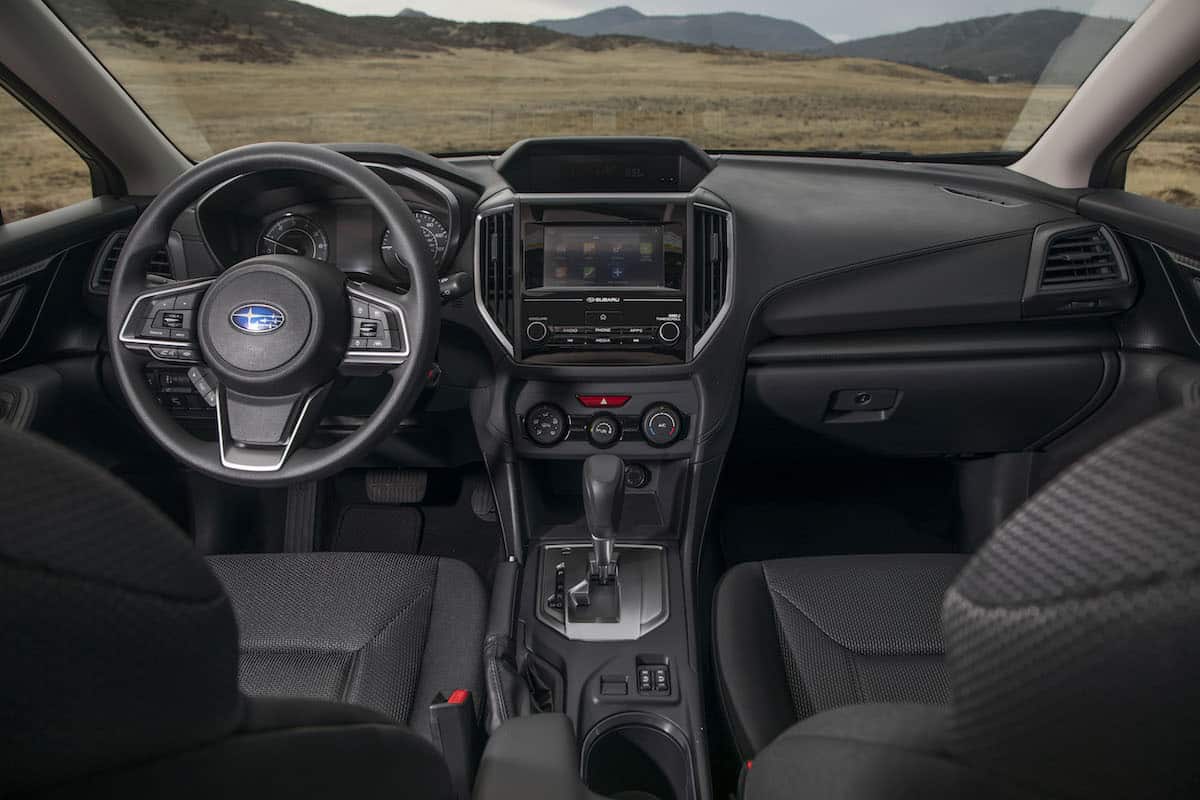 While the overall look is not a dramatic change, it has a more upscale feel thanks to little touches like faux stitching on the dash and a general uptick in the quality of materials. Overall, our Touring tester, at just one rung up from the base model, looked and felt at least as classy as the top-trim Limited variant of the old car that we drove about a year before.
Power: Updated 2.0L engine
Other 2017 Impreza notables include a 2.0-litre horizontally-opposed four-cylinder engine: Its specs look similar on paper to that in the outgoing car, but it's been significantly overhauled, adding direct fuel injection and a nominal power increase.
The addition of four horsepower (for 152) does nothing to make the Impreza feel quicker than before, though we felt like less of the engine's quirky thrum made it into the cabin during acceleration. More noticeable are the effects of changes to Subaru's optional continuously variable automatic transmission (CVT), which now feels less smooth in its transitions than the old CVT did. It's also more eager to ramp up to higher gear ratios in a bid to save fuel, making it feel indecisive when pulling away from a stop in a leisurely manner.
As tested: Impreza Touring Trim
Our test vehicle was kitted out in Touring trim, the only option being the automatic transmission, a $1,200 add that took the as-tested price to $23,195. For that price, the Impreza comes with single-zone automatic climate control, six-speaker stereo, backup camera, cruise control, heated front seats, and 16-inch alloy wheels, plus the expected tech items, like Bluetooth and smartphone integration via Apple CarPlay and Android Auto.
Subaru was one of the first to introduce active safety features to compact cars with its EyeSight system, but it's not available in a 2017 Impreza until you move up to the Sport trim, where that optional package takes the price to $27,200. By contrast, the Honda Civic gets automatic emergency braking, radar cruise control, and lane-departure warning (a few of the features that comprise EyeSight) for less than $22,000, and every Toyota Corolla comes with a pre-collision system with pedestrian detection, radar cruise, lane-departure alert with steering assist, and automatic high beams, right from the car's $16,300 base price.
Takeaway
Overall, we think Subaru's changes to the Impreza make the car better, but forcing buyers to pay more than $27,000 for active safety kit available elsewhere for $10,000 less sours the deal. Still, if your idea of active safety is not getting stuck in the snow, then the Impreza's standard AWD remains a compelling reason to give this car a look.
Learn more – 2017 Subaru Impreza
2017 Subaru Impreza Specs:
Engine: 2.0L horizontally-opposed four-cylinder
Power: 152 hp
Torque: 145 lb-ft
Transmission: Continuously variable automatic
Brakes: Four-wheel disc
Steering: Electric power-assist rack-and-pinion
Suspension: MacPherson strut (front); Double wishbone (rear)
Fuel economy, ratings (l/100km, city/highway): 8.4/6.5
Fuel economy, observed (l/100km): 8.8
Price (CAD): $19,995/$23,195; starting MSRP/as tested
2017 Subaru Impreza Gallery: