Nowhere else in the world are drivers smitten with pickup trucks like they are here in North America. Perhaps that explains the stranglehold this continent's car manufacturers have on the truck marketplace: Ford, General Motors and Ram are the big names in big pickups, and no other brands have been able to make a significant dent in the segment.
That's not for lack of trying: Nissan made a big push last year with its redesigned Titan, but its popularity remains best measured as a fraction compared to the Ford F-150, GM's Chevrolet Silverado and GMC Sierra twins, and the Ram 1500.
Toyota finds itself in a similar boat with its Tundra, a truck last fully redesigned in 2007 and refreshed in 2014, so we spent a week with this full-sizer in an effort to hypothesize about why a pickup that seems to have so much going for it hasn't become the household name its domestic-branded competitors are.
After all, you'd think anything bearing the Toyota badge would appeal to a cadre of vehicle buyers who ostensibly place a high value on reliability, as we're sure that's the first word that comes to the minds of most people asked their opinion of the brand.
Then there are the Tundra's looks, which got a shot of in-your-face in that 2014 redraw, in the form of a bold new grille and sharper corners all around. There's little market for a mild-mannered-looking pickup.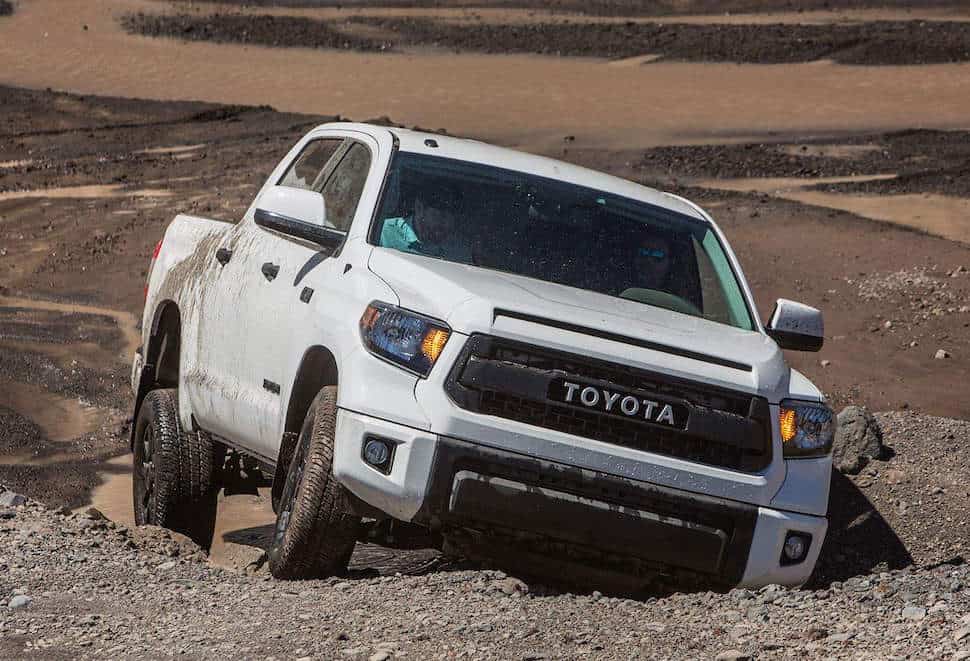 Putting the Tundra CrewMax SR5 with TRD Pro Package to the test
Our tester was a CrewMax SR5 model with the 5.7-litre engine and a TRD Pro off-road package that, when combined with Cement Gray Metallic paint, drove home the notion that this truck is not messing around.
And it feels that way from behind the wheel. Haul yourself up there (without the aid of a grab handle or step rails; the latter eliminated by the addition of the off-road package, the former simply not available) and turn the key, and you're treated to the aggressive rumble of the TRD's performance exhaust system.
Upgrade Packages
Naturally, the view is commanding (it had better be, after scaling Mount Tundra to get up inside), but the truck feels every bit as wide as its two-metre-plus beam measurement. That width presents more issues than just keeping it between the white lines: the climate knobs are a reach from the driver's seat, and our test truck didn't benefit from automatic climate control, despite its $60,000 as-tested price. You have to move up to the Limited model (which costs less, oddly) to get automatic A/C. Fair enough: pickup trucks are meant to be utility vehicles, never mind the proliferation of upscale models wearing trim designations like Platinum (which Toyota also offers on the Tundra CrewMax).
TRD off-road package
While the TRD off-road package ups the Tundra's rough-rider game with underbody skid plates, heavy-duty suspension, lifted ride, all-terrain tires and that rumbling exhaust, it comes across as window dressing next to something like the Ford F-150 SVT Raptor, a specialized off-road machine that shares little more than a name and an engine with the rest of the F-150 range.
The Tundra CrewMax is the variant that turns this truck into a spacious vehicle for five people, though as in other trucks, you trade cargo bed space for the massive rear seat.
But one of the TRD Pro's convenience extras proved unexpectedly handy on a snowy drive: Tundra is unique for an optional rear window, borrowed in concept from the 4Runner SUV, that rolls down as one piece, rather than the tiny side-to-side opening most trucks get. Fifteen minutes into a crosstown drive in a blizzard, the truck's aerodynamics had deposited half an inch of snow on the rear window, obliterating the view rearward, even with the defroster on. The solution? Power the glass down and effectively squeegee the snow away. That's probably not what Toyota's designers had in mind, but it served our purposes just fine.
The Tundra CrewMax is the variant that turns this truck into a spacious vehicle for five people, though as in other trucks, you trade cargo bed space for the massive rear seat. That's not for nothing: even with the short bed, this is a six-metre-long truck.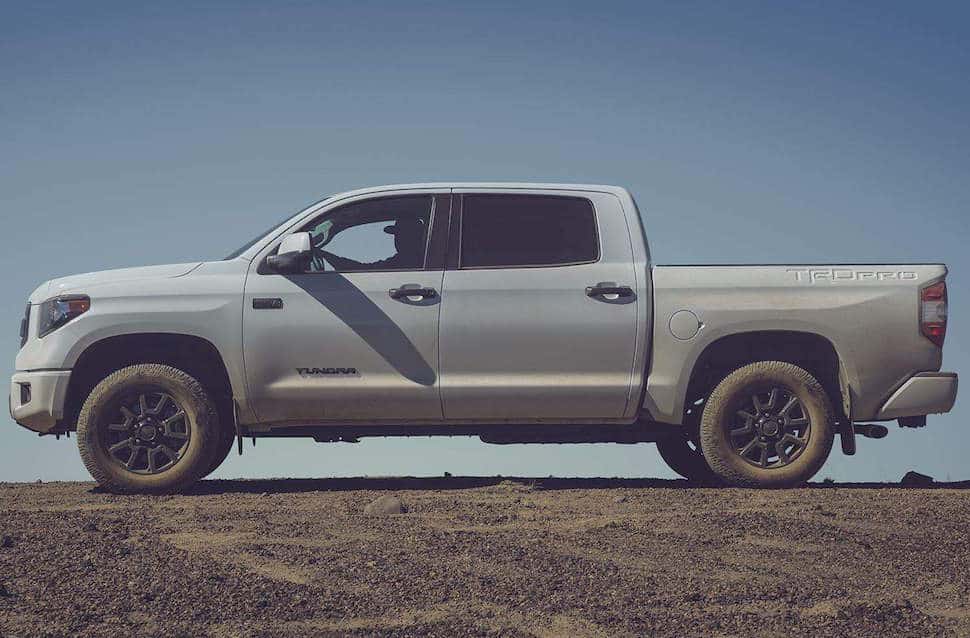 Under the hood
Our tester's 5.7-litre V8 is the standard power plant in most Tundra models, save for a Double Cab that gets a 4.6-litre. It's a strong engine that moves the unloaded Tundra with ease, but GM and Ford both offer their trucks with more power, from a 6.2-litre V8 in the Silverado and Sierra, and a 3.5-litre EcoBoost turbo V6 in the F-150, with eight- and 10-speed transmissions, respectively, that outclass Tundra's six-speed.
Even though the Tundra's power numbers aren't head of the class, the power it does have comes at a price. With the 5.7-litre engine and 4WD, the Tundra's fuel consumption estimates are 18.1/13.9 L/100 km (city/highway), with our tester averaging well over 20 L/100 km in a week of wintry city driving. GM's more powerful 6.2-litre is estimated at 16.0/11.7 L/100 km in the Silverado; one we drove last year averaged about 16.5 L/100 km in the city.
The Toyota Tundra's competition
There are other numbers to think about when truck shopping, like a pickup's payload and tow ratings, and the Tundra is outshone there too by the F-150, which boasts higher capacities for both, without the addition of any of its numerous heavy-duty towing/hauling packages.
But in the end, it strikes us that the biggest impediment to the Tundra stealing a big chunk of sales from its Ford, GM and Ram competitors is a lack of choice: Toyota may offer the Tundra in the requisite three cab sizes and two bed lengths, but it's missing a base V6 engine (and Ram offers a light-duty diesel, something Ford will have soon as well). And you can bet the F-150's choice of four (soon to be five) engines has at least something to do with it remaining Canada's best-selling vehicle overall by a wacky margin.
Takeaway
Some vehicles look good on paper and fail to impress from behind the wheel. The Tundra, on the other hand, looks great in the flesh and is pleasant enough to drive, but its high-end models (which account for a significant percentage of truck sales in general) tend to be more expensive than the domestic competition while offering fewer choices under the hood, where the available options are less sophisticated and efficient. Those are odds that not even Toyota's reputation for durability is strong enough to overcome.
2017 Toyota Tundra Key Specs:
Engine: 5.7L V8

Power: 381 hp

Torque: 401 lb-ft

Transmission: Six-speed automatic

Brakes: Four-wheel disc

Steering: Hydraulic power-assist rack-and-pinion

Suspension: Double-wishbone independent (front); Solid axle leaf spring (rear)

Fuel economy, ratings (l/100km, city/highway): 18.1/13.9

Fuel economy, observed (l/100km): 20

Price: $46,430/$60,025, starting MSRP CAD/as tested