Seven things you need to know about Ford's reborn mid-sized truck
San Diego, California – Ford has brought back its popular mid-sized Ranger pickup to Canada and the U.S. after an eight-year absence. And a first drive shows this from-the-ground-up rethink was worth the wait.
Although it shares the brand, the 2019 Ranger bears almost no resemblance to its sturdy but out-of-date predecessor, which last rolled off the assembly line back in late 2011. The new truck is a model of modern automotive engineering, featuring all of the convenience, flexibility, towing capacity and fuel-saving technology consumers have come to expect from their trucks.
In both looks and performance, the Michigan-built Ranger is a worthy competitor for not only the category-leading Toyota Tacoma, but also GM's highly successful GMC Canyon, Chevy Colorado and Nissan's dated Frontier.
The new Ranger is based on the so-called world truck platform which has been sold in a number of countries for the past few years. Ford delayed bringing the Ranger to Canada and the U.S. for fear of stealing market share from its best-selling F150 full-sized truck. But, as company spokesmen admit, the mid-sized category has become too hot to ignore – almost doubling since 2014. Fiat Chrysler will be the last of the Detroit Three to bring back a mid-sized truck when the 2020 Jeep Gladiator reaches customers in a few months.
Although the new Ranger shares the world truck's platform, it has its own high-strength steel frame, unique engine and other parts designed just for this market.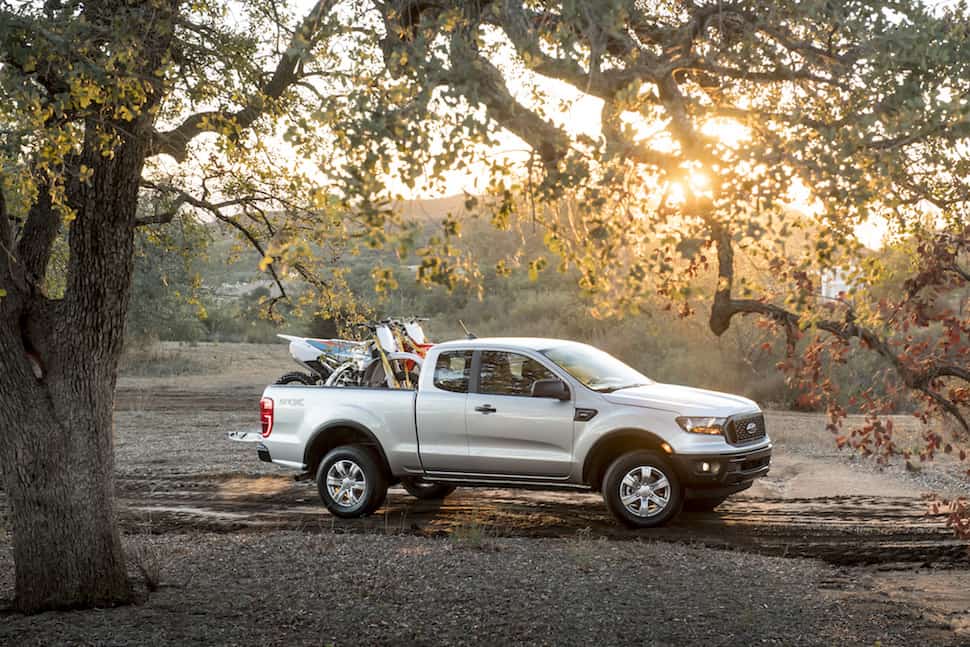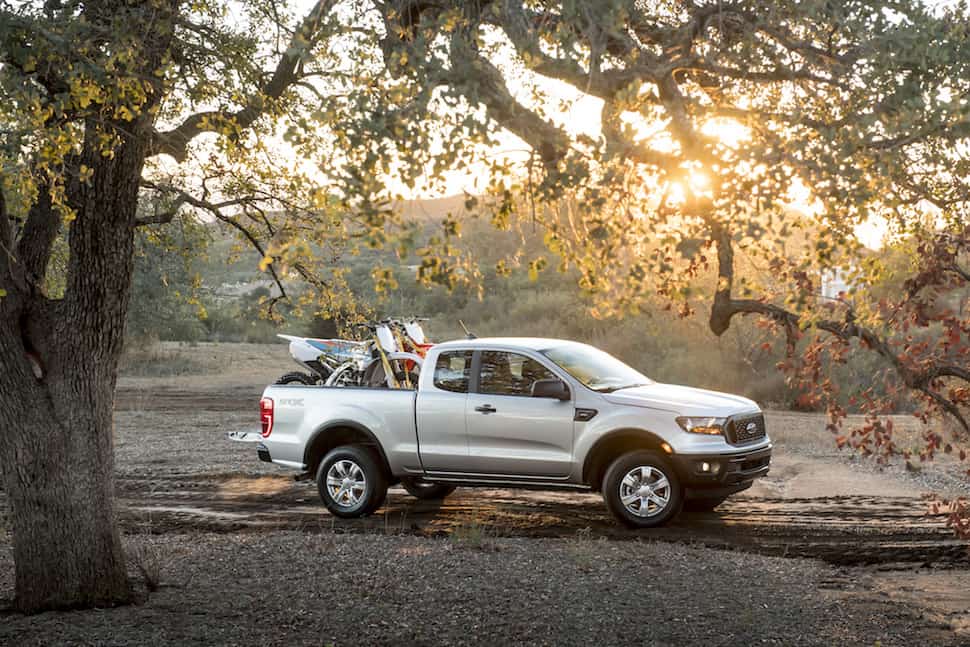 Also check out: Top Mid-Size Trucks on the Market Right Now
Ford is aiming the truck at middle America – people who want a reasonably efficient and compact vehicle to drive to work five days a week, and to take out into the country for some weekend warrior action.
Ranger Trims
The Ranger comes in three trim levels: the XL, XLT and Lariat. The XL model is a contractor level vehicle, with prices starting at just over $30,000 in Canada. Options in the higher trim levels include a blind spot information system for trailer towing, a 4G LTE wi-fi hotspot, 115-volt power outlets, a B&O Play sound system, navigation, and LED head- and taillights.
It's a good looking truck that will be as at home in suburbia as it is in the woods. The looks are enhanced by eye-grabbing colours, such as the orangish Saber, Lightning Blue and Hot Pepper Red.
Is it the right truck for you? In a highly competitive field, buyers have an embarrassment of rich choices. Ford hosted journalists in San Diego recently to see how the Ranger measures up.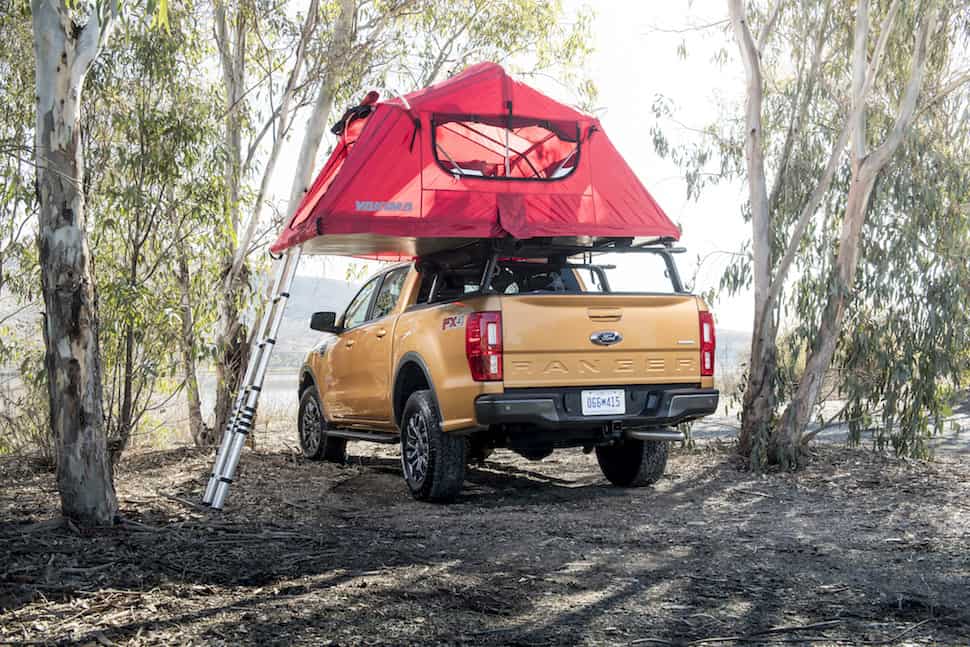 Here are seven things to consider with the new Ranger.
Level up to the Ranger FX4
The FX4 version is a great off-road toy. Built on a high-strength steel boxed frame, it also has a steel front bumper. It comes equipped with skidplates, generous ground clearance, beefy off-road suspension, electronic rear locking differential, and a smooth crawl-control system that handles throttle and braking so the driver can concentrate on steering. Its terrain management system has four drive modes – normal; grass, gravel and snow; mud and ruts; and sand.
New 2.3L EcoBoost Engine
The powertrain is completely different. Gone is the tried and proven 4.0-litre V6, and replaced with a single engine choice: a 2.3L EcoBoost turbo-charged gasoline engine. (A diesel option is rumoured to be in the works.) Also gone is the traditional manual transmission, replaced with a smooth-shifting 10-speed automatic that ensures the Ranger is always right where it needs to be on the power band.
Canadians get All-Wheel Drive (Sorry, America)
Canadian buyers also cannot buy a two-wheel-drive version of the Ranger. All-wheel drive is the only configuration available north of the Canada/U.S. border. And an electronic locking rear differential helps ensure the Ranger will carry you through the most challenging terrain.
SuperCab or SuperCrew Only
A single cab is no longer offered. You can choose between a SuperCab, with jump seats in the rear about big enough for your puppy, or a SuperCrew with room enough for five adults. In the SuperCab version, you can get a six-foot box, but in the larger SuperCrew, the only box size offered is five feet – which limits its utility.
Small Truck Fuel Economy
It gets the sort of fuel economy consumers expect these days. The 2.3-litre EcoBoost four cylinder provides 270 horsepower and 310 lb-ft of torque, which allows you to tow up to 7,400 pounds. Transport Canada rates fuel economy at 11.8 l/100 km city, 9.8 hwy, and 10.9 combined.
Related: All-new Ford Ranger Just Made Towing Easier with Radar Technology
Ranger Accessories for Adventure-Seekers
Ford has partnered with Yakima to provide custom-made accessories, such as kayak racks, bike racks and truck-bed storage options. These add-ons can be financed and warrantied with the rest of the vehicle.
Will We Miss the Outgoing V6 Engine?
If there is one question, it is in how well the boosted 2.3L four will stand up compared to the traditional V6. Although Ford has lots of experience with EcoBoost engines, only time will tell whether these engines will be chugging strong 20 years from now.   
The Ranger is being produced at Ford's retooled Michigan Assembly Plant, in Wayne, Mich., and will be in dealerships early in 2019.
Check out our Ford Ranger page for more news and updates.
2019 Ranger Price:
US Pricing: Starting MSRP is US$25,000 – See this post for full US pricing & trims
Canadian Base price/As tested: C$30,969/37,339, plus $1,800 destination charge
What others are saying about the new Ford Ranger in North America:
The first thing you notice about the new Ranger is that it is remarkably well screwed together. There is very little noise going along on pavement, neither from the tires nor from the wind. AutoWeek
The upgrades are sweet. In addition to offering a panoply of tech and comfort choices in the XLT and Lariat models, Ford has partnered with Yakima to provide custom-made accessories. TheGlobe&Mail
The only competitors rated to pull more (Ranger's 7,500 pounds) are the Chevrolet Colorado and GMC Canyon siblings. When equipped with their optional 2.8-liter 4-cylinder diesel engine, they are rated to tow up to 7,700 pounds. KellyBlueBook
2019 Ford Ranger Specs
Engine: 2.3-litre Ecoboost turbocharged four-cylinder
Power:

 

270 horsepower and 310 lb-ft of torque
Transmission/drive: 10 speed, AWD
Fuel economy (litres/100km):11.8 city, 9.8 hwy, 10.9 combined
Alternatives: Toyota Tacoma, Nissan Frontier, GMC Canyon/Chevy Colorado