2019 Subaru Forester gets new engine and more space to cement position as capable alternative to mainstream SUVs
Osoyoos, British Columbia – Subaru's strategy in North America is to position itself as "an appealing alternative to mainstream competitors", appears to be working. The brand is expecting 2018 to be its sixth straight year of record sales. The recently refreshed Crosstrek is selling strongly and the new eight-seat Ascent has filled an important gap in the range.
The Forester is traditionally Subaru's biggest selling model in Canada, its global number-three market, so the arrival of the fifth generation as a 2019 model is a major event. The car is the latest – after Impreza, Crosstrek and Ascent – to adopt the Japanese manufacturer's Global Platform (SGP) architecture. These stiffer underpinnings are said to have benefits for occupant safety, space and the driving experience.
Pricing
The six-model range starts at US$24,295 or C$27,995 with the 2.5i and tops out at C$39,495 for the Premier with EyeSight. All are on sale now. At a media first drive in British Columbia, we were able to sample the Sport grade, which is aimed at younger buyers, and the luxurious Premier.
Read our 2019 Forester pricing posts here: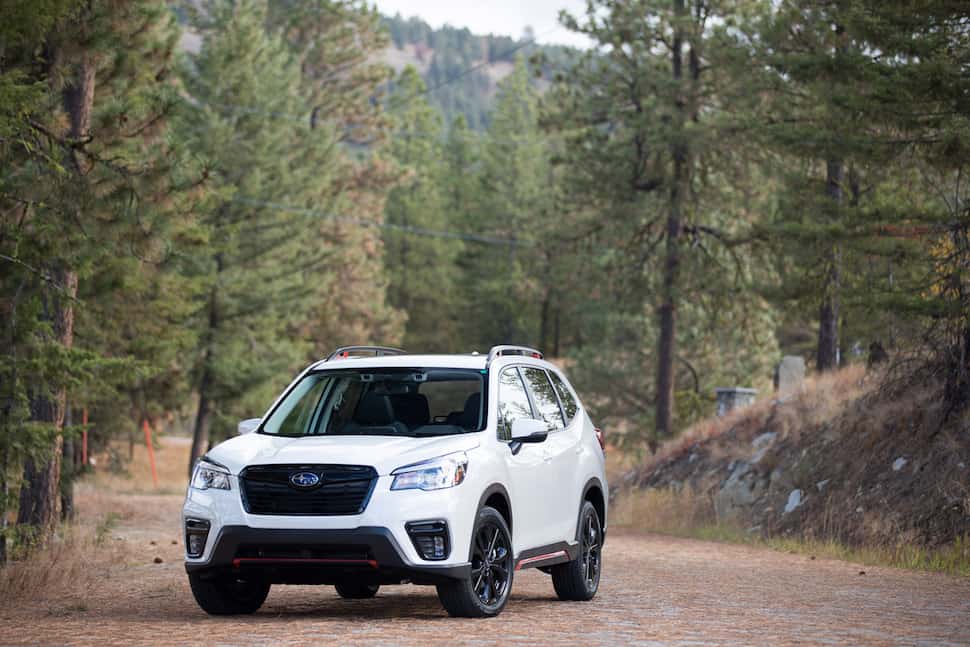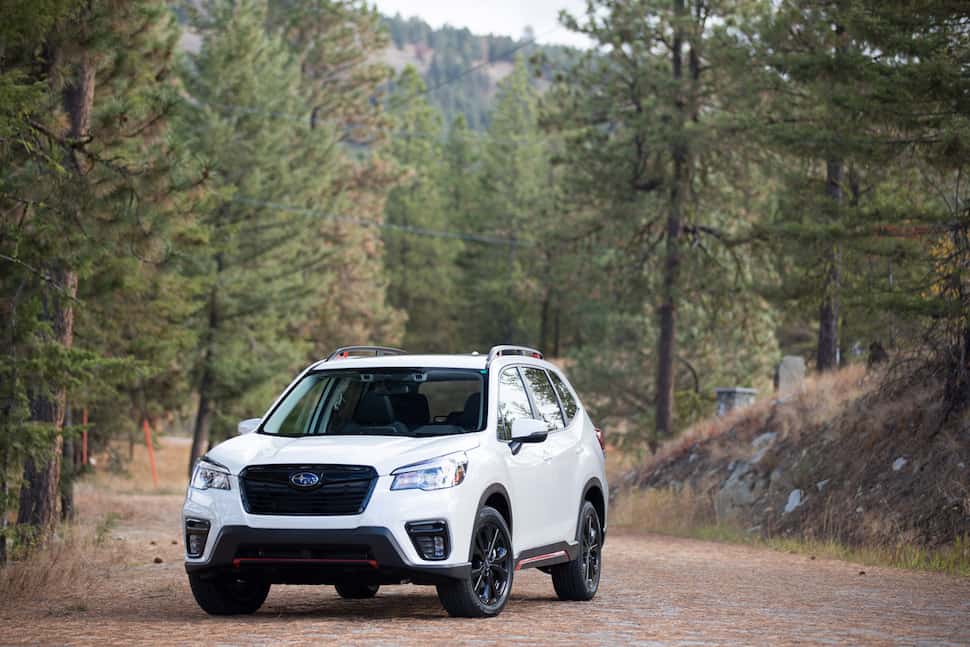 2019 Subaru Forester Redesign Retains That Boxy Look
There's no mistaking the new Forester for anything else. Unlike some rivals in the compact SUV class that prefer to try to disguise their proportions with coupe-like rooflines, the Forester's distinctive, boxier-than-average look emphasizes its practicality. A 30mm-longer wheelbase translates to greater rear legroom.
Space and visibility
A big glasshouse provides good visibility, especially around the A- and C-pillar areas, where the view out on rival SUVs is often compromised by the stylist's pen. The squared-off rear end contributes to cargo capacity that near-matches that of the larger Outback; with the rear seats down, the Forester actually beats its older sibling for space. The trunk is accessed by what's claimed to be the widest aperture in the class – 1300mm – and a tailgate that shuts twice as fast as the old one.
New Forester Interior
Function trumps fashion in the extremely spacious cabin, too. The instrument panel, with a multifunction display (MFD) sitting centrally above an 8in touchscreen on the higher grades, looks modern but not radical. There are chunky HVAC controls and big vents.
Redesigned seats have additional bolstering and were comfortable over several hundred kilometres of test routes. The trim materials feel more substantial than before and the build quality is good. All Foresters are made in Japan.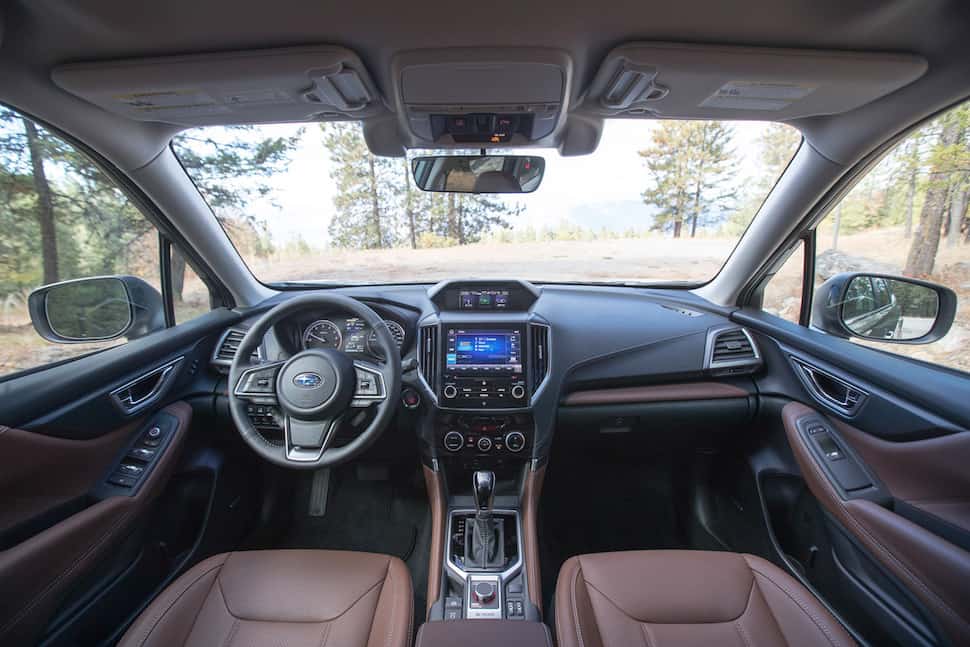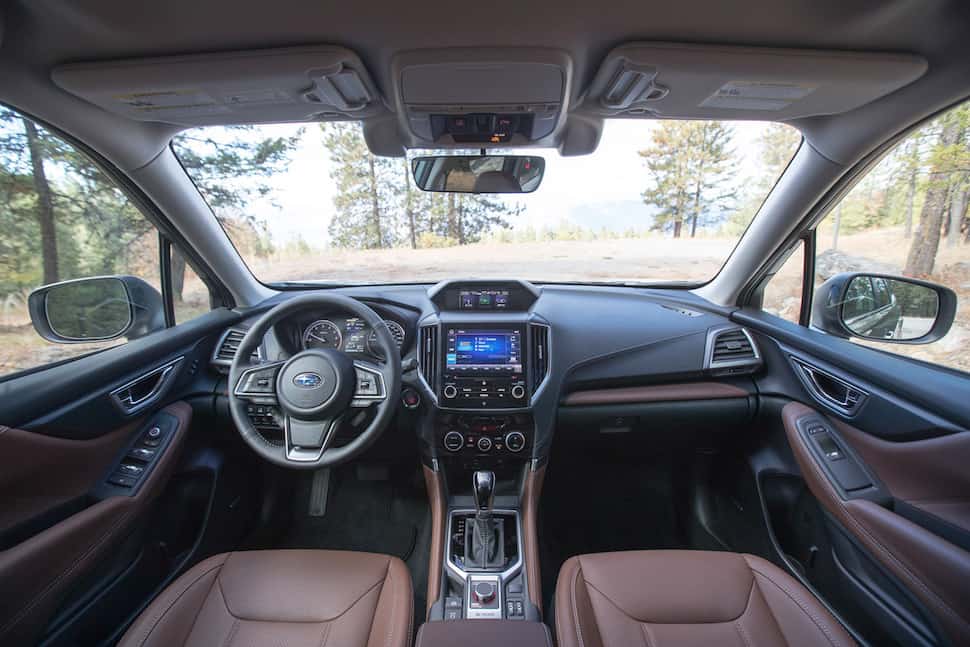 On the Sport grade, the Forester tries a little harder to be trendy in a bid to win over a more youthful demographic. Orange accents on the ventilation outlets and centre console, and contrast stitching, tie in with similar splashes of colour on the exterior. Whether you're won over by this approach is a matter of personal taste, but it certainly provides a contrast to the more traditional brown leather/black trim combo on our Premier grade test car.
Equipment: EyeSight Standard on Higher 2019 Forester Trims
Subaru has worked hard to cultivate a safety-conscious image in recent years and that continues with the new Forester. Figures from the Highway Loss Data Institute show that the EyeSight suite of driver-assistance systems cuts the likely rate of pedestrian-related insurance claims by 35%. Subaru's own data from Japan suggests a 61% reduction in the accident rate if EyeSight is fitted.
On the Forester 2.5i and Convenience trims, EyeSight is available as a C$1,500 option. Elsewhere, it's standard. Limited and Premier grades additionally get a rear/side vehicle detection system while Premier also features a Subaru first, the DriverFocus anti-distraction system.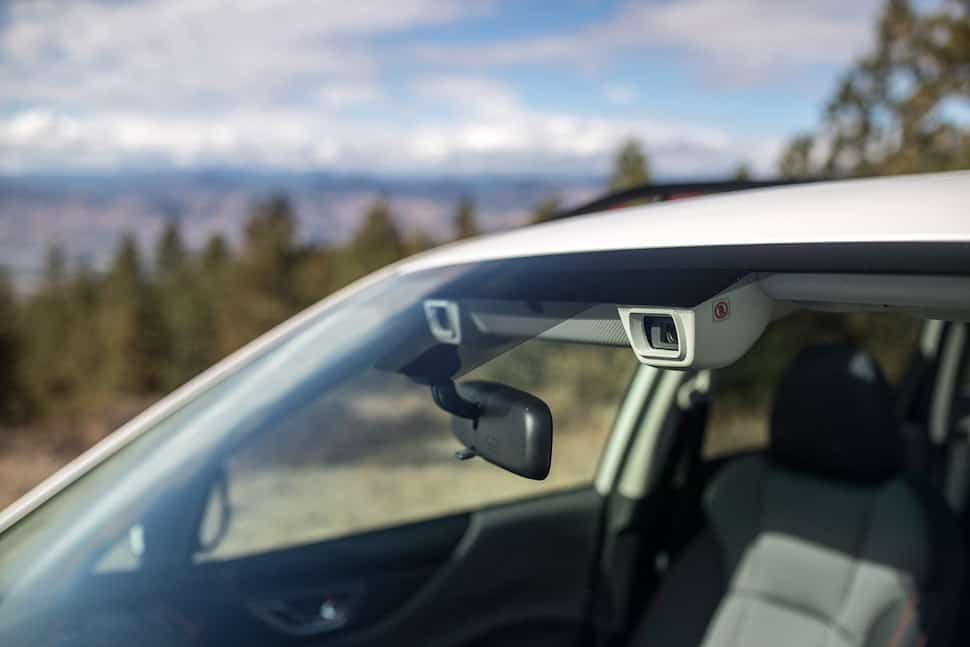 DriverFocus
DriverFocus works to mitigate the impact of driver distraction through audible and visible warnings. Similar to the Cadillac CT6's Driver Attention System which we reviewed here, it works through infra-red cameras mounted above the MFD. The switchable system also incorporates driver-specific seat and mirror memory functions. We found it fiddly to set up, but you'll only have to do it once.
Apple CarPlay and Android Auto comes standard
All Foresters come with standard Apple CarPlay and Android Auto, and SiriusXM readiness. Higher grades have a Harman Kardon 9-speaker audio system, navigation and a rear USB port.
Subaru Forester Performance & Handling
All US- and Canadian market 2019 Foresters are powered by a 90%-new, direct-injection, 2.5-litre, normally aspirated engine. The emphasis during development was on fuel economy, which also explains the demise of the turbo option. At 8.6L/100km (29mpg) combined, the engine's economy is said to be class leading. It has a flatter torque curve for more usable performance and with 182bhp, it's also a little more powerful than before.
Driving Impressions
On the road, the new motor is super smooth and mostly quiet – a statement that would apply equally to the Forester as a whole at cruising speeds – although it sounded a little strained when pushed to the limit on a steep uphill section. Towing capacity is unchanged at 680kg.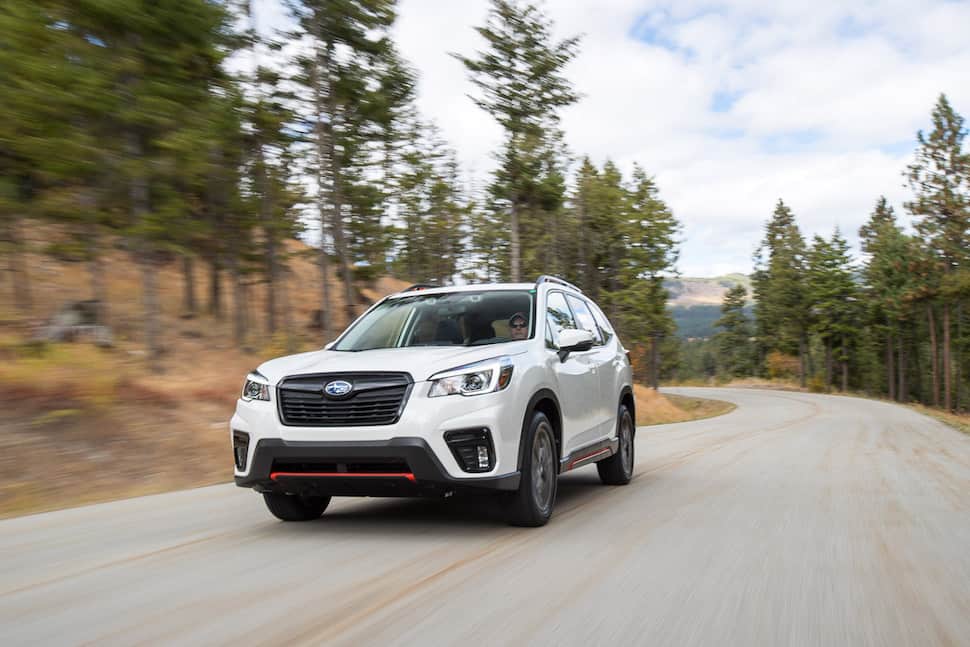 Revised CVT transmission
The engine's combination with a revised CVT transmission works well. There's no manual option on the new Forester – "a sign of the times", says Subaru. Those wishing to take control of the CVT's simulated shifts – seven steps are available – can do so via steering-wheel paddles.
Sport Mode
A selectable Sport mode sharpens the throttle response. On the Sport trim only, 'Sport Sharp' (S#) is designed to make the response even sharper. We struggled to tell the difference, however.
Ride Comfort
Chassis-wise, the 2019 Forester offers an appealing balance between handling and ride comfort. Its ability to remain serene over laterally uneven surfaces is particularly impressive, although the 18in wheel/tire combination on the test cars lacked a little plushness over harder edges.
There's no mistaking the new Forester for anything else. Unlike some rivals in the compact SUV class that prefer to try to disguise their proportions with coupe-like rooflines, the Forester's distinctive, boxier-than-average look emphasizes its practicality.
The electric steering is fluid and precise, if short on feel. Brake pedal feel is good however, and the Forester stops quickly and without drama in an emergency. Subaru claims that the new model rolls 50% less than the outgoing model during cornering; it certainly feels flat for a high-riding SUV.
Off-Roading with the 2019 Forester
Off-road, the Forester will cope with far more than the average SUV buyer will ever throw at it. As well as testing the car on unpaved roads, we also took it on forest tracks to the 2180m (7200ft) summit of British Columbia's Apex ski resort. Even on regular all-season tires (Falken Ziex ZE001 225/55s), it barely broke sweat on the rocky ascent – and the hill descent control kept things in check on the way down.
Higher grades of Forester also benefit from a new, two-mode X-Mode off-road control. We switched the rotary selector into the deep snow/mud setting and the vehicle easily hauled itself through nine-inch-deep slop.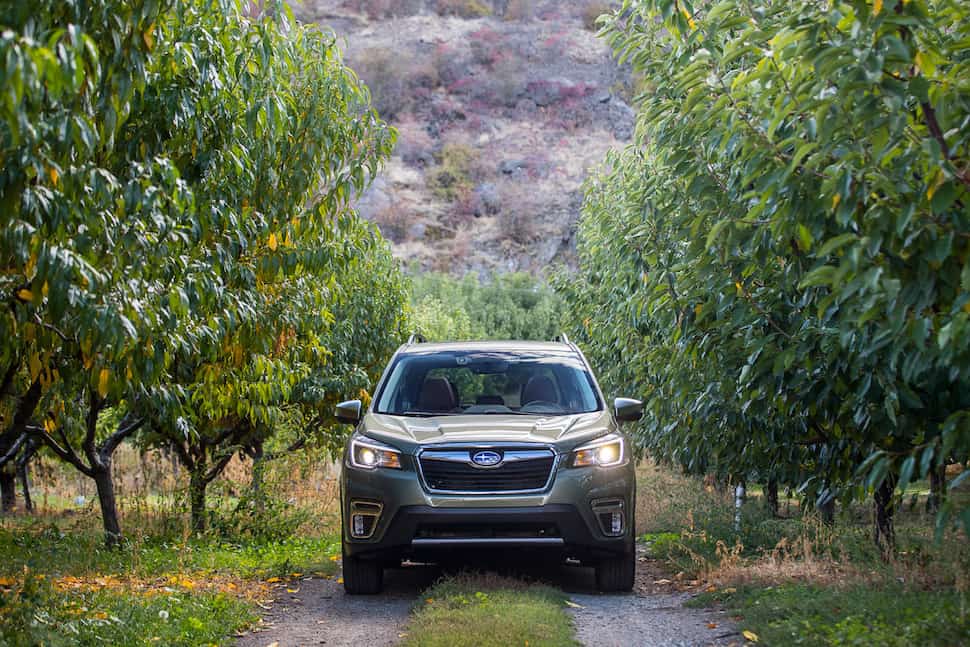 Our Takeaway
When Subaru launched the first Forester in 1997, it was something of an anomaly in a family car market dominated by conventional, 2WD sedans. Much has changed since then, and the 2019 edition finds itself surrounded by a plethora of competitors in what has become the compact SUV segment.
Also see: Everything Subaru Forester – pricing, reviews, photos
Subaru's response has been to stay true to the Forester's traditional strengths – practicality, safety, durability and off-road capability – while improving the on-road driving experience and interior. The new car is functional, not fashionable, and the styling remains distinctive, not derivative. It's quiet, spacious, comfortable and good to drive, on-road and off. Job done?
Shopping for a 2017/2018 model? Check out our First Drive: New 2017 Subaru Forester Review
Pros
Quiet, comfortable and refined

Improved interior space and huge trunk

Few can match its off-road ability
Cons
Would have preferred a softer ride over hard edges

Sport Sharp driving mode an anticlimax

Time-consuming DriverFocus setup
What others are saying about the 2019 Forester:
> If you're keen for something that ticks all the practicality boxes but adds in a hearty dose of all-terrain extras, the Subaru is still throwing punches in the go-anywhere fraternity. WhichCar.com
> It's hard to fathom why someone shopping in this class wouldn't buy it, but it's likely factors like warranty length (where Subaru has just a 3 year, 36,000-mile new car warranty) and dealer location and availability are scaring off some potential customers. AutoGuide
> While we wish the new Forester had a traditional automatic transmission (and perhaps an optional turbo engine as before), this small Subaru 5-passenger SUV nevertheless has a lot going for it. KellyBlueBook
For more info check out Forester USA | Forester Canada