While the Detroit Three slug it out for pickup sales supremacy, Toyota's venerable Tundra has been quietly refining itself as an alternative for buyers who value reliability over bleeding edge technology.
The Tundra does old school well. It is as solid as a rock, darn near unbreakable and has favourable frequency of repair records. It's powerful enough to tow an ocean liner and solid enough to carry your house. What's not to like?
Who's the Trail Edition for?
Well, you won't really like the SR5 Trail Edition if you have become accustomed to the upgraded interiors and almost car-like ride of Ram 1500 or Ford F-150. Instead, The SR5 Trail Edition is a kind of low-frills version of the Tundra. Although it does have such modern conveniences as heated seats, lane departure warning, and heated power side mirrors, it is unquestionably less fancy than the competition. Consider it just one solid step above a work truck.
You also won't like its thirsty worst-in-class fuel consumption. More on that in a minute.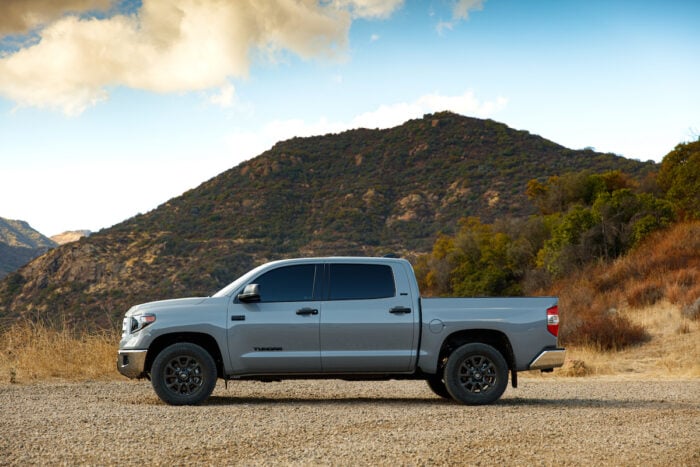 Exterior
The exterior is toned down by the very limited use of chrome, painted rear bumper, and even a colour-keyed air scoop on the hood. The blacked out SR5 badging on the upper rear door played nicely against the Army Green exterior colour on my test model. The Trail Edition comes with sharp 18-inch dark grey off-road wheels, mounted with some serious mudder tires.
The short 5.5-foot truck bed is the only one available in the crew cab version. It comes with four adjustable tie-down cleats but curiously no spray-on bedliner. The sharply angled Predator side steps add to the rugged overall look, and function very nicely as a way to ease the long journey from the cab to the ground.
Interior
The gauge cluster is old-school, with both voltage and oil pressure meters, and traditional rotary analogue speedometer and tachometer. The brushed metal trim around the infotainment system is attractive, but the brushed metal push buttons are almost impossible to read in many lighting conditions. That poor visibility is almost as annoying as the seat-heater switches which are tucked so low below the dash they're out of the driver's line of sight.
The audio system is an adequate nine-speaker system, is Apple CarPlay/Android Auto compatible and equipped to received Sirius XM. The touch display screen, however, is just 8 inches, average by contemporary standards.
Although there are some soft-touch materials on the doors, the hard plastic pieces and cloth seats add to the low-frills feel of the vehicle. The all-weather floor mats, however, are a dream . . . designed to channel all that nasty winter slush away from the carpeting and toward the door where can drain out.
There's a reason why this truck calls its cab CrewMax. The rear seat area is so massive, with 42.3 inches of leg room, you feel like you could carry the whole crew and still maintain social distance.
Engine noise in the cabin was much higher than what you might experience in competitors' trucks.
Performance & Handling
The venerable 5.7-litre V8 with VVT-i is tried and tested, and delivers 381 horsepower and 401 lb-ft of torque, mated to a six-speed transmission. The engine has lots of oomph, even if the wimpy exhaust note understates the action. The suspension is very much biased to off-road travel, which means that even slight bumps on pavement are jarring.
Safety features include automatic high beam, automatic emergency braking with pedestrian detection, standard adaptive cruise control and standard lane-departure warning.
If you can live with the crude feel, this truck comes into its own in rugged terrain or any application where payload and pulling power count. Its 10.6 inches of ground clearance will take you through the deep ruts on rugged forestry roads. And, if you want to tow a large trailer, its 9,200-pound rating ensures you'll be able to get the job done with little effort. A heavy-duty tow hitch receiver and transmission cooler are standard issue.
If you want to tow a large trailer, its 9,200-pound rating ensures you'll be able to get the job done with little effort.
Although it is quite heavy, the Tundra corners remarkably well, thanks in part to its toe-out rear leaf springs, added to create lateral stability when cornering and for towing heavy loads.
Make no mistake, though. It's takes a lot of fuel to move a 2.5-ton 4X4 truck down the highway. Even in very moderate highway cruising, the best I could muster was around 16 litres/100 km. That's a shameful 14.7 miles per gallon. Good thing it has a 144-litre (38 gallon) fuel capacity. The Ram 1500 4X4 by comparison achieves about 13 l/100 km and the F-150 4X4 rated at just a notch under 11.
Takeaway
The Tundra SR5 4X4 CrewMax delivers a lot of truck for a price of around $37,000 (or C$53,290.70 as tested, to be exact) including destination fee, taxes and options. But if you're a commuter, you probably won't want this as your daily driver. This vehicle is made to get down and dirty in the boondocks, and to take on some of the bigger jobs a light truck can handle.
Toyota is rumoured to planning to unveil a remade Tundra this summer, and it promises to be lighter and more fuel-efficient, with V6 only engines and possibly a hybrid model. If that's true, and you can live a thirsty truck, you might be able to pick up the 2021 SR5 CrewMax at a clearance price.
If you're looking at older models, here's our 2017 Tundra review, an even older 2012 Tundra review, and a closer look at the 2016 Toyota Tundra TRD Pro Crewmax.