I'd driven non-stop down the German autobahns between the North Sea port of Hamburg and the Austrian border. It was a pristine September morning in 1982 and I needed a good sleep when I pulled up to the tourist information centre an hour south of Salzburg.
Nestled at the base of the Austrian Alps, the stunningly beautiful area had nothing on Katrina, the slim and statuesque blond who greeted me. In a sexy, Spy Who Loved Me voice, she reviewed a registration package for the five-day convention I was attending.
Katrina told me I was one of 60 Guinness World Record holders registered along with as many reporters from around the world. The Austrian Tourist Association provided accommodations at resorts surrounding Faaker See, a crystalline alpine lake a short drive away. A slew of media events were scheduled throughout the convention where record holders would strut their stuff.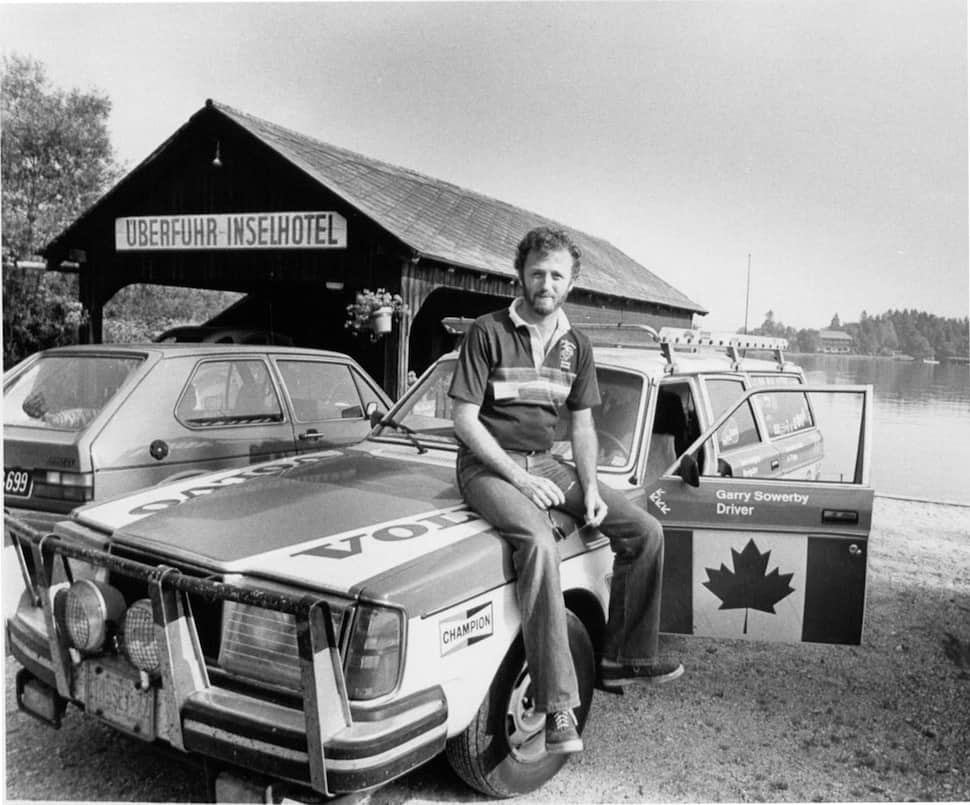 I was wondering how to demonstrate driving around-the-world when Katrina folded up her notes and stood directly in front of me. She was gorgeous.
"We go Faak now?" she asked.
"We go where?" My knees buckled, as I struggled to make sense of what she wanted.
"To Faak, so you can check into the hotel. It is a beautiful lake." She added, as I collected my composure.
The next morning Norris McWhirter, who, with twin Ross, founded the Guinness Book of Records, welcomed the unlikely collection of humanity. As he spoke, I thumbed through Katrina's material trying to figure out who was who.
Across the table Roger Bourbon, who ran marathons in a waiter's uniform carrying bottled water on a serving tray, was chatting with Sabra Starr, a belly dancer who could gyrate for 100 hours non-stop. Meanwhile Raino, a German, pulled a 6-inch high bicycle out of his briefcase and started circling the room as he would do all week whenever he had an audience.
Later we stepped outside where Englishman John Moss clamped his teeth onto the end of towrope. The other end was tied to the back a snorting 490 cc Yamaha motorcycle. With John anchored to the front of a transport truck, the motorcycle hopelessly spun its rear wheel trying to escape the mighty molars of Mr. Moss. His teeth once held down a helicopter.
Over the next few days I witnessed an unbalanced-looking Englishman do 760 one-handed push-ups and met a flat-stomached chap who recorded 26,000 sit-ups. I hung out with a flame-eating lady who I suspected wore an asbestos wig, a woman who could eat 100-metres of spaghetti in 30 seconds and lanky 7 1/2 foot giant Chris Greener, the tallest man in the Commonwealth. The smartest man in the world was there and wanted to know if the Volvo we raced around the world had been 'souped up'.
Michel Lotto from France earned his nickname, Mr. Mangetout, after eating an entire Cessna airplane.
"What was the worst part?" I tried to wrap my head around his obsession.
"Aaaahhh, the tires!" He went on to tell me about his plans to eat an Austin Mini. More tires!
On the last night, Lufthansa threw a big party. Everyone feasted on old-world delights washed down with plenty of draft beer. During one of many washroom visits, I was chatting at the urinal with Jim Selby, a National Enquirer photographer, when Chris the giant came in.
Jim slipped me one of those 'Enquiring minds want to know' looks as Chris approached the urinal. To our dismay, instead of relieving himself, the giant broke wind, about-faced and stomped out.
The photographer seemed depressed. Opportunity missed.
"Don't feel bad, Jim," I offered, looking for a silver lining, "at least we got to hear a giant fart."
About midnight, we were taken back to our hotel. The manager invited the giant, the Brain, Raino and me into the bar for a nightcap. Raino pulled out his bike while I learned an important life lesson: don't try to out-drink a giant and then go call your girlfriend in Toronto. And don't fall asleep with the phone line open.
Morning came. I was dry with a pounding headache. There was a telephone bill for $375 under the door. At breakfast, the Guinness people explained their book was in itself a record for the largest-selling copyrighted book in the world. As they pointed out that the previous year's sales were equivalent to 118 stacks of books, each as high as Mount Everest, I scanned the room.
In one corner, the fire-eating lady was trying to break her record of eating 6,670 flames in 2 hours. The smell of the torch was gross. In another corner, Donna Maiello was trying to down 100 yards of spaghetti in under 30 seconds. Sauce was flying everywhere.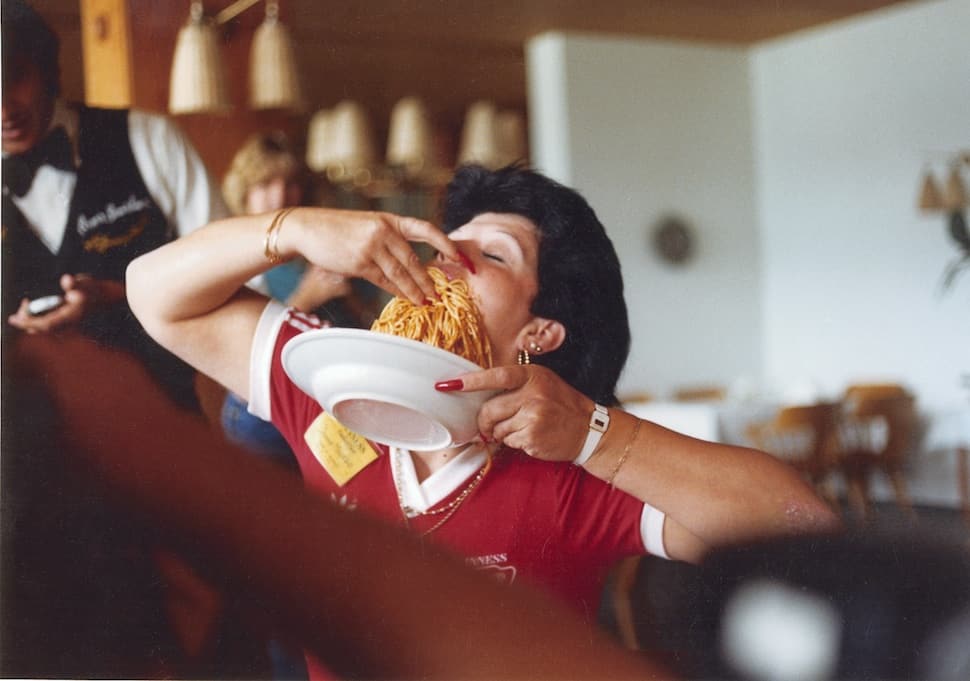 Willem Klein, the human computer, was sitting at my table. He could extract the 13th root from a 100-digit number in his head. I asked how many minutes my around-the-world record had taken.
"107,011. Want the square root?"
After breakfast I headed to the summer toboggan run for the last event of the conference. They were all there… the belly dancer, Mr. Push-up and even Christian Patzig, the backward sitting cyclist who peddled 113 kilometres using mirrors to steer while playing classical violin.
I was voted lead toboggan.
"Go faster." Everyone coaxed.
I did. I lost control and flipped the toboggan half way down the slope. My baby finger is still crooked from the incident. I staggered to the bottom of the hill and asked Mr. Mangetout if he was giving it a try. He declined, citing the 21 bullets he had for breakfast.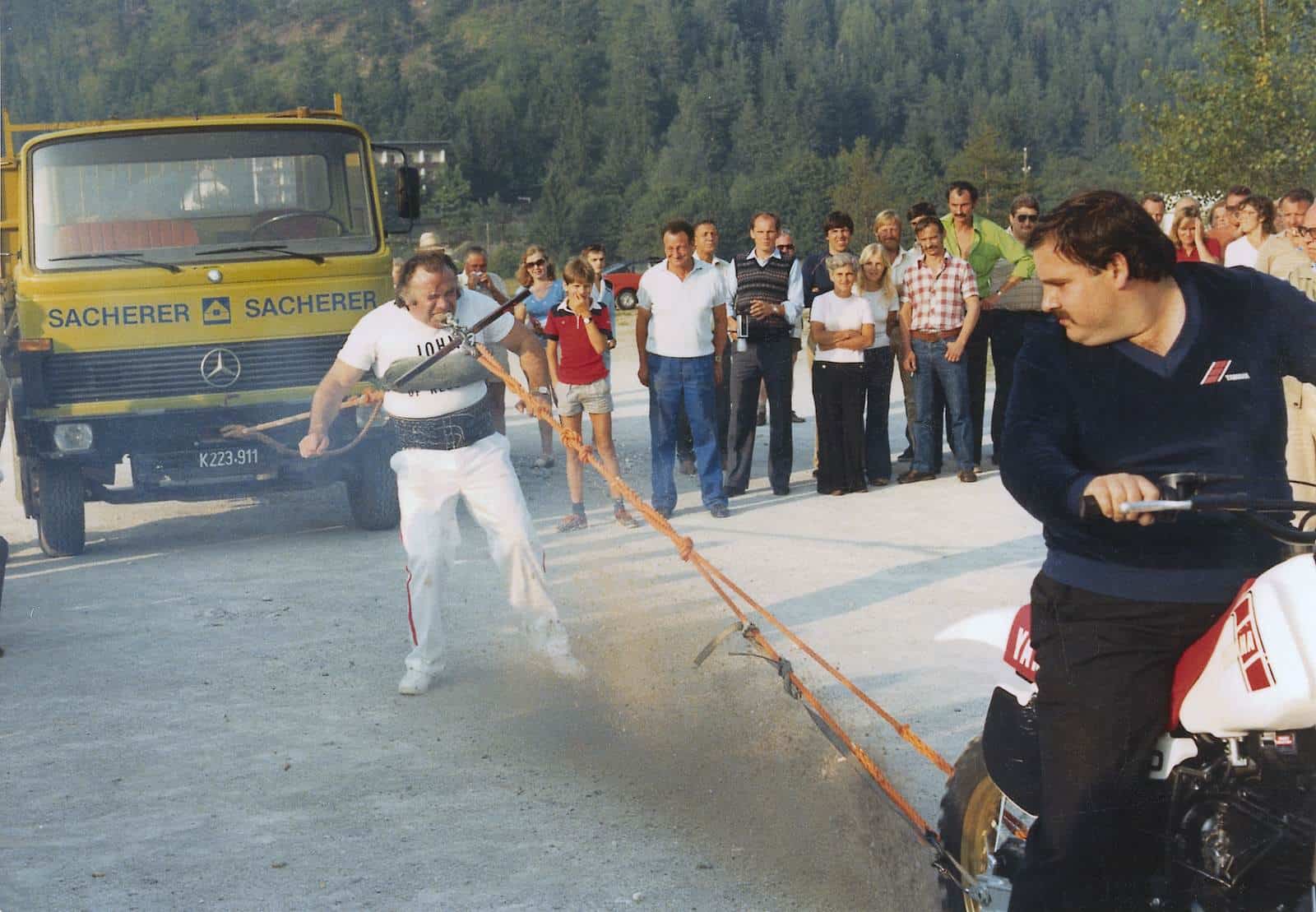 Back at the hotel I dutifully approached the front desk to pay for the blabbering, snoring telephone call. The manager, looking a little schnapps green himself, refused the money.
"It is on zee house," he offered. "If I had not passed around zee free schnapps, I am sure zee phone call would have been shorter".
Out of the corner of my eye, I could see Raino opening his briefcase in front of a busload of Japanese tourists.
Great place, this Faaker See.