A Case of Yellow Fever: Zahir Rana took an average 1970 Mini and turned it into something truly exotic. And insane.
Believe us when we say that we get more than a few dozen e-mails each week from Mini owners telling us about themselves and their wild cars. Usually, however, the cars just aren't that wild. They are nice, but just not that spectacular.
So when a fellow Canadian reader wrote to us about a really wild yellow Mini up here in Calgary, Alberta, we were a little skeptical. After all, Calgary is perceived, as a frontier town with lots of mining and brutal winters. Truly exotic machinery is just not that useable up in the Dallas of the North. More so, Calgary is just not a city where one would look for an exotic auto shop. Oh brother, were we ever wrong!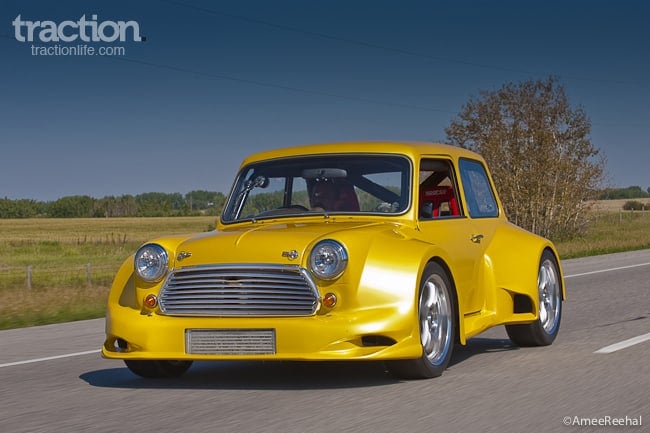 Who builds a 400+hp vintage Mini?
Zahir 's story starts back in the 1950s, in a Kenya town. To hear him talk, he's the little boy that played with every Matchbox toy and dreamed of owning fast cars. His journey started with automotive studies at Waltham Stow Technical College (near London, England) in 1975, and then he took off for Canada. Landing in Montreal two years later, he drove his '68 Cooper S across Canada, for what he says was "the best time of my youth," to start life anew in Vancouver with his family. In the last 30 years he's owned a dozen or so Italian exotics, but he's also spent some very serious money on this 1970 Mini. "HOT MINI," as the license plate reads, has cost him over $100,000, as many of the parts are one-off creations, such as the body styling. Just the few gallons of Spies-Hecker 3-stage Lamborghini Murcielago Pearl Yellow paint cost enough to make the monthly payment on a new and well-equipped Clubman!
Starting the project: 1.8 RS VTEC engine implant
Starting with what Zahir says was a "very light, but rough, used rally Mini," one of the first things he did was to engineer it for a 1.8 RS VTEC engine implant. As the entire fiberglass front end lifts off, they knew they had lots of room for plenty of components that would make horsepower and the accompanying heat from such power. All the connecting rods, pistons, crank and such are from the usual suspects in Honda performance. It's all cross-drilled, lightened, balanced, blueprinted, polished, ported and all that engine jargon, as it's pushing 400 HP- without a bottle of nitrous or aviation fuel. The turbo is from Turbotronics, the alloy radiator from Fluidyne, the ignition from MSD, an Autotronic fuel injection system and a custom intercooler. It's not the ultimate highoutput VTEC engine, but with the custom header and straight pipe exhaust system, he doesn't drive it much in downtown Calgary traffic, as it's rather loud and poorly insulated.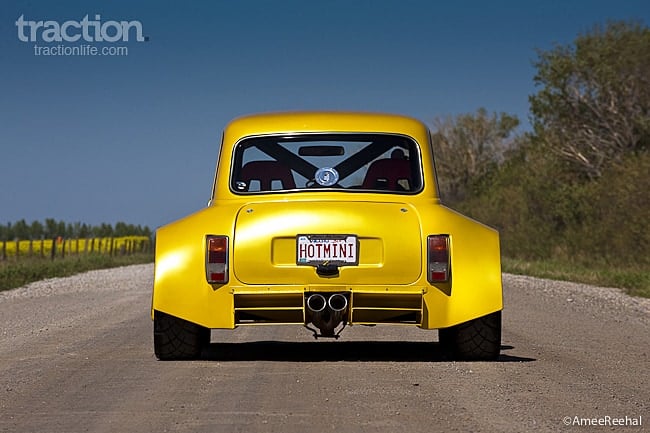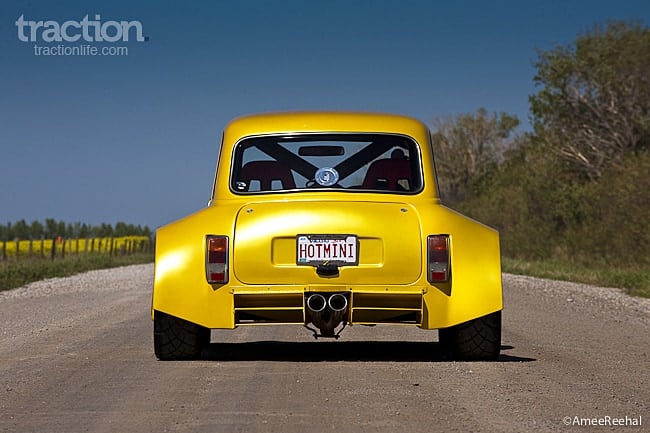 Wheels and Footwork
To see this in your rearview mirror must be a real sight, and saying it has wide fenders doesn't do it justice. Zahir says that housing the Volk Racing 9×17-inch wheels mounted with 235/40 ZR-17 Yokohama S-Drive rubber, are "extreme 10-inch flares" made of hand-formed fiberglass by the technicians at ZR Auto.
Not yet finished with the braking system, there is 11-inch Honda cross-drilled/slotted rotors with Honda calipers and high-friction Brembo pads. A Wilwood proportioning valve and stainless steel lines even braking out, but he admits he's looking into Brembo brakes as he wants some track time this summer.
More upgrades
Comparing the numbers to a classic or new MINI are an interesting thought as this Mini is simply wider, and longer, than any classic coupe we've seen. The wheelbase is 82 inches, front track is 69.5 inches, rear track is 68.5 inches, and the overall height is 50 inches. The estimated (dry) weight is light – between 1,100-1,200lbs – as there's  not much more than a moly-tubed roll cage, Sparco carbon fiber seats, Schroth harnesses, custom fabricated fuel cell, custom carbon fiber dash and gauges and a Sparco steering wheel inside. The Lexan windows all around also help keep the weight down.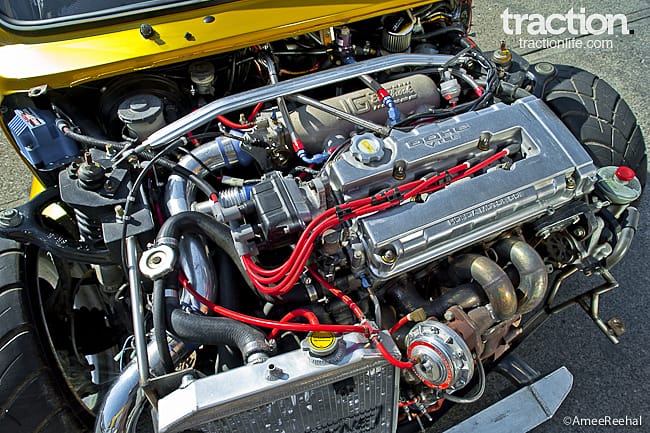 Takeaway
Loving life and living with exotic cars, he says he modifies everything he owns. To wit, he owns what may just become the world's fastest Ferrari, an Enzo XX Evo. In March he's driving the Mercedes test track on Dunlop tires built specifically for his attempt at a 245mph top speed World Record. He admits that his Mini is staying at his shop, as in a contest of acceleration it's fast through two gears, but the Enzo and his over $2 million investment is simply a more civilized ride.
Then he'll have two records, one of the world's most exotic Minis, and one of the best stories ever told of the pursuit of a dream. And it all started in a village in Africa, with he and his friends pushing each other around in simple wooden carts.