The 2018 Crosstrek Compact Crossover Is All-New With 13 Features That Set It Apart From The 2017 Model, Including Subaru's New Global Platform.
Compact crossovers are ripping it up right now and the Subaru Crosstrek first released in 2013 (dubbed the Crosstrek XV at the time) is no exception. Here at TractionLife.com, we've tested several of them over the years, you can read our reviews here.
But what really separates this nimble adventurer from the pack is its all-wheel drive setup backed by a company that's been at it for a long time – both rich in racing pedigree and everyday consumer rides like the Legacy sedan and Outback sport utility wagon.
So, while nearly all the new smaller CUVs claim to be off-road ready with adventure on its mind (add commercial of Millennials driving to mountain tops, hang gliding and jumping off cliffs), we'd say this Japanese offering has some credibility to back it up. And no, you don't have to hang glide.
For 2018, the Crosstrek is all-new with a fresh design build on a new platform, added features for improved driving dynamics and handling, and an updated interior that finds more tech.
2017 vs 2018 Crosstrek – here are the 13 key features of the new model:
1. Built on Subaru's new Global Platform
Subaru is rolling out an all-new platform for all their new vehicles – hence, global platform. So all of their vehicles will eventually share this same framework, from their new and upcoming full-sized SUV to their cars to their small crossovers. The new Impreza was the first vehicle built on the platform, and now the 2018 Crosstrek.
The platform combines a new framework with optimized cross-sections and highly stiffened joints between structures, significantly improving straight-line stability, agility, and ride comfort while also reducing noise, vibration, and harshness.
2. New Convenience trim
The Touring, Sport, and Limited trims carry over but a new Convenience trim is the Crosstrek's all-new, entry-level flavour and includes a healthy set of standard features.
This includes a new 6.5-inch multimedia touchscreen with Apple CarPlay and Android Auto, cruise control, air conditioning, power windows with auto up/down on both driver and passenger sides, 60/40-split fold-down rear seats, power door locks, and power side mirrors.
Overall, it offers more value with a lower starting price-point.
3. All-new Design
Retaining the same overall look, the new Crosstrek is more sculpted. Again, built on the new platform, the crossover gets bolder wheel arches, longer flowing lines, and the wheelbase is now 30mm longer.
4. New 2.0L Engine
Power is made via a new 2.0L direct injection SUBARU BOXER engine, laying the foundation for future products.
Compared to the 2017 model's 148-hp, the new engine gets a bump to 152-hp.
5. New 6-speed Manual Transmission
Believe it or not, there are still fans of a stick-shift – and in a little off-roader like this, it does make sense.
Subaru improved their 6-speed manual tranny for 2018; it comes standard in the Convenience, Touring, and Sport trims.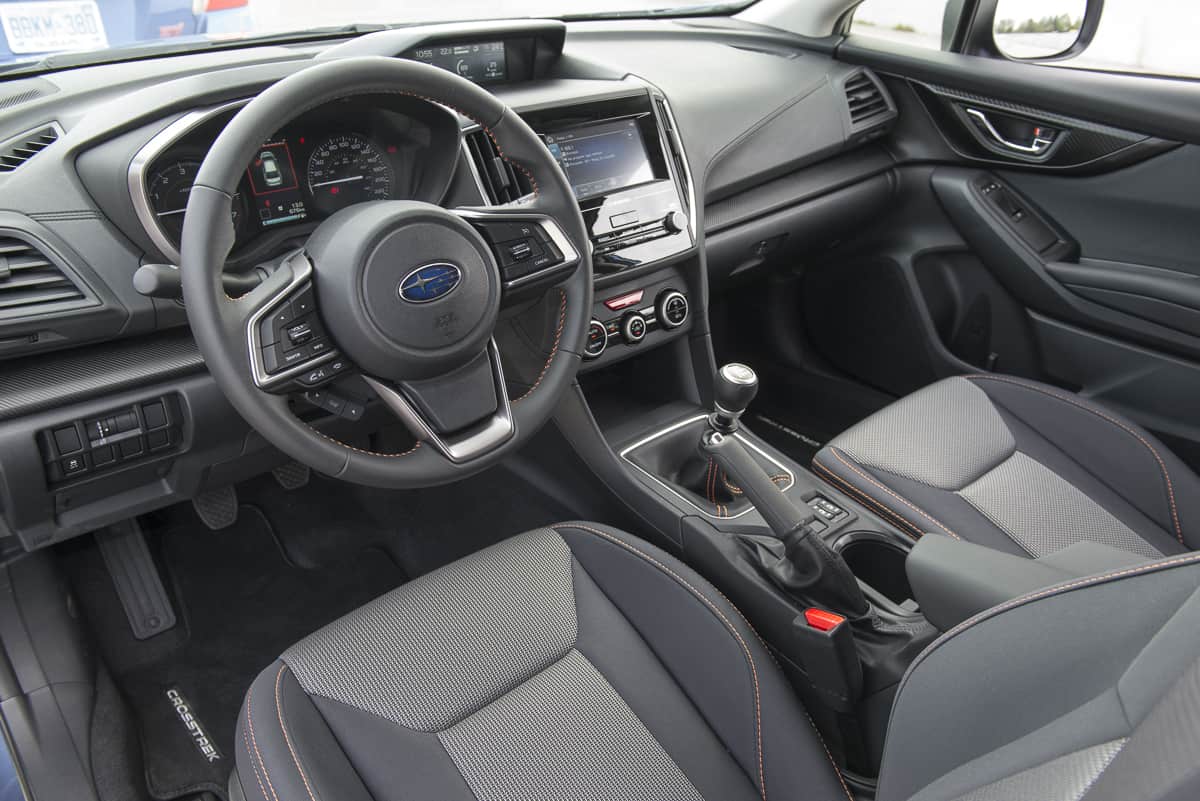 6. New 7-speed CVT Transmission
Most shoppers will inevitably go for the automatic transmission over the manual 6-speed; the new CVT is optional on the Convenience, Touring, and Sport trims while standard on the higher Limited.
But for more control, the 7-speed Lineartronic CVT does come with steering wheel mounted paddle shifters offering drivers an enhanced level of handling, popping the CUV into desired gears as needed, whether passing cars on the road or traversing cliffs.
We rely on our phones more than ever, so having Apple CarPlay and Android Auto integrated into our vehicles makes so much more sense. It's standard in the new 2018 Crosstrek.
7. X-Mode is Standard
X-Mode is one of those nice-to-haves, and something we think was missing in the previous Crosstreks (but came standard on the higher trim 2014 Subaru Foresters).
Now, the optional Lineartronic CVT features the driver-selectable X-Mode with hill descent control. Basically, it electronically controls the engine transmission, brakes, and all-wheel-drive system for more optimized handling, reducing potential wheel slip on slippery surfaces, climbing steep inclines, and navigating rough roads.
Best part? It actually serves a purpose offering enhanced safety, and isn't just a gimmicky feature with a neat name.
8. LED rear combination tail lamps
The new 2018 Crosstrek sports rear combo tail lamps, but maybe the bigger story here is the introduction of LED steering responsive headlights up front that illuminate curves as the vehicle steers into them and a new rear-view camera with dynamic guide lines that help the driver maneuver safely.
9. Auto up/down driver & front passengers windows
Pretty self-explanatory, and also a nice-to-have as we all become increasing lazy – like, unwilling to hold a button down for a few seconds.
10. Available Grey Interior
Do you like Grey? Good. You can now get this inside your new Crosstrek.
11. Reduced Steering Ratio
Nobody likes to Austin Power it when parking their vehicles; going back and forth in tight spaces.
All trims now come with a reduced steering ratio, and Active Torque Vectoring, a system that helps reduce understeer and keeps the vehicle on the driver's intended cornering path.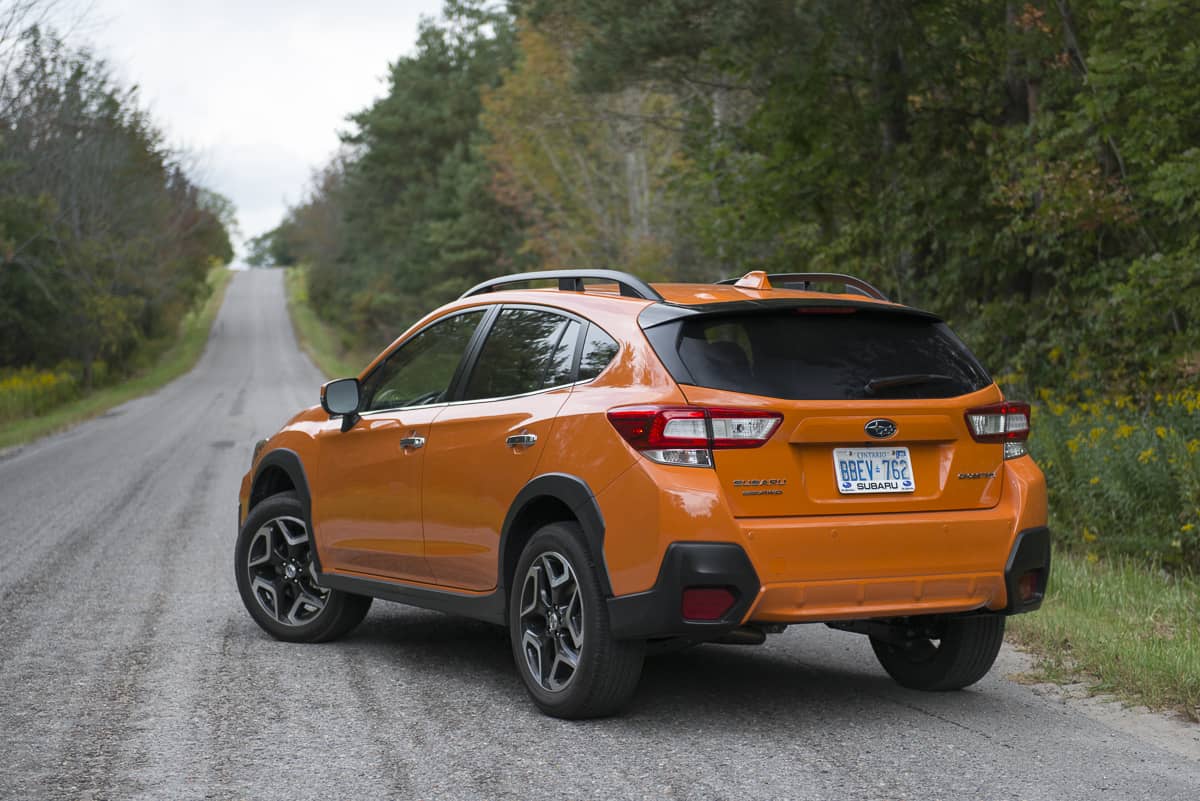 12. Rearview Camera gets Dynamic Guide Lines
A small feature that really does help, whether your reverse parking into stall or just pulling out of a tight spot.
The Crosstrek will appeal to urbanites who may be parking in confined downtown condo spots, so this is a good addition.
13. Apple CarPlay and Android Auto come standard
Nearly every new vehicle hitting the market today are introducing this one-two tech combo for iPhone and Android users, allowing us to rely less on in-car nav systems which, frankly, aren't always easy to deal with when inputing addresses and such. And they're usually expensive upgrades too.
We rely on our phones more than ever, so having Apple CarPlay and Android Auto integrated into our vehicles makes so much more sense. It's standard in the new 2018 Crosstrek.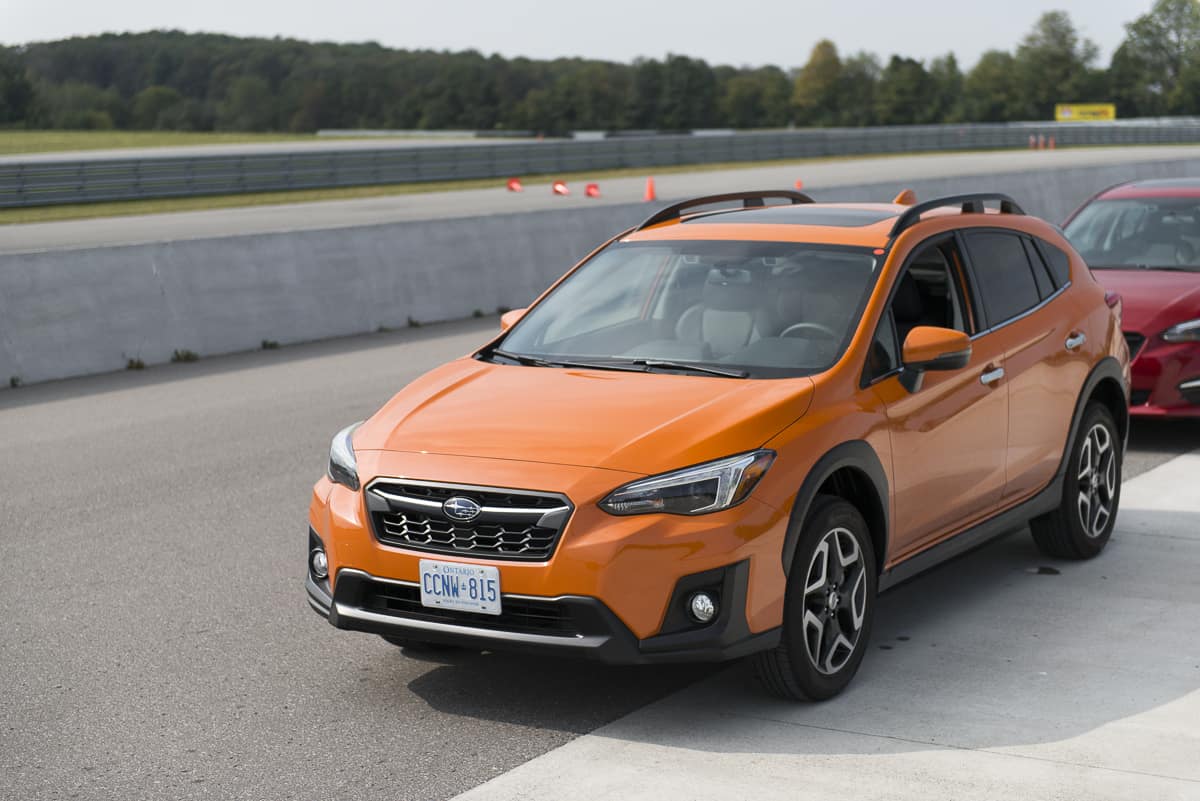 Discontinued Subaru Crosstrek Features:
In with the new, out with the old, here's what's gone for 2018:
Kazan Edition no longer: this special edition basically added some aesthetic features like a Pure Red paint colour and interior changes including a black mesh front grille, black exterior badging and exclusive alloy wheels, to name a few.
Ivory Interior gone: probably a good thing for families with kids
Some exterior colours deleted: Subaru says good-bye to the Desert Khaki, Jasmine Green, Pure Red, and Hyper Blue colours. They brought the popular orange back for 2018, so that's a good thing.
Are you shopping for the 2017 Crosstrek? Check out our 2017 review here.
To learn more about the 2018 model, visit the US Crosstrek site or Canadian site.