British Columbia, Canada – Few places in North America are as stunning as Canada's west coast where shorelines meet mountains. But just east of bustling Vancouver lies a region of rolling hills dotted with wineries, fruit orchards, pine forests, and Provincial parks.
And above all, gnarly roads and highways that'll slap a smile on your face behind the wheel of the latest 911 Carrera S – a 420-hp bullet designed to conquer places like this.
Part of a four-day trek, the Porsche Travel Experience British Columbia puts you into the new Carrera S while getting to know this beautiful region a little better (here's more on the Okanagan Valley at HelloBC.com).
More About Porsche Experience
Porsche has been offering these travel experiences for some time. Camp4 (now called Ice Experience) held in Quebec is perhaps one of their most popular in Canada and long-running – you can read our experience from Porsche Camp4 Canada 2012 and another from Camp4 2015.
But they've opened it up to more travel and adventure, and less all about pure track adrenaline, with the addition of Experience BC, Nova Scotia, and Yukon.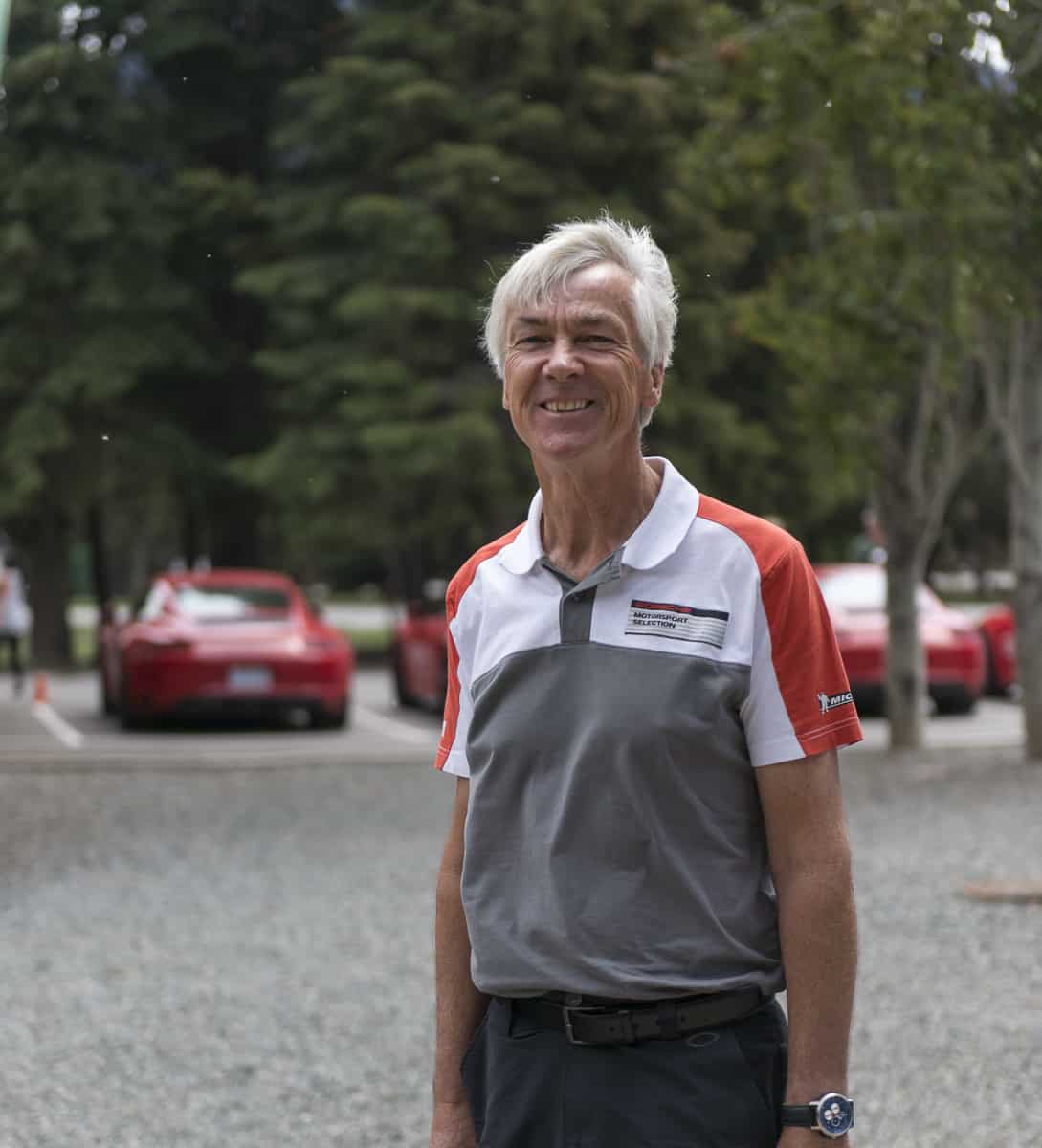 Overall, Porsche has done a nice job of mixing it up, offering 6 diverse packages appealing to a broader group of travellers, tourists, and petrolheads. Considering couples sign-up for these, everyone needs to be happy. And by the end of our trip, everyone genuinely was.
From track experiences to exploring some of the best regions in Canada, you can do a quick 3-hour Cayenne off-roading excursion or go for the gusto with a 4-day long trip on the country's West-coast.
Photo, right: Pro driver and our instructor Kees Kierop – he's got a thick Dutch accent so you know he means business ensuring the entire operation and schedule was in check. He kept everyone safe without compromising the stellar driving and exhilaration you'd expect behind the wheel of a new 911 on the open roads. Check out his site at http://www.keesnierop.com
6 Travel Offerings
Here's what the Porsche Experience for Canada is offering right now:
1 – Ice Experience Canada:(formly Camp4) Challenging cold-weather performance track time at Mécaglisse, Québec
2 – Track Experience:(formerly Porsche Sport Driving School) Intensive 2-day course, designed to ramp up your driving skills piloting a 911 and 718 Cayman
3 – Travel Experience British Columbia: 4-day experience driving through the vineyards and windy roads of BC's interior region.
4 – Travel Experience Nova Scotia: A newly added Porsche Experience, exploring the East coast Maritimes and the Cabot Trail – This one is priced at C3,749.
5 – Off-Road Experience: Spend 3-hours outside Whistler putting the Cayenne S SUV to its true limits in the mountains
6 – Travel Experience Yukon: Head North for true isolation and proper fresh air with a Cayenne S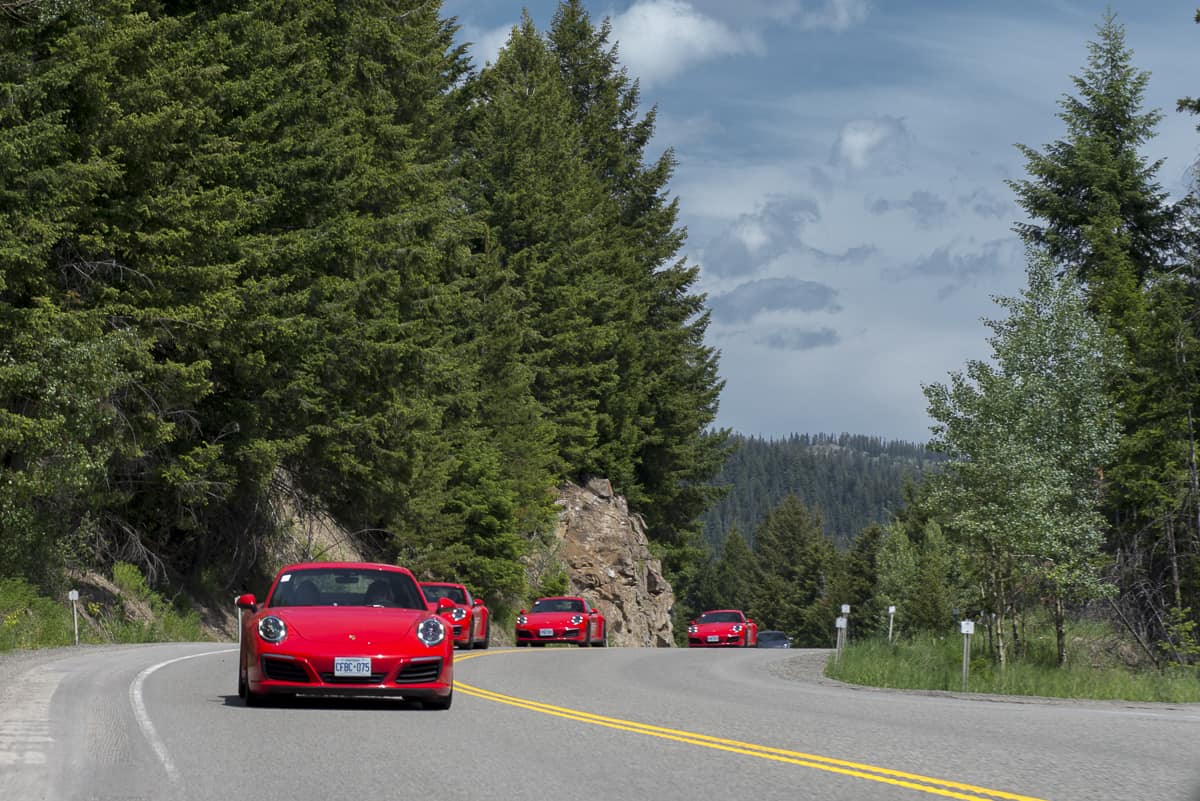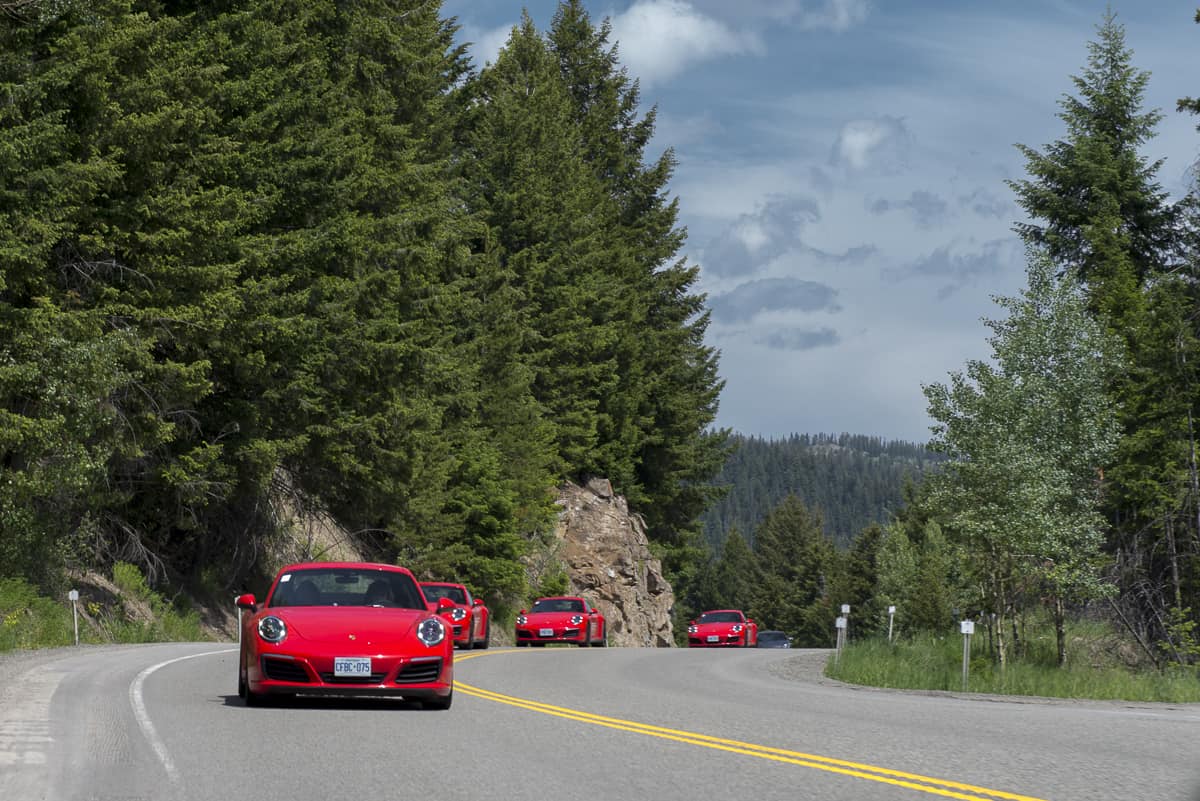 Porsche Travel Experience British Columbia
Firstly, you don't need to own a Porsche nor bring your own — that's what makes this, and all the other offerings, appealing.
At the end of the day, it's really just a good excuse for a Canadian travel getaway designed for car lovers who appreciate throwing the latest 911s into sharp, joyous stretches of highway through the beautiful Okanagan region. And if you're thinking about buying a Porsche, it's a bonus.
Your Chariots:
911 Carrera S
At the end of the day, it's really just a good excuse for a Canadian travel getaway designed for car lovers who appreciate throwing the latest 911s into sharp, joyous stretches of highway through the beautiful Okanagan region.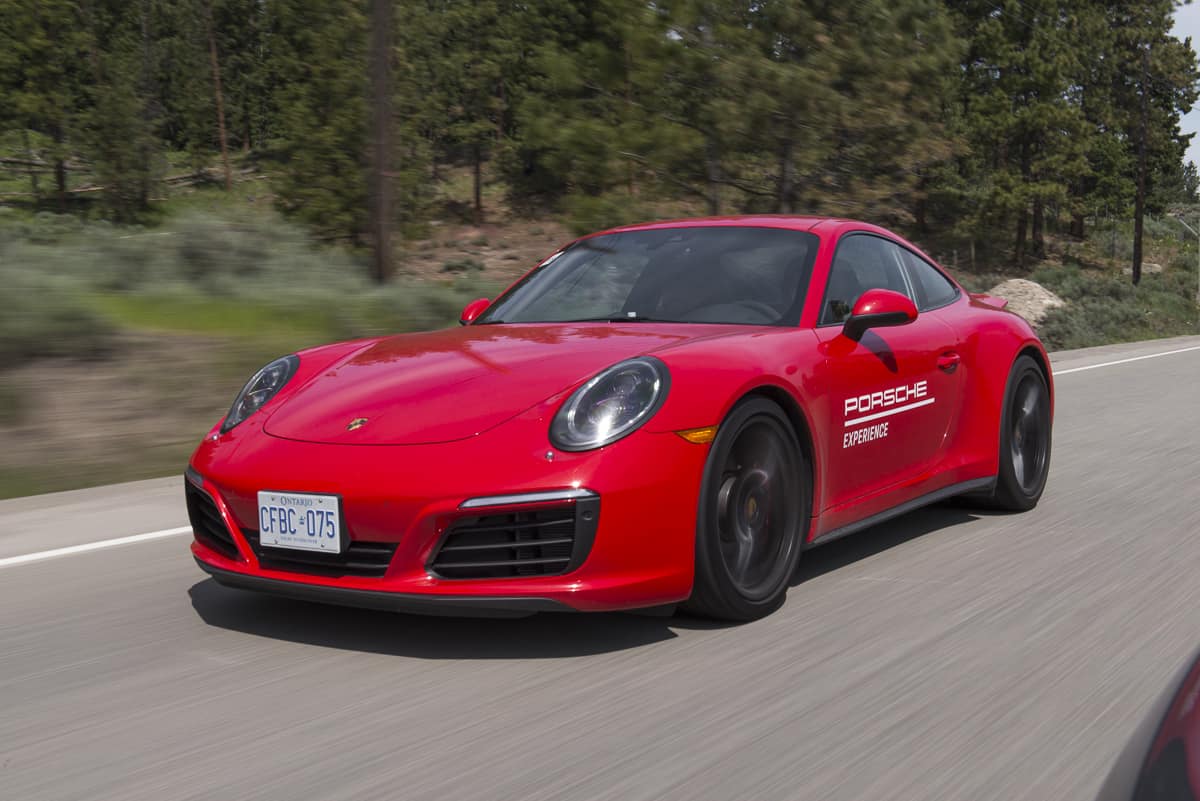 A 420-hp sports coupe for the journey all four days.
Specs:
Power: 420 hp
Acceleration from 0 – 100 km:3.9 s
Top Track Speed: 306 km/h
Transmission:PDK
More 911 from us:
Note: We somehow got stuck with a 911 GTS – so the grey model you see is all GTS that gets some extra stylistics like those flat black wheels (looks sharp against the grey metal paint).
Cayenne S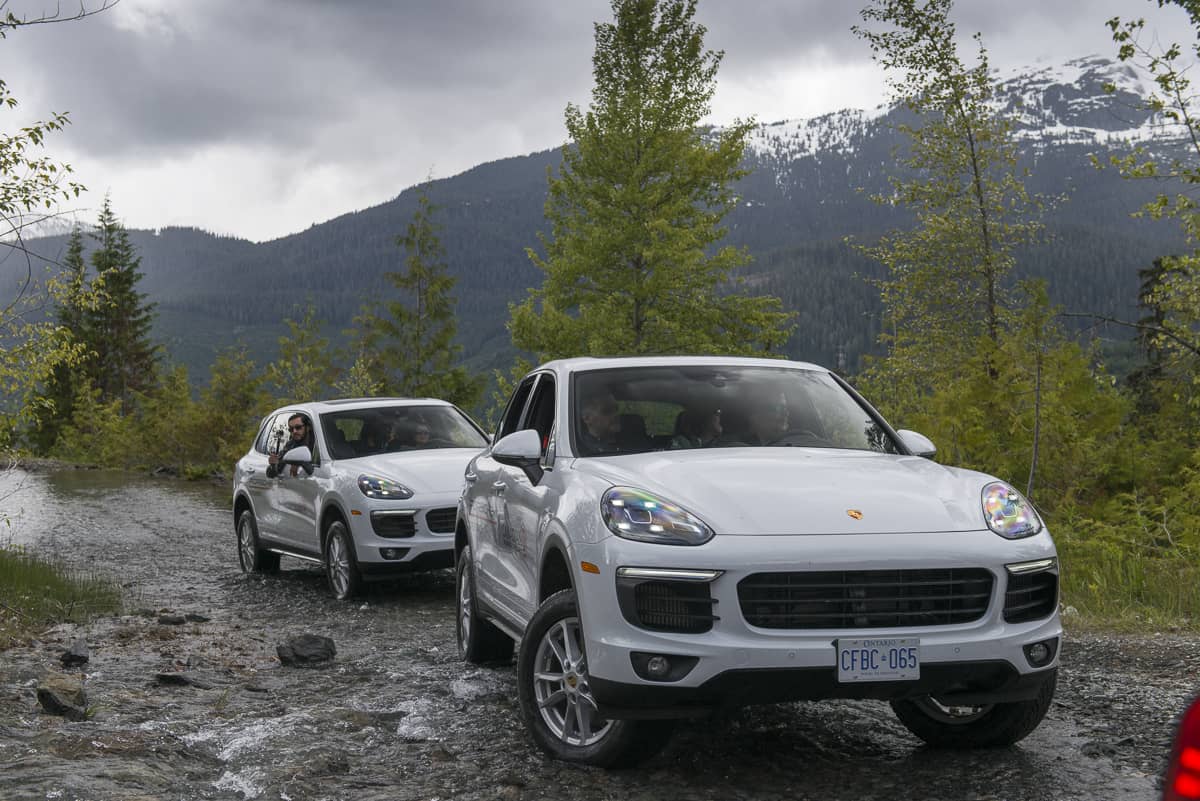 The SUVs are part of the 3-hour Off-Road Experience near Whistler. As of Sept. 2018, priced at C$495 for vehicle and one driver; $200 extra for additional driver, $100 for additional passenger).
Specs:
Power: 420 hp
Acceleration from 0 – 100 km: 5.5 s
Top Track Speed: 259 km/h
Transmission: 8-speed Tiptronic S
Check out our Cayenne Reviews here.
The Drive: 4-Days through BC's interior
As the automaker appropriately puts it, "If you're going to explore some of the world's ecological wonders with awe-inspiring scenery at almost every turn, you may as well be doing it while behind the wheel of a technological marvel and engineering masterpiece. This is your invitation to the Porsche Travel Experience British Columbia."
Day 1: Sea-to-Sky Highway from Vancouver to Whistler + 3-hour Off-Road Experience with Cayenne SUV
The tour starts in Vancouver and heads north towards Whistler on the Sea-to-Sky Highway towards Callaghan Valley – a breath-taking, 1.5 hour stretch of road hugging the BC coast.
Our day included the Cayenne off-roading portion before ending the day at Four Seasons Resort Whistler.
Day 2: Experience the Duffy Lake Road
The second day is all driving. And it's all good. The trek from Whistler to Vernon includes 5 hours and over 400km of twisty roads on a turbo-powered rollercoaster ride through the Duffy Lake Road. Here's another feature at Avenue magazine about this great driver's road.
Day 3: Track Day at Area 27
The journey continues on-road from Vernon to Osoyoos with a stop at Area 27 – a terrific track nestled in BC's rolling hills and vineyards.
Separated into two groups, instructor Kees leads one wave, keeping an eye on your performance and providing guidance and tips via in-car radio & speaker. Basically, he'll call you out in front of the group, and that's the way is should be.
The entire track experience is awesome and breaks up the driving trip.
To learn more about Area 27, check out our Chat With F1 Champ and Area 27 Track Designer Jacques Villeneuve.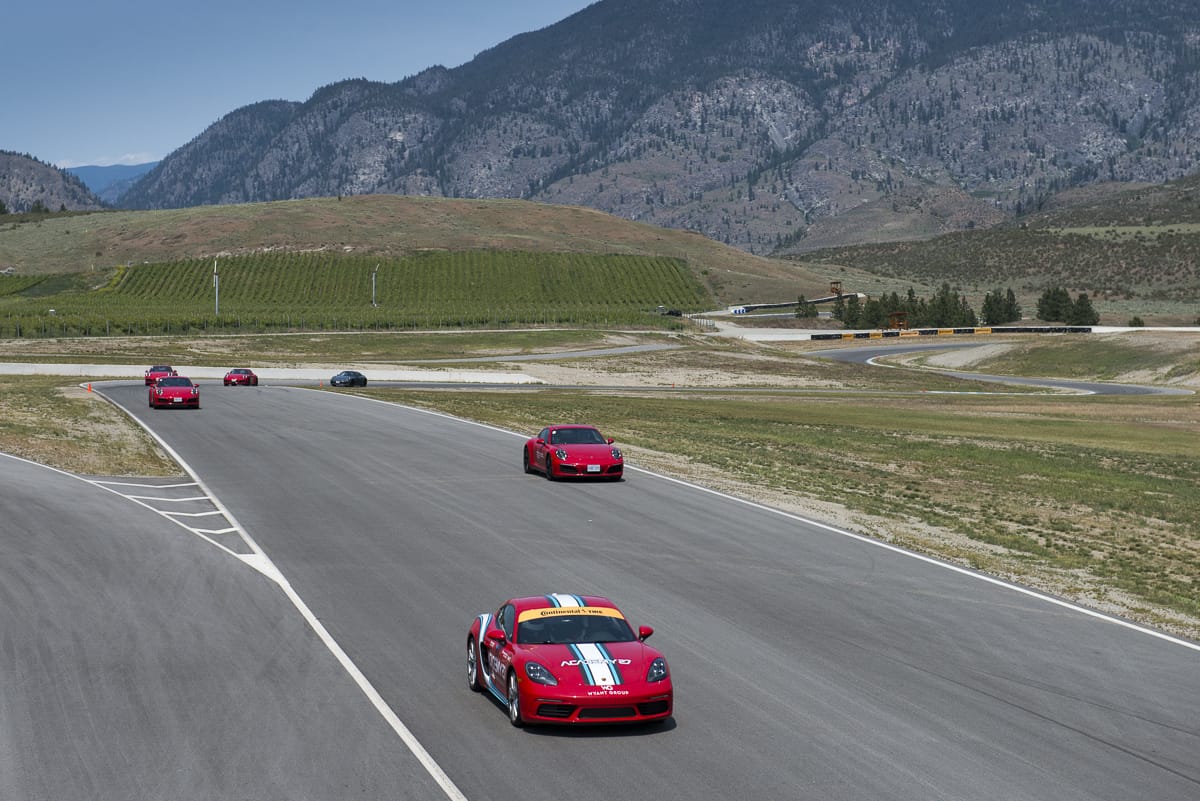 Day 4: Final Drive Home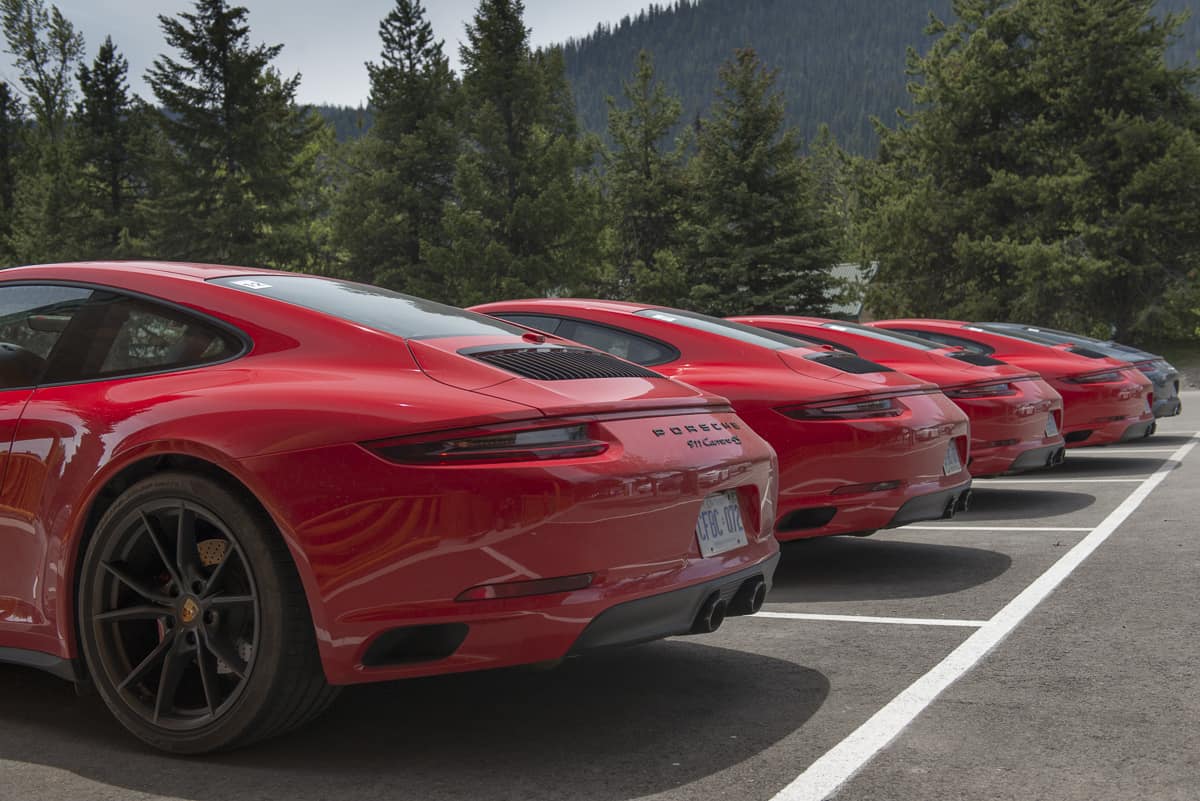 The fun is over. Time to hit the airport – then your local Porsche dealer for a new 911 Carrera S.
Cost and Takeaway
The Experience British Columbia typically runs sometime between end of May to early June. Price is C$4,995 per person plus tax; not all expenses are covered.
Overall, this particular Experience offered a little bit of everything – great roads, world-class track, and proper off-road testing. With, of course, great resorts and accommodations including Four Seasons Whistler, Sparkling Hill Resort, and Spirit Ridge.
In terms of value, if you factor in the Area 27 track experience alone, you begin seeing the value. And you'll likely make some new friends too – and that's what travelling is all about.
To learn more visit Porsche Travel Experience BC.