Avo Aboulian of Toyz Autoart in Montreal Produces one sinister 2002 Corvette Z06
Arguably, nothing instills more anxiety in the hearts of grown men than the fear of the unknown—you know, unholy spirits and diabolical sorcerers. Well, whether you believe in this stuff or not, watching Linda Blair's contorted body flailing down the stairs and spewing green vile or playing your old Iron Maiden record backwards (Number of the Beast, we know you own a copy) to the sound of demonic poetry is just plain freaky.
You'll Like: After the Sinkhole: The National Corvette Museum in Kentucky Rises Up
When it comes to fear, it really boils down to all things mischievous, evil, and morally objectionable, always lurking, personified in one form or another. In Montreal, Canada, fear roars through the eerie tunnels of Ville-Marie and scours the old, cobblestone road of de la Commune, embodied as Avo Aboulian's intimidating 2002 Corvette Z06—a ride so fierce it keeps Lamborghinis up at night.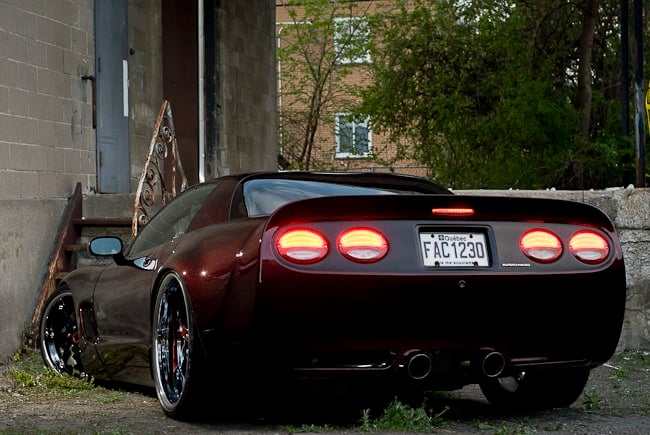 Montreal is a beautiful city: old charm with contemporary style, the closest you'll get to Europe without having to cross the Pacific; particularly charismatic is the inner district of Old Montreal. Once a little French settlement along the St. Laurent River, Old Montreal today is as vivacious as ever, but now a lot spookier, retaining it's cobblestone pathways and Gargoyle-infested 17th-century buildings alongside old fortifications that once surrounded the town. Down the road sits the gothic Notre-Dame cathedral replicating the original in Paris, and what would a creepy town be without a clock tower. Our menacing Z06 could not find a better place to call home, clock tower and all. The premise behind this build is familiar, the same story you've heard many times before but will never get sick of: Guy buys car-Guy gets spanked by another car-Guy buys new car, tunes it, and spanks everyone. The tale of retribution and pride, and Avo Aboulian is no exception. He had no quarrels back in the day with his 2001 BMW 330ci, willing to compromise power for styling. That quickly changed when his uncle's 2002 M5 proved otherwise, leading Avo to sell his Bimmer (and his soul), for a new Z06 coupe in April of 2002.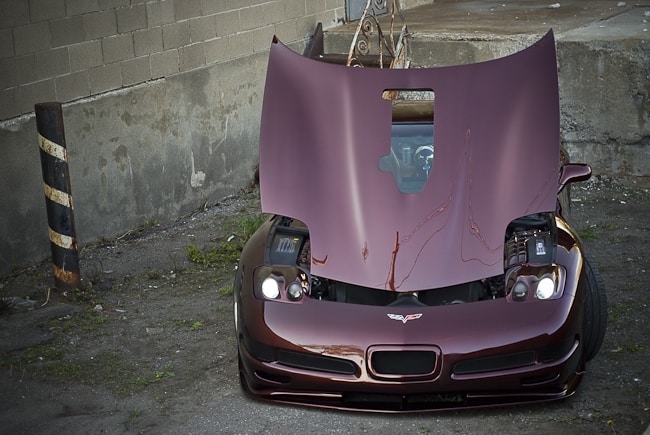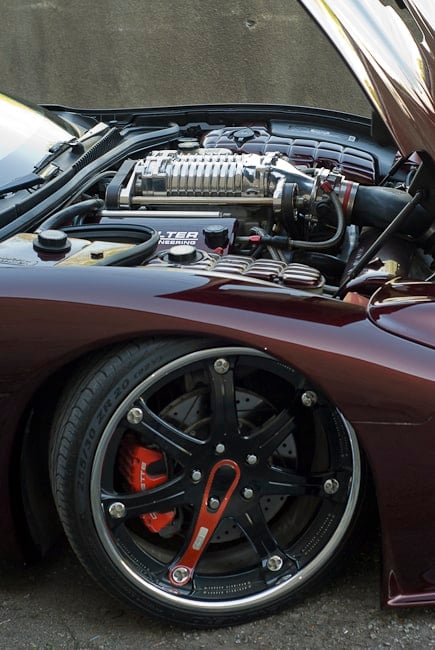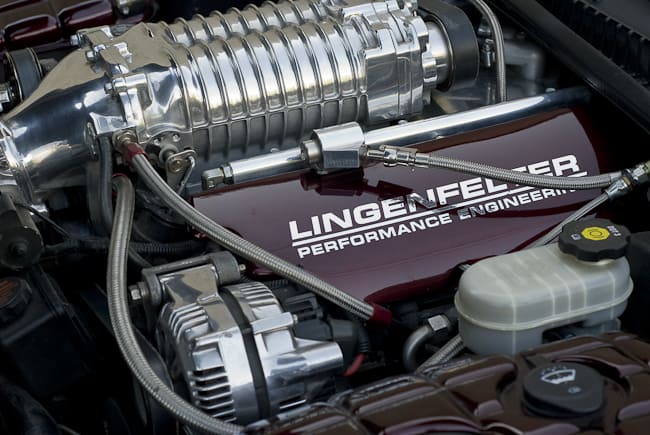 Shortly after, he gets beat again, this time by a friend's 4-cylinder Nissan Silvia with a SR20DET transplant. Ouch. The events that followed thereafter lead to this tale of demonic proportions, a vicious Corvette Z06 transformation, unprecedented and not for the faint of heart. When asked why he chose this particular car, Avo states, "What appealed to me was all it had to offer as a stock muscle car." In fact, when the Z06 moniker was reintroduced in 2001, following a long hiatus since it's initial introduction back in 1963, it was considered a very well-balanced sports coupe, one that was ruthless on the track and equally exhilarating on the drive there. Although the '01 Z06 broke ground in areas of reduced maintenance costs, reduced noise and weight, and overall refinement, to name a few, GM engineers wasted no time on further improvements for 2002, so Avo got in at a good time. Including 20 extra ponies at 405-hp via a 5.7 liter V8; 15-ft lbs of extra torque producing 400-ft lbs at 4800 rpm with redesigned clutch driven discs; enhanced performance with wider manual gearbox ratios; reduced weight with aluminum not forged wheels, and so on. Frankly, all pale in comparison to Avo's own debauchery, which begins under the hood.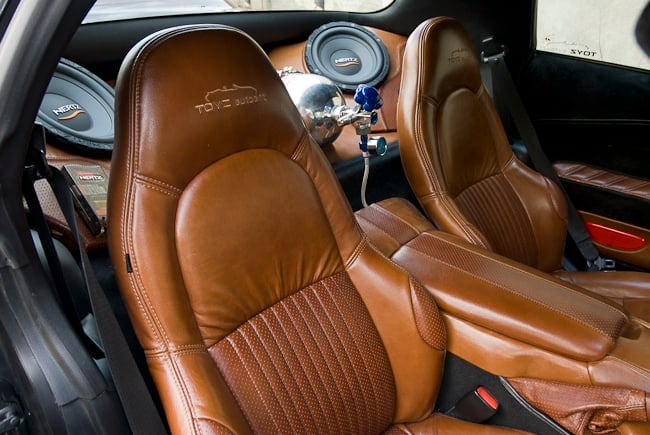 The adrenaline for this beast is pumped by a root-type intercooled Magnuson supercharger system with a Lingenfelter computer tuning setup. "The supercharger came with a 6 psi setting," Avo explains, "but the 8.2 psi setting with the Lingenfelter I can definitely feel the difference, a much more aggressive tuning setup now." The 100 shot web nitrous system provides that punch on the track while an MTI blower ensures power on demand when stalking the streets. The ported throttle body and upgraded fuel pump and injectors contribute mayhem, "When I nail the throttle, the tires light up!" Avo says. He opted for the Kooks 17/8" long tube headers paired with a 3" off-road Kooks x-pipe. Breathing assembly includes a Vararam forced air-intake system adding about 30 additional horsepower, growling through a Billy Boat off-road exhaust, replacing the stock titanium exhaust system that GM claims is the first for any production vehicle.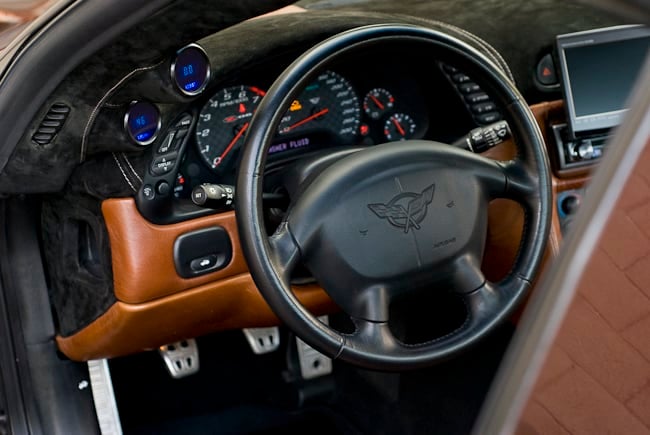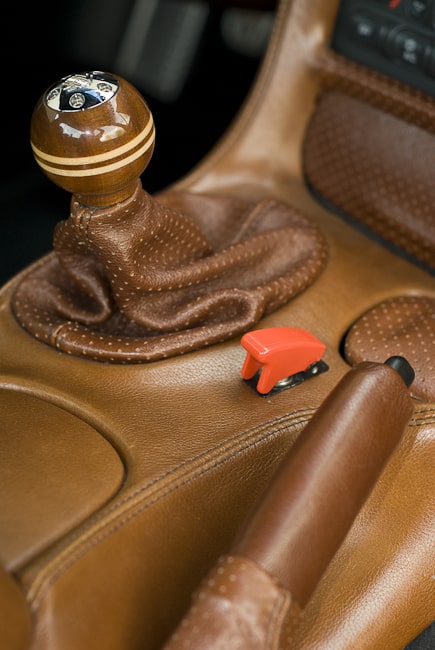 Growling is an understatement, as I watched peoples' reactions along the busy street of St. Laurent, it is more like an apocalyptic roar from Hell. And as we ripped through long stretches of tunnel during rush hour, the look on the innocent faces of minivan dads who were simply getting home to see their families is another story. If it's not the roar that instills fear, it's definitely the way it looks, whether is lurking in the shadows or resting along the busy curb. Avo's friends at Automotion got things started, "We started the project consisting of a custom widebody including modified rocker panels, quarter panels, and rear fascia—all this to house the new Davin 3-piece wheels I ordered which protruded over 3" from the fenders," Avo explains, all this to accommodate a desired 5" outer lip on a 22" rear wheel. The front lower fascia was custom molded for the 20" rollers, with an added custom air inlet. Lending it that wicket flair were Euro taillights; a rear-mounted camera; and a Specter Werkes nonpopup HID headlight conversion. Avo repainted his car, from an angelic silver scheme to a deep, darker Candy Apple Red over a charcoal basecoat.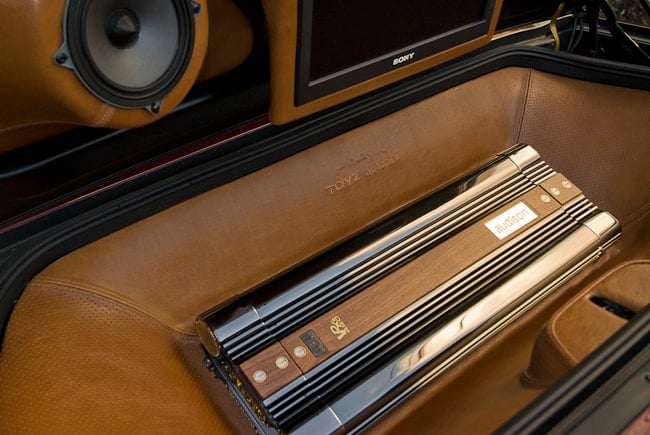 The Beast rolls on Davin Speed 2 3-piece forged aluminum wheels, 20×8.5" wrapped in Pirelli Zero Nero 255/30/20 up front and 22×12" with 335/25/22 in the rear, all next to Baer Eradispeed 2-piece cross-drilled rotors and braided brake hoses. Bilstein shocks and Specter Werkes sway bars added in, while the stock full-leaf springs were replaced by Specter Werkes coilovers. "Adding the full coilover setup really made a difference," Avo explains, "it's more like a drag racing setup now that shifts all the way to the rear, and with the 335 rear wheels griping hard the car really takes off, feels like an AWD."
Following Corvette's mantra of a proper, well-balanced sports coupe, Avo didn'tstop at power or handling, he followed through in its entirety, including in-carentertainment (I.C.E.) and a stunning interior. He replaced the stock Z06 interior including black leather trimmed seats and Z06 embroidered into the headrests, with a full custom leather and suede interior with the embroidery of his own hi-end aftermarket shop, Toyz Autoart, all completed by Automobilia with material from Rudsak. The I.C.E. is extensive and done by Qualitech Audio, including an Alpine 310 DVD player and a 6.5" Clarion display for the rear-camera; an Audison 6-channel VRX6 420 amplifier and Audison power distributor and capacitor; hi-end Hertz component speakers and two Hertz 10" subwoofers; XM Satellite Radio voice activated Alpine navigation system; and of course, an iPod interface.
This is L&E's first full-featured Corvette Z06. Without a doubt, there are plenty of impressive C5-generation Corvettes out there, but you'd be hard-pressed to find one as stunning as this one. Unleashed just last year in October at Sport Compact Performance 6 in Montreal (Canada's largest aftermarket show, 3-days at the Olympic Stadium), Avo claimed NCCA's top honours in the ProElite class, and has been making an impact ever since.
So when you choose to visit Montreal, indulge in poutine and smoked sandwiches in Old Montreal, be forewarned of The Z0666—while you may never actually see it, you'll most definitely hear it.