Now in its 39th year, the 2012 Canadian International Auto Show proves to be another significant one with over forty vehicle premieres and fifteen new concept cars to drool over. Plus, with over one-thousand cars and light trucks on display, the CIAS is the opportune time for consumers to scope out their next vehicle…all in one place…without stepping into the dealership.
The show runs February 17 – 26 at the Metro Toronto Convention Centre
Below, some of the 2012 CIAS highlights:
TOYOTA
2012 Toyota Prius
A refreshed mid-model 2012 Prius will be on display at the Canadian International Auto Show. It combines exceptional hybrid performance, safety and value and delivers 66 % fewer smog-forming emissions than the average new vehicle. The 2012 Prius features updated interior and exterior with new headlamps, front grille, front bumper and rear combination lamps. Like all Toyota vehicles, the Prius also comes standard with the Star Safety System.
2013 Toyota Prius-C
Toyota RAV4 EV
2013 Scion FR-S
The all-new Scion FR-S makes its first-ever Canadian appearance at the Canadian International Auto Show. The FR-S, which stands for Front-engine, Rear-wheel drive, Sport, is a high-performance sports coupe with exceptionally balanced performance and handling, compelling style, flexible utility and surprising fuel economy. The fun-to-drive FR-S features lightweight design and compact size and its fierce exterior is a solid reflection of its inner power.
MERCEDES-BENZ
2012 Mercedes-Benz ML 63 AMG
The all-new 2012 Mercedes-Benz ML 63 AMG sets new benchmarks for performance, exclusivity and efficiency in its segment. The basis for the exemplary fuel consumption and top-class performance is provided by the AMG 5.5-litre V8 biturbo engine, and the vehicle's dynamic handling has been further enhanced with the newly developed ACTIVE CURVE SYSTEM that provides active roll stabilization.
2013 Mercedes-Benz SL 550
The fascinating next generation 2013 Mercedes-Benz SL 550 offers agile, sporty handling and a highly rigid all-aluminium bodyshell. With unmatched ride comfort, a luxurious interior and a host of groundbreaking new innovations, this iconic two-seater is poised to continue to establish new standards in the luxury roadster class.
2013 C63 AMG Coupe Black Series
HYUNDAI
2013 Hyundai Elantra Coupe

Hyundai Elantra GT Concept
2013 Hyundai Veloster Turbo
MAZDA
2013 Mazda CX-5
Mazda SHINARI Concept Vehicle
Mazda SHINARI is a 4-door, 4-seat, sports coupe concept vehicle and a pure expression of Mazda's new design theme, 'KODO – Soul of Motion', in its idealized form. Mazda SHINARI showcases several new design elements that will carry forward into production, beginning with the 2013 CX-5 compact SUV, and represents the first initiative by Mazda Design to express 'KODO – Soul of Motion.
BMW
BMW Vision ConnectedDrive.
BMW Vision ConnectedDrive demonstrates current and future methods of mobile networking in a particularly focused way. The design and technology of the spectacular roadster are aimed at making the vehicle an integral part of a networked world. Comfort, safety and the infotainment experience in the vehicle can be precisely optimised by the innovative functionality, individually tailored to suit the requirements of both the driver and passenger. New technologies and design concepts are employed to add even more facets to the unmistakable BMW driving pleasure.
The All-New 2012 BMW M5 Sedan.
The all-new 5th generation ultra-performance BMW M5 introduces the most powerful engine ever fitted to a series-produced BMW M. Mated to a 7-speed M-Double Clutch transmission, the new 4.4-litre V8 M5 produces 560 hp and 500lb-ft of torque, accelerating from 0-100km/hr in 4.4 seconds and to 200km/hr in 13.0 seconds. The M5 achives this while consuming 30% less fuel and providing 50% more range than its predecessor.
JAGUAR
Jaguar C-X16 Concept
The Jaguar C-X16 concept is a bold statement of Jaguar's future design and technological intent. The C-X16 takes the traditional front-engined, rear-wheel drive formula that Jaguar defined over decades and reinvents it for the 21st century in a performance-oriented hybrid drivetrain with 50:50 weight distribution. If anything can be said to define Jaguar designs it is one word: drama. The C-X16 is no exception, taking the traditional two-seater sports car template and redefining it in the Jaguar idiom.
Jaguar XKR-S
GENERAL MOTORS
2013 Cadillac ATS
The all-new 2013 ATS, is Cadillac's an all-new compact luxury sports sedan intended to challenge the world's best premium cars. Developed on an all-new, lightweight vehicle architecture, Cadillac's entry into the world's most significant luxury car segment goes on sale this summer.
The rear-drive ATS brings Cadillac's blend of technologically driven performance, elegance and design to a new audience of spirited drivers. Its sophisticated driving experience is enhanced with Cadillac CUE, a comprehensive, in-vehicle user experience that merges intuitive design with industry-first controls and commands for information and media data.
2013 Cadillac XTS
The all-new, built in Oshawa, 2013 Cadillac XTS us the newest addition to the Cadillac luxury sedan lineup, arriving in Canadian showrooms in the spring of 2012 as the most technologically advanced production car in the brand's history.
Larger than the CTS, the new XTS delivers the space, elegance and dramatic presence that are Cadillac signatures, but with entirely new and technically advanced methods tuned for a new generation of luxury customers. It also marks the debut of CUE, a comprehensive in-vehicle experience that merges intuitive design with auto industry-first controls and commands for information and media control.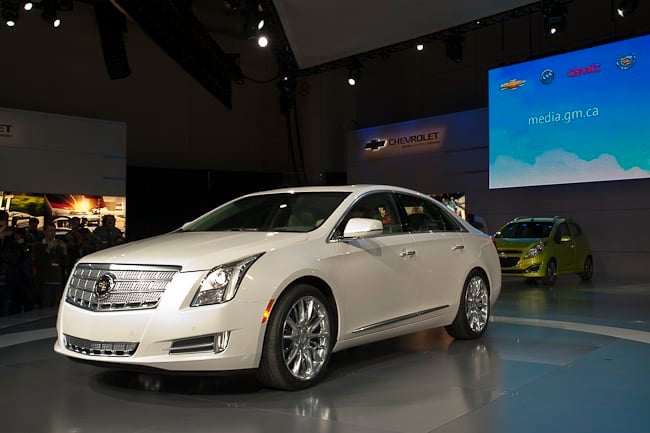 FORD
2013 Ford Fusion
The all-new Fusion delivers the best fuel economy, technology and design, transforming the midsize sedan segment. Fusion is also the first sedan with gas, hybrid and plug-in hybrid powertrains available – offering consumers the Power of Choice. Fusion Energi will also be the sixth electrified vehicle added to the Ford line up. Fusion can be equipped with Active Park Assist, Lane Keeping Aid, and Adaptive Cruise Control, to name a few. With expected fuel economy leadership, new design language and the most advanced safety technologies, the all-new Fusion represents Ford at its best.
2013 Ford Flex
The new Flex brings more technology, better fuel economy and a new design to the seven- passenger crossover. Flex can be equipped with a standard 3.5 litre Ti-VCT V6 engine or a 3.5 litre EcoBoost engine. Flex features even more advanced technologies, including Active Park Assist and breakthrough features like Inflatable Rear Safety Belts. With a new front end, a standard dual exhaust rear appliqué and nine exterior colours to choose from, Flex customers will find the vehicle modern and sophisticated.
LINCOLN
2013 Lincoln MKZ Concept
The MKZ Concept debut marks a significant step in Lincoln's reinvention, signaling a new generation of world-class products with brand and ownership experiences to match. The MKZ Concept strongly hints at the production model arriving in dealerships later this year, as well as Lincoln's design future.
HONDA/ACURA
2013 Honda Civic HFP
Honda Accord Coupe Concept
A concept vehicle revealing the styling direction of the next-generation Honda Accord Coupe will make its debut at the 2012 Canadian International Auto Show. The new, ninth-generation 2013 Honda Accord is scheduled to go on sale across Canada in the fall of 2012.
Acura NSX Concept
Representing the styling direction for the next generation of Acura's super sports car, the Acura NSX concept makes its Canadian debut at this year's Canadian International Auto Show. The long-awaited NSX Concept is a mid-engine sports car and features Acura's all-new, electronic "Sport Hybrid" Super Handling all-wheel-drive system.
SUBARU
Subaru XV Concept
The Subaru XV Concept is a fun, urban crossover that will elevate driving enjoyment to new levels. Familiar neighbourhoods will seem new again and even ordinary errands are more exciting from behind the wheel of the brand new XV Concept that's still unmistakably Subaru. Fresh, energizing colours and a unique wheel design accentuate a playful, sporty yet casual style and distinctive character all its own.
2013 Subaru BRZ
AUDI
2013 A4 Sedan
A bestseller is now even more attractive: Audi has updated the A4 model series. Revised drivetrain, chassis and infotainment solutions, along with an even more attractive design, attest the "Vorsprung durch Technik" achieved by the A4 Sedan. The A4 is the best-selling Audi model. Now in the eight generation, it is the focal point of the brand. Over the last 39 years, Audi has sold roughly 10 million units of the A4 and its predecessor, the Audi 80.
2013 Allroad
All new for Canada the 2013 allroad features the quattro permanent all-wheel drive system pioneered by Audi. Combined with the 2.0 TFSI gasoline engine producing 211hp the drive train represents the ultimate in driving dynamics, traction, driving safety and straight-line stability.
NISSAN
Nissan e-NV200
2013 Nissan Skyline GT-R
INFINITI
Infiniti ETHEREA Concept
The Infiniti ETHEREA Concept is a highly compact vehicle with no-compromise hybrid power and maximum driving pleasure. The ETHEREA is space efficient and practical thanks to a new mechanical layout and innovative access arrangements. Its dynamic character and highly sculptural, near mono-volume form provide a silhouette unlike anything currently in the class.
VOLKSWAGEN
2013 Volkswagen Jetta Hybrid
Bulli Concept Car
The Bulli represents the future of urban mobility and utility. Capturing the iconic looks of the original microbus, the Bulli's compact exterior belies the spacious interior. Powered by a unique, zero-emission electric drivetrain, the Bulli concept points to the future of mobility and does so with style and utility in mind.
KIA
2012 Kia Rio Sedan
The all-new Rio sedan offers an unparalleled blend of world-class design, safety, quality, technology, class-leading[1] 138 horsepower and fuel economy ratings of 6.6 L[2] and 4.9 L / 100 km (city and highway).
Kia GT Concept
The Kia GT concept showcases a graceful and confident style that resembles iconic 1970's grand touring (GT) cars. The concept signals the company's distinctive new design direction and is the first rear-wheel-drive concept in Kia's history.