At the risk of dating myself, I was born a few years after Honda introduced the first-generation Honda Civic in North America. By today's standards, it was about the size of the smallest hatchbacks you can buy today, and while it wasn't long before the Civic started to "grow up," the 10th generation model–recently introduced as a 2016–essentially has nothing in common with that original car introduced in the early 1970s.
2016 Civic Touring Horsepower: more ponies and two engine choices
Case in point: the 2016 Civic is the first available with a turbocharged engine, making it the most powerful Civic in the model's history aside from the sport-oriented Si models.
The Turbo
That turbo motor comes in the two top-end trims, dubbed EX-T and Touring. Our tester was the latter, and if its upscale features don't make the car feel grown-up enough for you, that engine will. Despite a tiny 1.5L displacement, it cranks out 162 lb-ft of torque at just 1,800 rpm to give the Civic big-car pickup from stoplights, and keeps mechanical noise to a minimum by eliminating the need for high engine speeds in most normal driving situations.
Turbo models come only with a continuously variable (CVT) automatic transmission that is beautifully matched to this new engine, making great use of the engine's low torque. Just as impressively, it moves through a range of set ratios in hard acceleration to avoid the droning engine note that generates complaints in some other CVT-equipped cars. In fact, the only complaint we can come up about the Civic's drive is steering that's twitchy at highway speeds.
Our test car averaged 7.6 L/100 km in a week of city driving, matching its Natural Resources Canada rating.
2016 Honda Civic Touring Interior
Interior space
From the outside, it's clear this is a bigger car than the 2015 model it replaces, and that impression is emphasized inside, where there's more space for everyone. It feels especially roomy up front, where the wide seats seem closer to what you get in a mid-size car than a compact. Rear seat space is good, but getting in and out is made awkward by wide door sills, and the three-place bench feels narrower than it should in a car that otherwise feels so spacious.
Technology: Touring trim adds wireless charging
The new Civic also shows off Honda's focus on technology, with a slick-looking all-digital gauge cluster that mostly works very well, but whose secondary displays for fuel level and engine temperature are hard to read at a glance. Our other complaint is the lack of a volume control knob for the stereo.
Android Auto and Apple CarPlay
On the plus side, Honda's adoption of Android Auto and Apple CarPlay means you no longer have to pay for the top-end Touring model to get navigation. Download the appropriate app onto your device, plug it into the car's USB port, and you can use your phone's GPS through the touchscreen. Our Touring tester also had standard wireless phone charging, and there's a generous list of safety kit in EX-T and Touring models, including collision avoidance braking, forward collision warning, lane departure warning, road departure mitigation, adaptive cruise control, lane keep assist, and blind-spot monitoring.
Price
Among the Civic's most impressive traits is its price: at $27,000 the Touring model is packed with enough upscale features to make it at least as strong a value as the Hyundai Elantra, the segment's value leader for the last five years or so.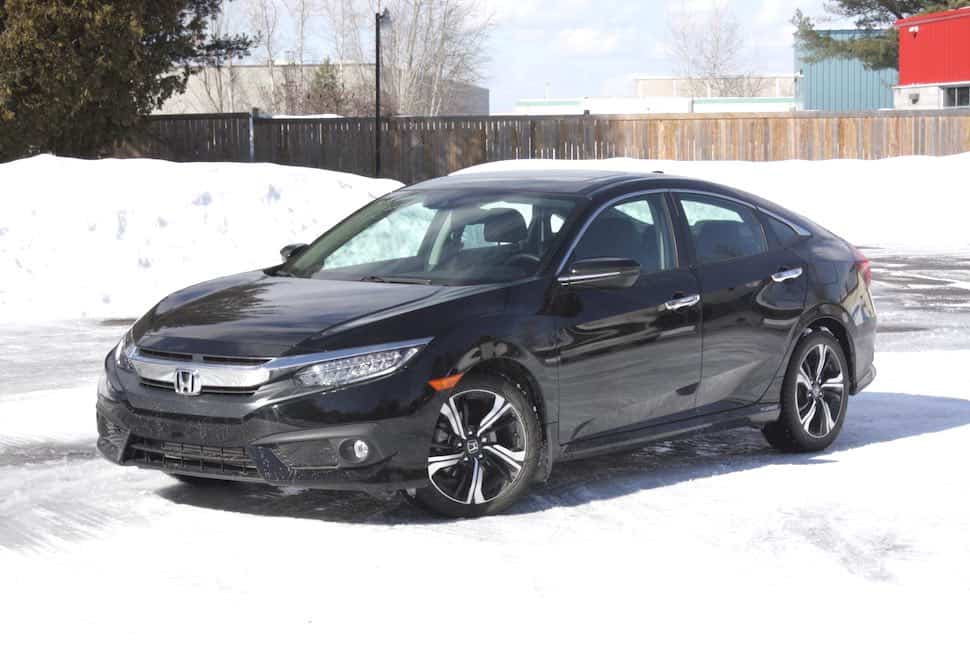 Takeaway: is the Civic Touring sedan worth it?
Where older Civics were favoured by buyers who valued Honda's reputation for efficient and reliable cars, this one is sure to win back a few buyers who had defected to Hyundai and Kia in search of stronger value.
The previous-generation Hyundai Elantra at one point threatened Civic's title as Canada's best-selling car, but as nice as the new-for-2017 Elantra is, we think it — and every other small car on the market — is going to be looking at the Civic's taillights for years to come.
Pros:
Fuel economy

Upscale driving feel

Strong engine
Cons:
Rear seat access

Finicky touchscreen

Twitchy steering at highway speeds
2016 Honda Civic Touring Specs:
Engine: 1.5L turbocharged four-cylinder

Power: 174 horsepower

Torque: 162 pound-feet

Transmission: Continuously variable automatic

Brakes: Four-wheel disc brakes

Steering: Electric power-assist rack-and-pinion

Suspension: Independent strut (front); Independent multi-link (rear)