Tremblant, Quebec – Automakers consistently conjure up catchy tag lines to promote their products. And so they should. One liners, from concise and on-point to borderline tacky and confusing usually when the vehicle can't carry its own weight.
For their redesigned 2019 Forte, Kia has simply gone with A Compact – Not a Compromise. After spending a few days putting the small 4-door sedan to the test through the rolling hills and long stretches of highway in rural Quebec, it's hard to argue this point when they've thrown in a long list of standard features like heated steering wheel, 8-inch floating display, a surprisingly upscale interior (particularly in the top-trim EX Limited you see here), and Apple CarPlay and Android Auto, all packaged into a handsome little car that has clearly paid attention to the details.
The new Forte really does go over and above what most have come to expect from compact sedans. As Kia Canada's Marketing Director, Michael Kopke, puts it, "With the safety and technology improvements all wrapped in a stunning new design, the all-new 2019 Kia Forte is a Compact – not a compromise and ready to take on the very best that the segment has to offer."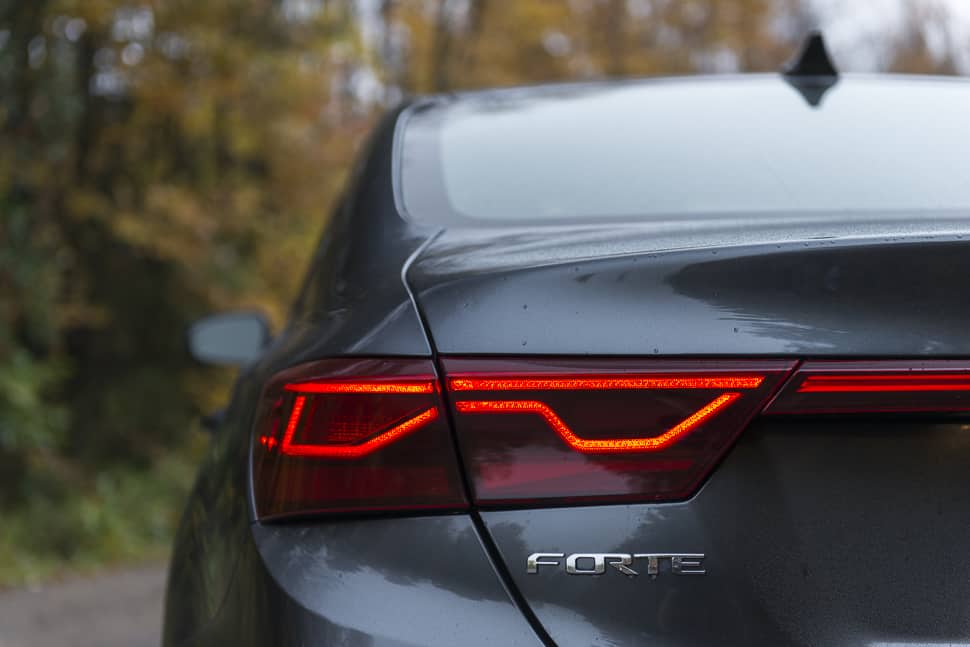 But Kia's been at this for awhile now, providing as much value as possible to keep up with the market leaders like Honda and Toyota – and their new 5th-generation Forte targeting those discerning Millennials, is no exception.
The Korean carmaker has worked hard the past decade or so elevating both their brand image and product caliber, taking home J.D. Power's quality awards 4 years in a row with some IIHS top safety picks along the way. Plus, the 2019 Forte shares some serious DNA with its 350-hp Stinger GT sibling which doesn't hurt either.
Being the underdog can be a good thing. But now that Kia has in many ways caught up to the competition, slowing cementing their place in consumers' minds as a formidable contender, the question now is: can they stay there? Getting new buyers into their new halo car is a good start.
The Stinger Influence: Inside and Out
Safe to say, nobody expected a sporty German fighter to come from the Korean marque. But it happened, and the new Kia lineup is benefiting from it.
As Lee Kent, Forte Product Planning Supervisor, states, "The Stinger is an iconic design for the Kia brand, helping elevate it to the next level; designers worked together on the success of the car, ensuring elements from the Stinger are on the Forte as well."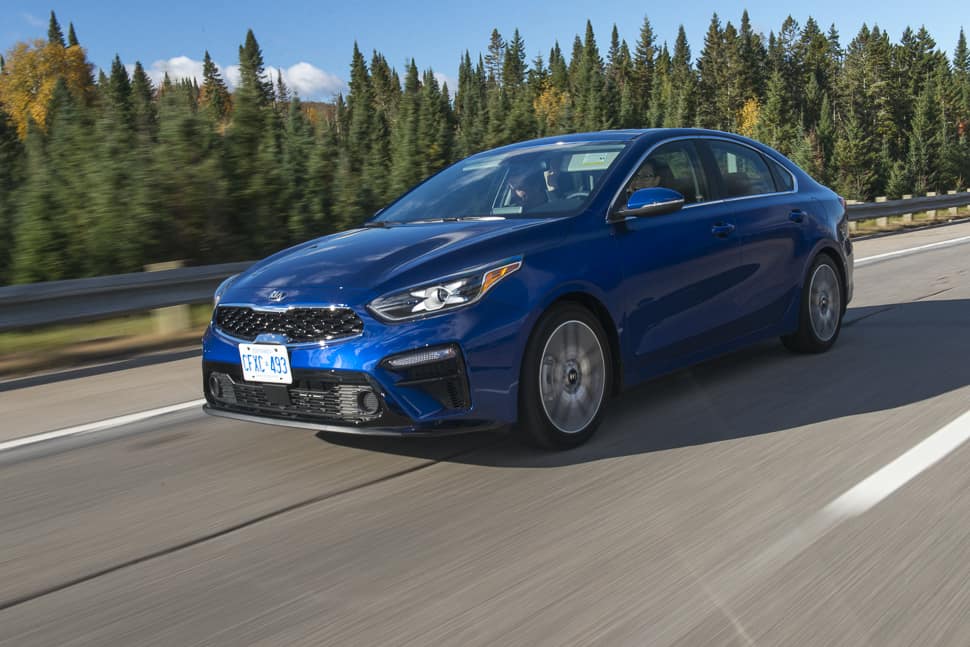 The 2019 Forte's exterior finds a number of sleek and dynamic styling cues inspired by the Stinger sport sedan, including a long hood and shorter rear deck for that fastback look. The new Forte's lighting signature and front air ducts are prominent, making the compact car look visually wider and more planted.
Inside, the Stinger's turbine vents make the cut also, striking a good balance with the floating touch-screen display.
Performance and Handling
Fuel Efficiency
Undoubtably, fuel efficiency (i.e. saving serious money) is top of mind for young buyers. Kia managed to improve the new Forte's fuel economy by 17-percent out of the new 2.0L 4-cylinder engine, compared to the 2018 Forte, while still serving up a respectable 147-hp and 132 lb.-ft. of torque found in the outgoing model. The sedan's sleek aerodymanics also contributes to better efficiencies.
During our drive, we didn't really notice the rubber-band-like feel often associated with CVTs; nor was it loud as is usually the case. The Forte provided smooth and linear acceleration when needed. And for a compact sedan, that's all we could really ask for here.
According to Kia, the 2019 Forte LX with the 6-speed manual tranny returns 33/44/37 mpg (8.6/6.4/7.6 L/100km) city/highway/combined, but when outfitted with the in-house built IVT engine, these ratings improve to 37/48/41 mpg (7.7/5.9/6.9 L/100km) city/highway/combined.
CVT Transmission
The Forte's powerplant can be paired with a standard 6-speed manual or an all-new available Intelligent Variable Transmission (IVT) built in-house — or CVT, as we know it.
Here's the thing: not everyone is a fan of the continuous variable transmission (CVT). But as more and more new vehicles begin implementing this gearless setup compared to the traditional trannys we're familiar with, perhaps it's best we get used to it. (Here's a good CVT Pros & Cons feature at Carfax.com).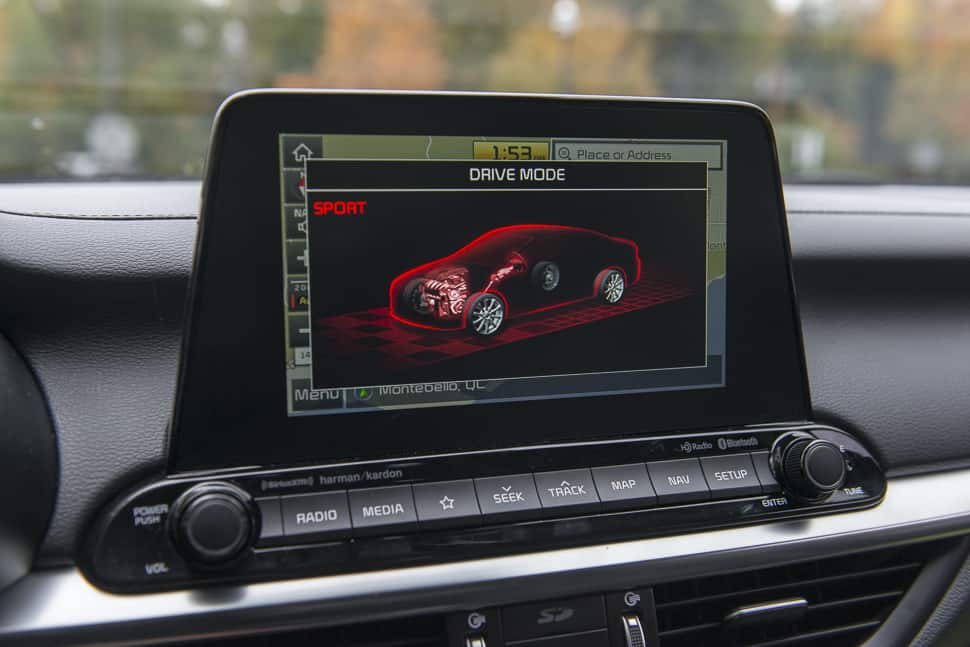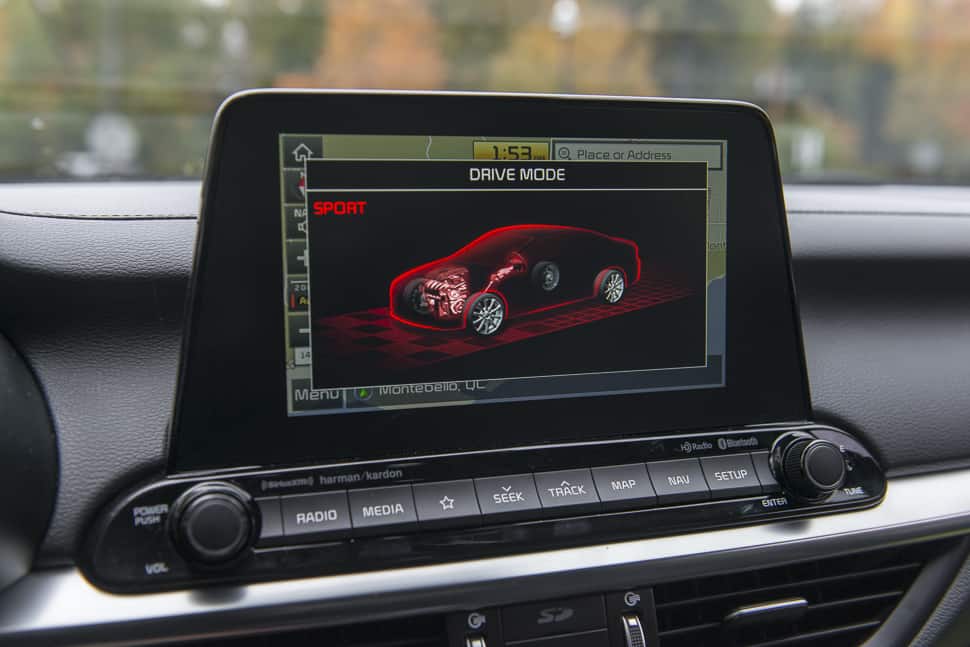 While the Forte is the first in its class to include the transmission using an adaptive style shift logic with a chain-type belt instead of push belt, they held off until engineers could research issues often associated with CVTs before applying their findings in the application used in the Forte.
During our drive, we didn't really notice the rubber-band-like feel often associated with CVTs; nor was it loud as is usually the case. The Forte provided smooth and linear acceleration when needed. And for a compact sedan, that's all we could really ask for here.
2019 Kia Forte EX:
Interior Impressions
Our top trim EX Limited's cabin felt more premium sedan than affordable compact, but at nearly C$30,000, maybe that's what you'd expect; with dynamic surfacing including soft touch materials in black trim for a more upscale feel.
Kia did a good job with the centre stack layout that's well-thought-out and clean; the two-level centre console tray is convenient; overall incorporating the Stinger's long, horizontal design giving the front cabin a wider feel.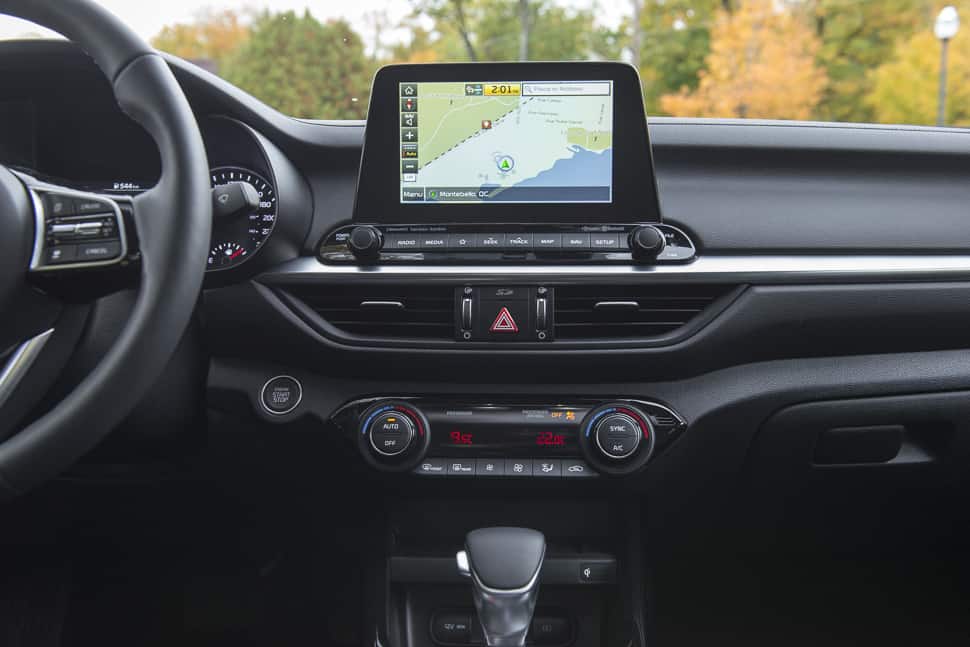 More Space: Increased Dimensions
The truck space is huge. We fit a few medium size pieces of luggage back there with considerable space to spare. This is all due to the 2019 Forte length increasing by 3.2 inches (80mm) to 182.7 inches(4,640mm). Kia claims the new Forte garners the most cargo space in its class – we believe them. The cabin expands as well offering increased passenger legroom.
New Tech
You can't have a new car, let alone a compact sedan for the under 35-year old crowd, without new technology, where features like Apple CarPlay and Android Auto have risen up the list of must-haves for younger buyers, both of which are standard here working with the 8-inch floating display.
Both a smartphone charging tray to do away with wires and a 320-watt premium sound system developed with Harman/Kardon are optional.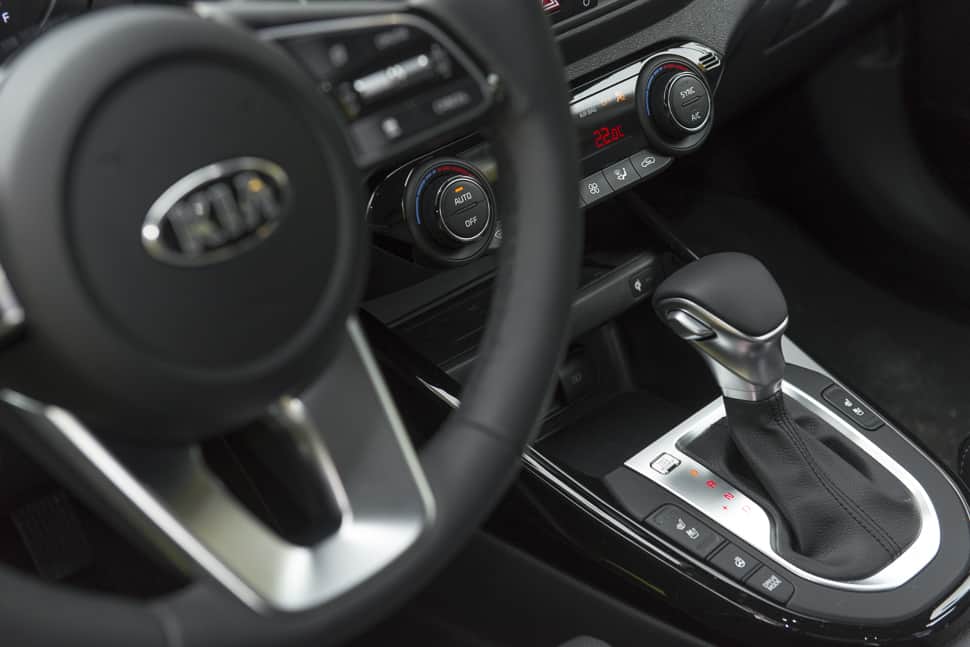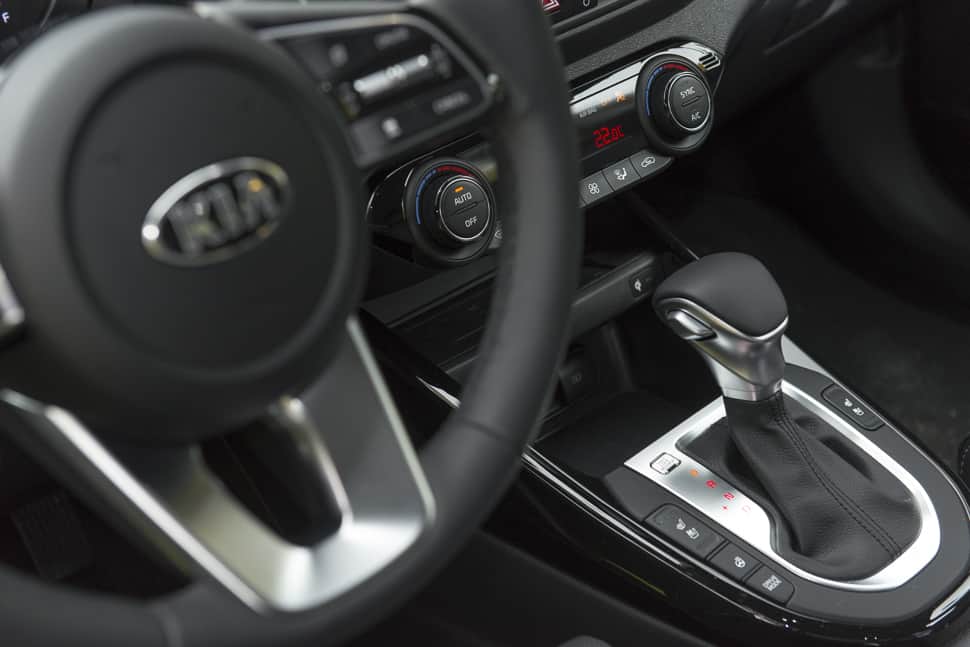 Exterior Redesign: Thank the Stinger, again
Compared to the competition, including main contenders Toyota Corolla and Honda Civic, the 2019 Forte is arguably the best looking of the bunch with its tiger nose grill paired to 4 LED headlights and X-shaped LED DRLs.
Toyota's new Corolla both in sedan and hatchback form looks sportier than ever, and who knows what Honda designers were smoking because the new Civic is ugly as hell, with a weird rear-end design only a mother could love (and the Civic Type R? What a shame, man. Really).
The Stinger's influence including the separate turn signal indicators mounted near newly designed air curtains are clear. But others things like the black lower valance and muscular shoulderlines lend the Forte bolder look without looking too gaudy.
2019 Forte New Colours
Here are the 7 different colours schemes available – named in your typical automaker fashion (not just white but Snow White Pearl..!)
Radiant Red
Urban Grey
Snow White Pearl
Ultra Silver
Aurora Black
Hyper Blue
Gravity Grey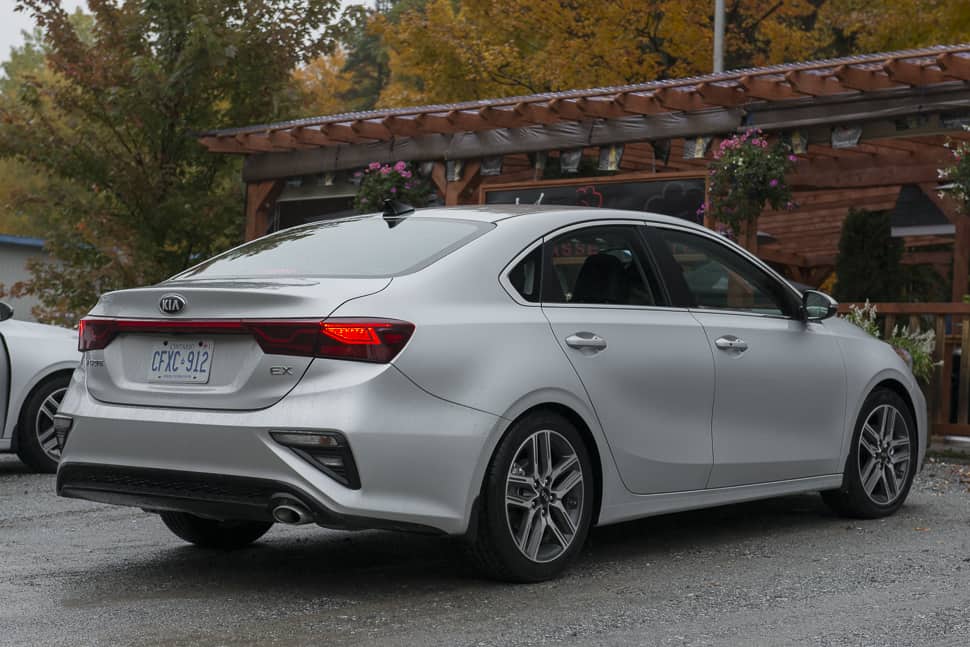 Takeaway
Sedans in general may be losing ground to small crossovers. But compact cars, from 4-doors to hatcbacks, are still going strong for younger shoppers getting into the car ownership game.
Kia's new Rio hatchback (reviewed here) is a great option; but for something a bit larger, the 2019 Forte is narrowing the gap with the likes of the Corolla and Civic, providing more cargo space, increased interior legroom, a refined CVT transmission along with a stick-shift option, and handsome Stinger-inspired looks.
If shoppers reluctant or unsure of the Kia brand gave it a chance, they might be pleasantly surprised. Especially the younger buyers with this new 2019 Forte.
What others are saying about the new Forte:
> The 2019 Kia Forte behaved like a pro during this first drive. The stiffness of the chassis, the sporty-ish steering, the firm-ish suspension and even the performance of the IVT all came down in the plus side of the ledger. – Auto123
> Curiously, at a time when all crossovers are beginning to look like the same, inoffensive blob, compact cars keep challenging our tastes with weird grilles, profiles, and interiors, but the Kia Forte seems to be one of the few designs that draws universal praise from all quarters. – AutoTrader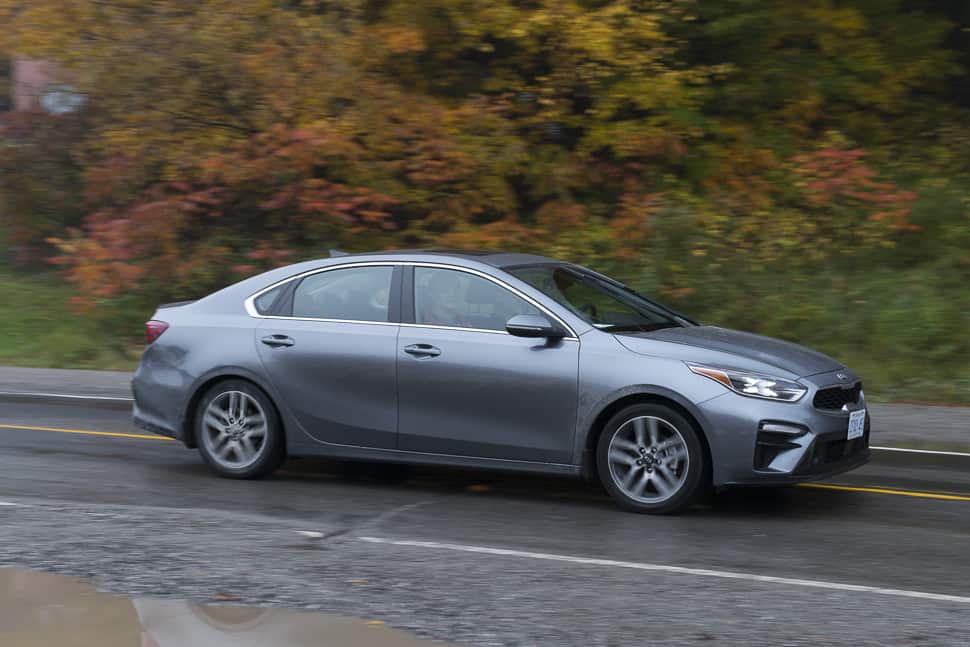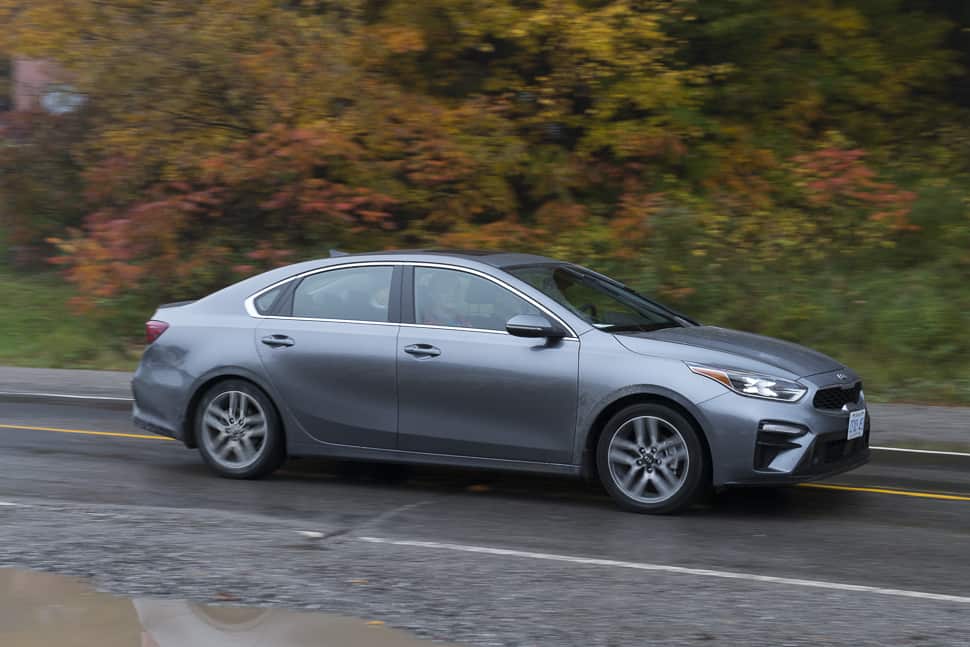 2019 Kia Forte Price
The entry-level Forte FE in the US starts at US$17,690 and C16,495 for the LX with manual transmission in Canada; topping out at US$21,990 for the EX and C$28,065 for the EX Limited, as tested here.
For full trims and all pricing visit Forte USA | Forte Canada