Sporting wider and more aggressive styling, Kia's subcompact Rio 5-door hatchback is all-new for 2018, helping elevate the segment's incentives for new car buyers.
Quebec City, QC – Gone are the days of the the uninspiring, poorly designed, my-Dad-made-me-drive-this small car. Today's era of subcompacts — with the likes of the Hyundai Accent, Honda Fit, Toyota Yaris, Nissan Micra and others — have stepped up their game on every level, from sleeker styling and better driving dynamics to nicer cabins with more features and additional cargo space.
And in the world of new cars, perhaps no other segment has seen such drastic improvements over the past twenty-years or so than underrated subcompact. The incentives and features are growing, the gap between these and the slightly larger compact cars is shrinking, and best of all? The price points remain reasonable and within reach for most young students, urbanites, and first-time car buyers getting into the daunting world of vehicle ownership.
2017 vs 2018 Kia Rio: What's new
Entering 2018, the fourth-generation Rio is completely new, available in a sedan or 5-door iteration. It gets a sportier look, a spacious cabin, and better driving dynamics thanks to a wider, lower body coupled with a longer wheelbase versus the outgoing 2017 version. More technology finds its way into the cabin via Apple CarPlay and Android Auto (standard on EX models), an all-new telematics system (UVO Intelligence), and an updated floating tablet-style head unit. Power remains the same with the 1.6L, 130-hp engine carried over from last year.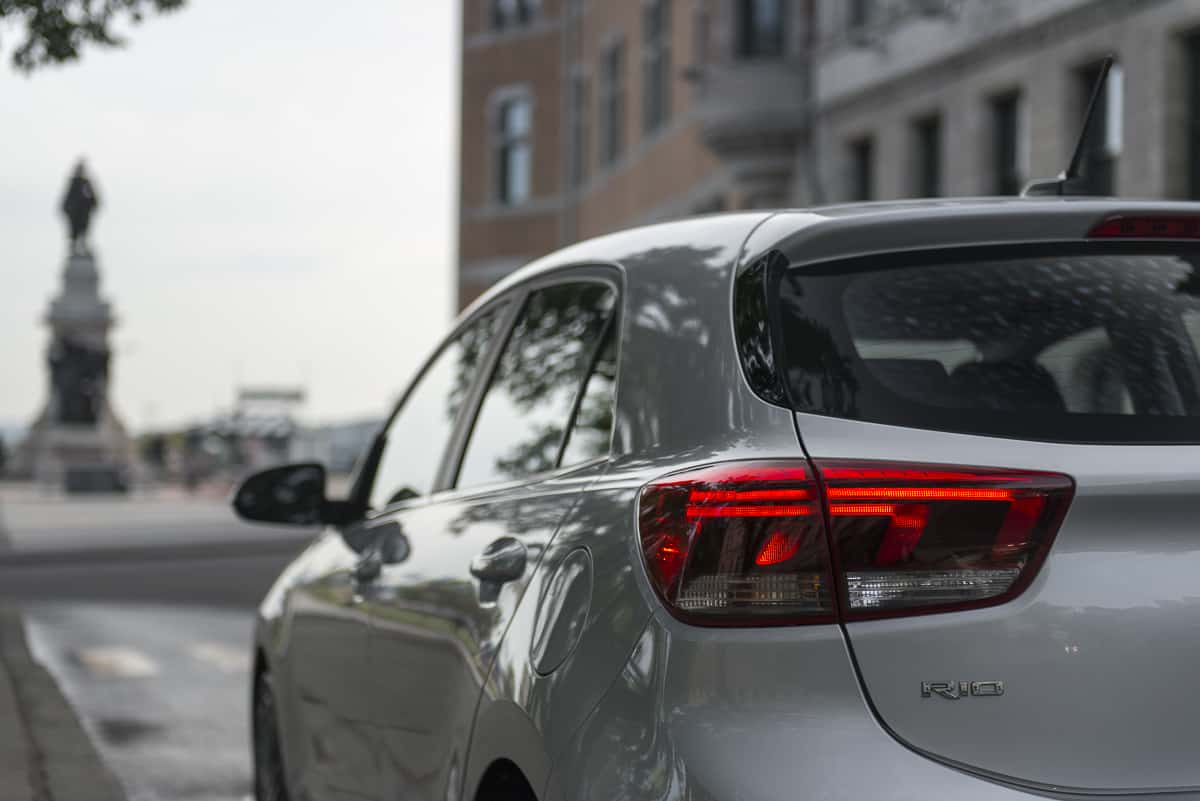 Interior Impressions
Inside, Kia paid extra attention to the smaller details and incorporated softer plastics throughout for a little more premium feel, opposed to the harder, cheap finishing found in other small cars. The door panels are a one-piece design reducing noise and clutter, and at the centre stack all the controls are placed above the shifter so everything is within reach, while the cavity below with a USB and 12-volt outlet offers ample storage space including a second mini-self to hold phones, wallets, and small items. The only gripe is not having a retractable cover or compartment to hide the devices from plain site (everything is exposed), especially when they're plugged in and you're not inclined to disconnect them when stepping out for a bit (the centre armrest storage with lid doesn't have a USB port). Not a deal breaker, but still.
Floating Head Unit
Popular these days, from subcompact and compacts to luxury vehicles, is the floating-style head unit and screen, for what it's worth, looks like a tablet duct taped to the dash. The new 2018 Rio gets the same treatment but the styling isn't invasive; the head unit design is clean and squared-off (opposed to round and bubbly as in some competing products – but hey, it's a personal preference).
Cabin Space and Updated Seats
The new cabin is overall more spacious. Aside from its wider, longer dimensions for 2018 which creates all this extra real estate, upfront the lower dash and elevated panels (i.e. glove compartment area) has been raised considerably, offering more legroom and knee space for today's young buyers who, for some reason, are getting taller and taller.
The new, 2nd-generation seats in the all-new Rio are now lighter, slimmer and produced from higher quality steel. But the bigger deal here are the heated seats for the cold months: they're now controlled via an electronic control module so heat levels automatically lower based on time duration (preventing overheating of the system and seat material — yes, it's possible to have seats that overheat. From experience, it's usually in these smaller vehicles and compact crossovers).
Black cloth comes standard on the LX and EX trims, with black leather on the higher-level EX Tech.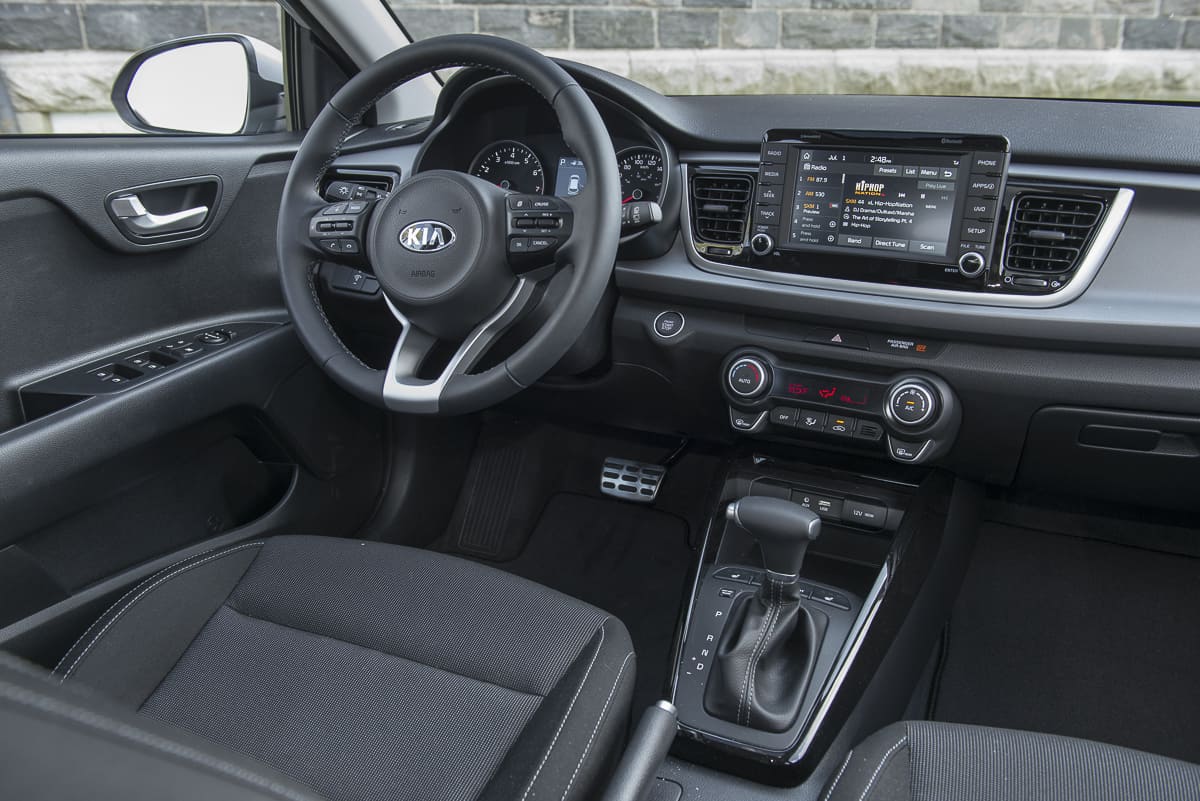 Cargo Friendly
Collectively as a society, we're all accumulating more and more crap. And young buyers in particular, are no exception. Some of it is legit (sporting gear), some not so much (hoarding). Nevertheless, you can't go wrong with extra cargo space to haul all of this around, and the Rio in its 5-door version has stepped it up. The hatch opening is both wider and heightened while the luggage tray depth also increases. There's also a convenient cargo privacy cover to conceal everything when the hatch is closed.
UVO Intelligence
: App/Web-based remote services
We're beginning to see Apple CarPlay and Android Auto make its way into new vehicles — within a couple years, we're pretty sure this will be a must-have as we continue to rely on our devices, eliminating the need for expensive and usually archaic nav/infotainment systems.
But the next step is automakers introducing their own app-based and web-based remote, telematic systems that deal with the long-distance transmission of computerized information. Ford recently introduced FordPass, and now Kia unveils UVO Intelligence — a first for the automaker with the all-new Rio being the first vehicle in the family to offer it.
It's an embedded modem inside car head unit, eliminating the need for a phone, offering a full suite of remote services that tap into the Rio's brain. From remotely starting your car to activating the heated steering wheel — all from an app or a browser. Mechanical advantages include monthly vehicle health reports to help troubleshoot any internal issues.
But there will be cost. Fortunately, UVO Intelligence is free for the first 5-years right now.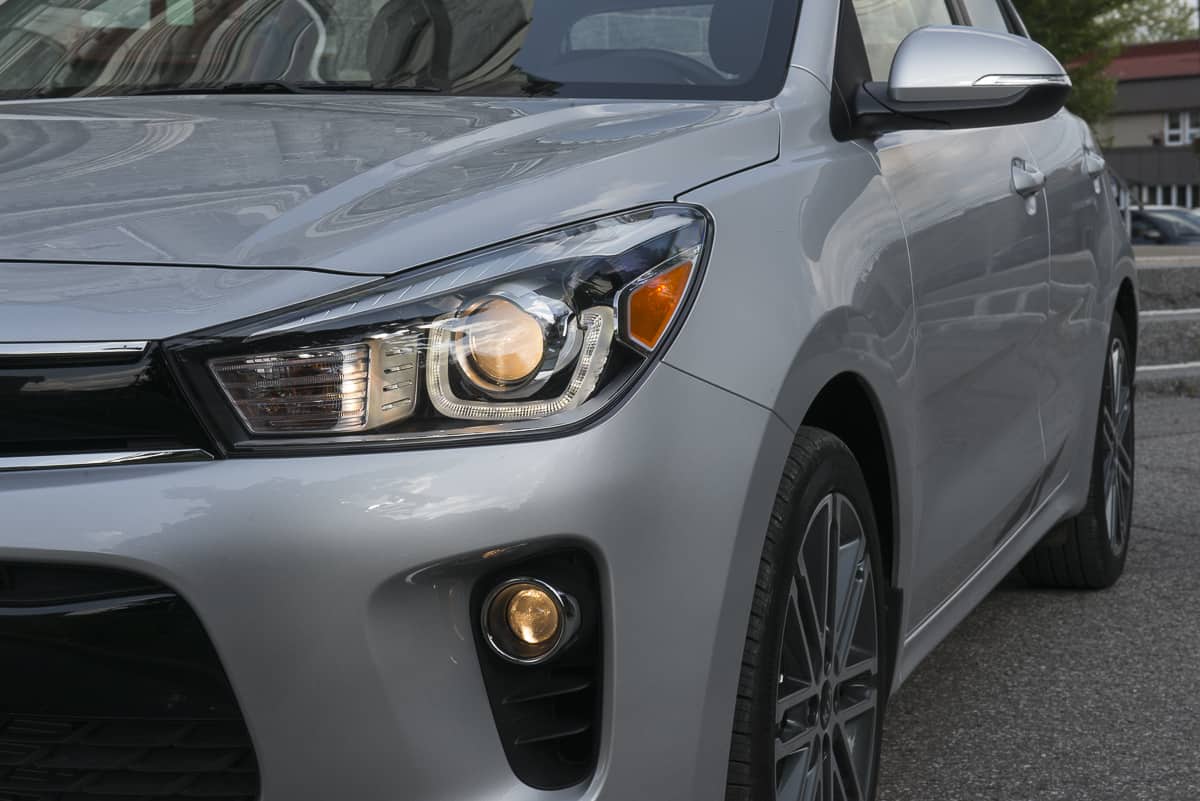 2018 Rio Power, Performance, and Saftey
The 2018 Rio is powered by the same engine from last year: a 1.6L making 130-hp and 119 lb.-ft of torque paired to either a 6-speed manual or 6-speed automatic transmission. However, it's been retuned to improve low-to-mid range acceleration. These power numbers aren't huge, nor should they be, but are on par with the other two leaders in the segment: the Honda Fit and Hyundai Accent.
2018 Rio Power versus the competition
Here's how the new Rio stacks up against the competitors, ranked in terms of horsepower:
Vehicle

:

Horsepower (Torque lb.-ft.)

Kia Rio

130 (119)

Hyundai Accent

130 (118)

Honda Fit

130 (114)

Chevy Sonic

125 (125)

Ford Fiesta

120 (112)

Nissan Versa Note

109 (107)

Nissan Micra

107 (107)

Toyota Yaris

106 (103)

Chevy Spark

98 (94)

Fiat 500

98 (98)

Mitsubishi Mirage

74 (74)
Safety Features: New Braking System
As you'd expect, the new Rio comes with a whole new group of safety features — from an improved, more high-strength body to the new Autonomous Emergency Braking (AEB): a new braking system that activates the brakes when it detects dangerous, sudden braking by the car ahead; when traveling between 8 and 80 km/h, the new Rio will come to a complete stop. However, the AEB is only available on the EX Tech trim.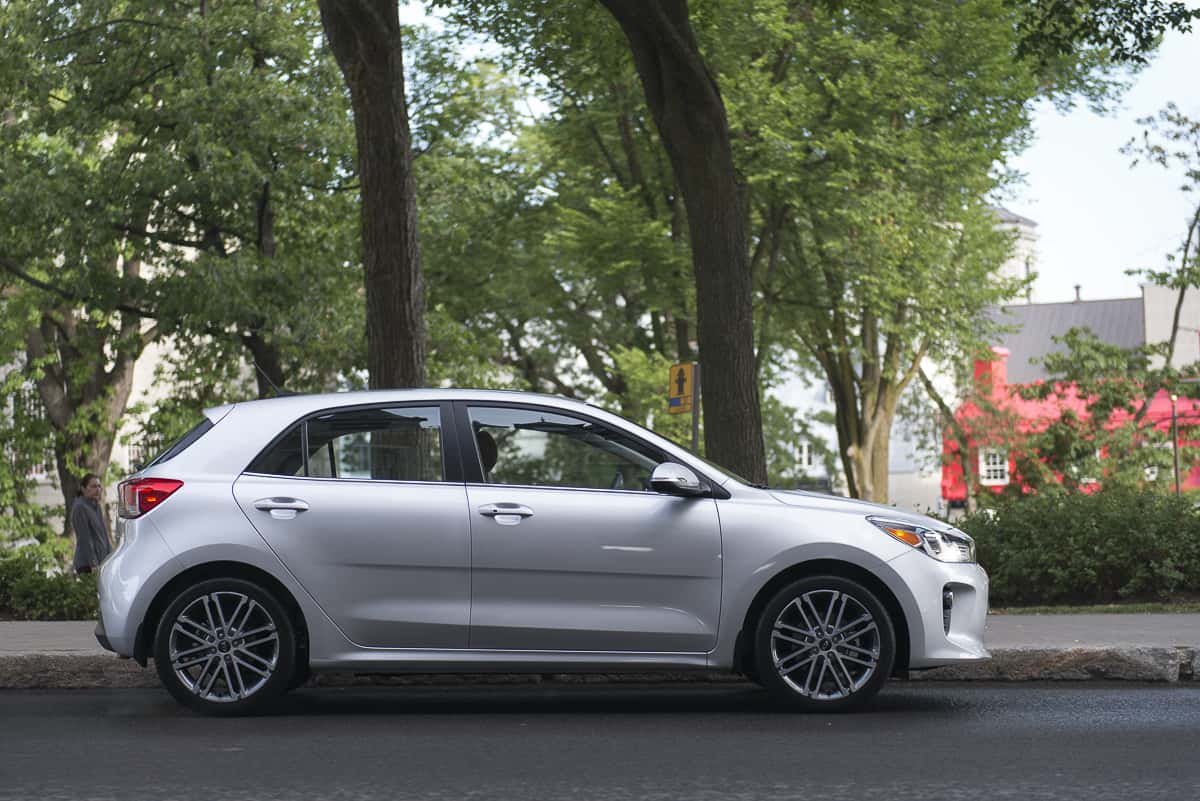 Exterior Styling
Kia certainly isn't slacking when it comes to its exterior styling, thanks almost entirely to Mr. Peter Schreyer (former Audi design head), bringing home countless design awards in recent years.
Redesigned with some heavy European flair, the Rio's new look is streamlined yet beefy and sculpted. Styling is always a personal preference but there's no doubt this hatchback has some serious curb appeal, and frankly, so do many others in this class. But this 5-door sits lower than most of them, and with its new wider, longer stance, definitely sports a more aerodynamic presence which separates it from the pack.
The front treatment still finds the Kia tiger nose grill, flanked by small projection fog lamps, U-shaped LED daytime running lights, and long stylish LED signal repeaters on the side mirrors (all three on the EX models). The rear treatment includes a standard rear spoiler on this 5-door only, and a standard rearview camera; a step up from the entry-level, the Rio EX trim rear styling includes a chrome beltline running front to back across the windows, and LED lightbar taillights (EX Sport).
Wheel Choices and Colours
The standard offering is 15-inch steel wheels with covers while options include the 15-inch alloy rims on the EX, and larger machine-finished 17-inch sport alloys on the EX Sport and EX Tech. Six different paint colours offer a lot of metallic this year, including a new Ice Blue for 2018.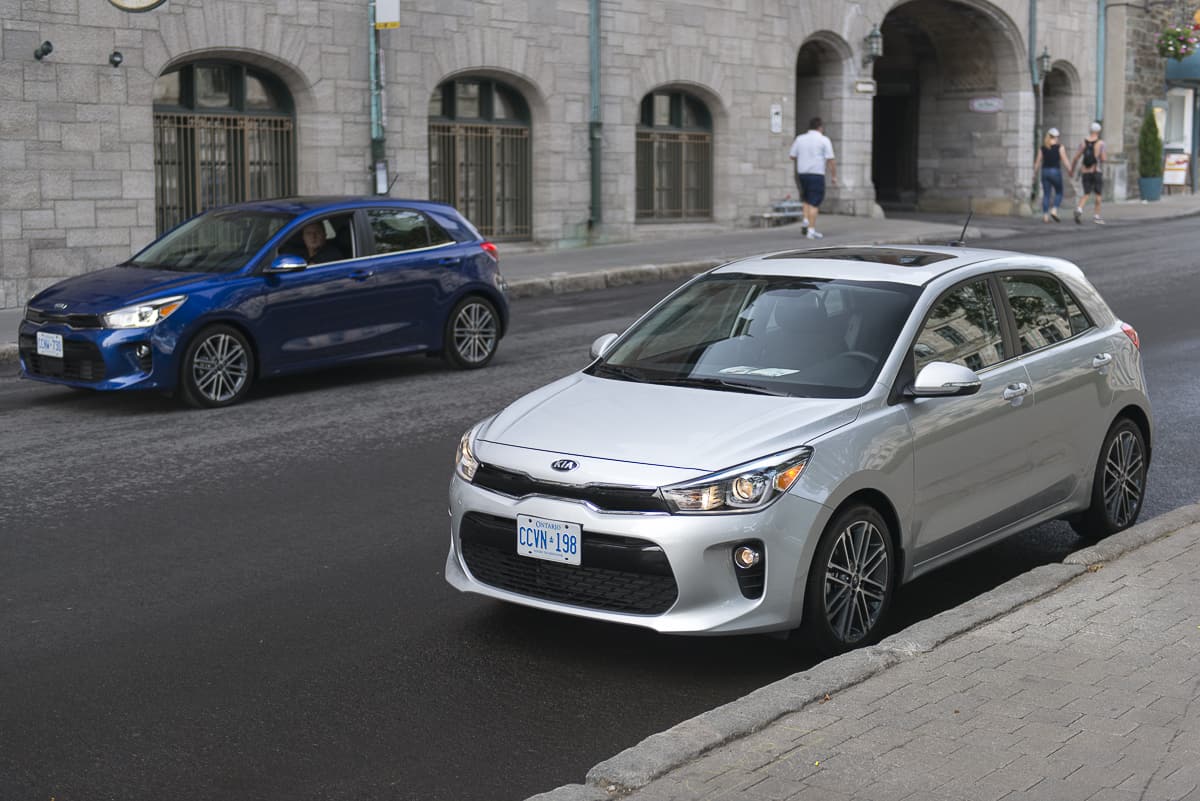 2018 Kia Rio Price and Trims (CAD)
Here's a breakdown of the available Rio trims and pricing, including some standard features for the entry-level LX. The car went on sale this summer, with the 5-door hatch on sale now and the Rio sedan arriving to dealerships in the coming months.
LX with manual transmission – $14,995 CAD
Some notable standard features include:

Heated front seats

Heated, leather steering wheel

Leather shift knob

Keyless entry

Power locks, windows

60/40 folding rear seats

5-inch display audio with Bluetooth (New for 2018)
LX+ – $16,595 with manual
LX+ – $17,995 with automatic
EX – $20,945
EX Sport – $22,045
EX Tech – $23,745
Learn more – 2018 Kia Rio 5-door Hatchback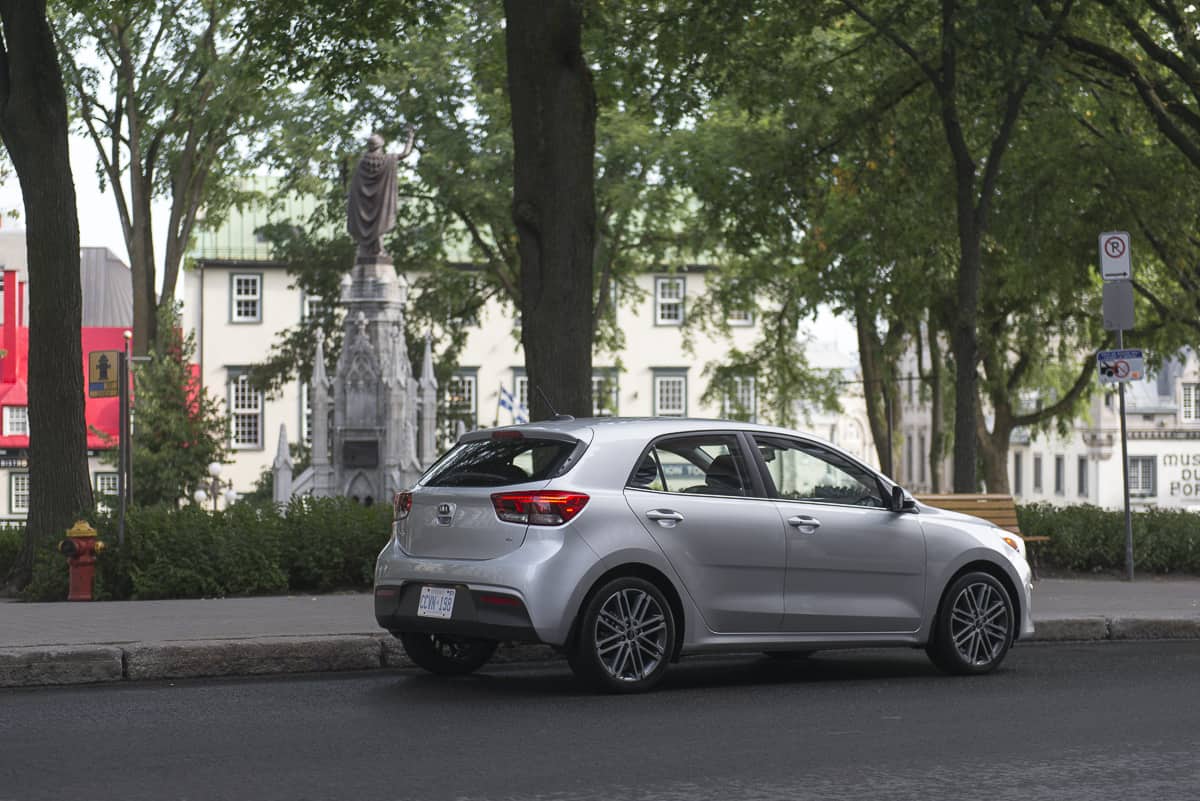 2018 Kia Rio Hatchback Gallery: