A spacious cabin and elegant exterior but no Buick Enclave redesign since 2008 means it's time for a redesign
Amongst General Motors all-new 2015 lineup of granite-chiseled luxury sport utilities, the full-size Buick Enclave SUV is a lone, luxury misfit defying the more sculpted redesign of its elder siblings. The Cadillac Escalade and GMC Tahoe, to name a couple, will undoubtably have their fans (author included), while the Buick Enclave continues to pave a path of more curvaceous, refined styling. And according to Buick, the Enclave continues to outsell its rivals including the Lincoln MKT, Volvo XC90 and Infiniti QX60. It's good to be a loner.
But eight years since the Enclave was introduced with only a facelift in 2013, it might be time for a proper overhaul, which would likely include the GMC Acadia and Chevy Traverse with whom the Enclave shares its current platform. Why change what ain't broken? Because in today's hyper-fast world where consumer behaviour and fads change quicker than a Kardashian outfit, automakers need to keep up — further yet, predict the future and blindly aim for that. Vehicles like the 2014 Forester or 2015 Ford Edge for instance both find new platforms and significant changes despite continued success and sales growth. Consumers demand more these days and automakers must keep up, whether they realize it or not.
For 2015, the Buick Enclave finds a few changes including new exterior colours, an interior colour, and a heated wood steering wheel. This year the Enclave is offered in two trim levels: Leather (1SL) and Premium (1SN). All-wheel drive is available on Leather and standard on Premium, and all models are powered by a direct-injected 3.6L V-6 that delivers a fuel efficiency rating of 9.9 L/100km on the highway (FWD model). On the road, visibility is great — my wife could see over the front hood easily and no blind spots.
Inside, the 2015 Enclave cabin feels open yet warm with wood tones throughout and Dark Plum interior in my model, a new colour this year. The navigation and controls are well laid out and everything is within reach with exception to the buttons below in front of the gear lever, though these are not used as often (towing, etc.). Seating is plush and comfortable and the armrest storage has several little compartments making good use of the more narrow space. Driver front and centre, the instrument panel is fairly basic and while the heated wood steering wheel is new for 2015, our model only heated the leather portion and not the actual wood above and below where many grip their hands. Also, no push start button in a luxury SUV? So I need to actually insert my key in ignition now? Come on.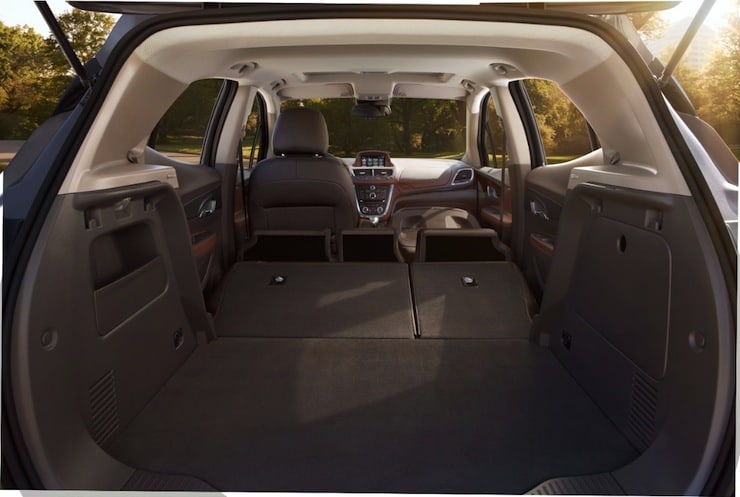 In the back, passengers have little to complain about. The second-row finds deep, accessible cup holders and adjustable sliding seats — both great if you've got kids. Third-row is comfortable enough even for longer trips with cup holders and vents to boot. No power folding seats though. The trunk offers ample cargo space and the under-floor hidden storage compartment is always a plus and big enough to store smaller bags like a carry-on. The rear fixed skylight and dual sliding sunshades open up the space in the large Enclave.
---
You'll like this car if … You're looking for luxury full-size for seven-passengers at a reasonable price-point.
TECH SPECS
Base price: $49,510
Engine: 3.6L V6
Transmission: 6-speed FWD/AWD automatic
Fuel Economy (litres/100 km – FWD): 14.2 city / 9.9 highway. (litres/100 km – AWD): 14.6 city / 10.2 highway
Alternatives: Lincoln MKT, Volvo XC90, Infiniti QX60, Acura MDX, Cadillac Escalade, Lexus GX570
RATINGS
Looks: On the elegant side; less sculpted than its Escalade and Yukon siblings
Interior: Very spacious; second and third-row plenty of space and features
Performance: 3.6L V6 does the trick for this larger utility vehicle, and no blind spots
Technology: All the technology you'd expect, including the OnStar RemoteLink7 mobile app lets you lock your Enclave's doors, sound the horn, and check your fuel levels from your smartphone.
Cargo: Plenty of rear space; no power folding seats but hidden under-floor storage in trunk is convenient