Well, the wait is finally over for Ford's reimagined SUV following a 25 year hiatus, with the 4-door Bronco Sport model out the gate first at dealerships now. And while the range-topping Badlands trim serves as the off-roading flavour with its bigger engine and advanced 4×4, it's this compact hauler's Sport-mode performance and exceptionally well-handling features that really stand out — taking the fun from unpaved terrain to the open roads.
It does feel like forever, though, since we first knew about a possible new Bronco. Back in 2016, I recall pressing Ford's SUV product manager about it at a press junket. Then again a year later. Then, likely again and again.
From this awesome, retro-inspired Bronco concept courtesy of the folks at the fan site bronco6g.com, to the more recent and stripped-down Bronco R Race Prototype which didn't shed too much light, to be honest, the rumours and one-off renderings continued to swirl.
Again, the wait is now over for the Bronco Sport (with some delays due to the health crisis for the rugged Sasquatch version with the 7-speed manual). But we're sure Ford is relieved. As they should be, producing a well-designed and capable machine at an attainable price point, offered in enough versions to make most buyers happy.
First, a quick look at the 2021 Bronco model range
2-door & 4-door Broncos
Ford will offer 2- and 4-door Broncos, including the 2021 Bronco Sport now available across North America. The 2-door will hit dealerships later this year. Here's a closer look at all the Bronco trims and pricing across the US and Canada.
The look of the new 2-door taps into the enduring popularity of in particular the first generation, which ran from 1965-77. Here's our piece on the 2-door Bronco.
Bronco Sport with 4 diverse trims
The smaller Bronco Sport splits from the pack with rugged looks, cargo & off-road tech. It's built on the new Ford Escape platform, but the similarities end there; while they share the same platform, the Bronco's architecture is completely different.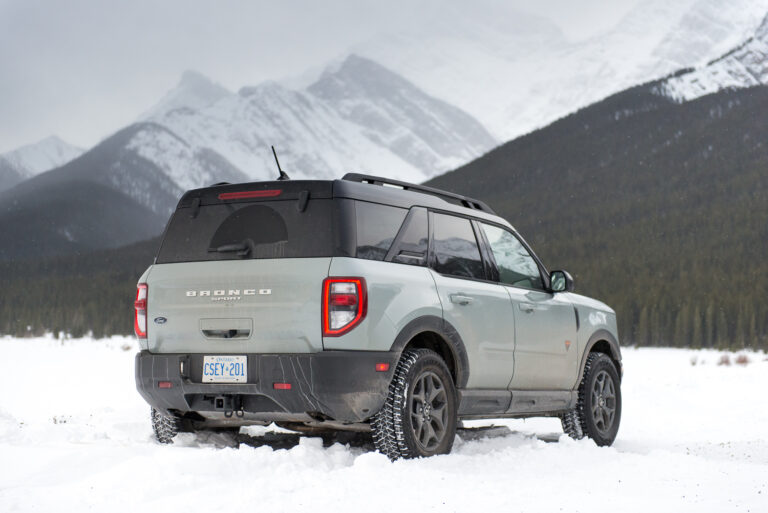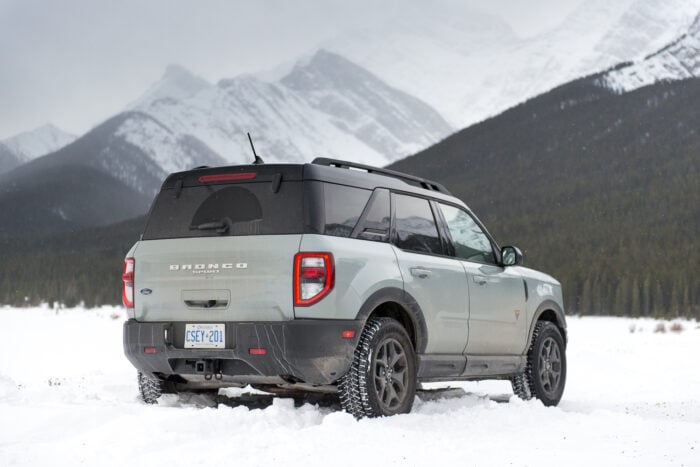 So, no, the Bronco Sport is not a glorified Escape (and we're sure many are thinking this).
Here are the 4 Bronco Sport trim levels available:
Base: entry-level model with the 1.5L EcoBoost engine
Big Bend: more adventure-ready with 17-inch wheels, rubberized floors, and easy-to-clean cloth seats
Outer Banks: focus on refinement with leather-trimmed interior, more comfort, and stylish exterior
Badlands: designed for rugged terrain with the 2.0L EcoBoost engine, advanced 4×4, G.O.A.T modes, 28.5-inch tires, metal bash plates, and more.
US customers also had first dibs at the Bronco Sport First Edition — a pricier limited-run series rolled-out early to get the Bronco base hyped up.
2021 Bronco Sport Badlands Interior
Inside, the Bronco Sport definitely feels compact, so don't expect your uncle's massive 1996 Bronco cabin here. This is a subcompact crossover SUV, after all, and Ford has done a good job making the Badlands functional and cozy.
Particularly, by fusing utility with premium features like the leather and velour seats with the embossed Bronco logo, coupled with hard plastic and soft touch material on the doors making them easier to clean.
Up front and below the touchscreen sits a handy little ledge to store small stuff like ski passes, ID cards, or a phone. Below the HVAC controls is another cavity with a USB port and wireless phone charger.
The glove box is deep while the centre armrest storage is no-frills and void of those fancy trays and dividers, though does offer a couple ports to plug in your electronics.
In the cockpit, the leather-wrapped steering wheel feels good in the hands and the seats are super comfortable. Those heated front seats lit up lightning quick, too. Not sure that's by design or a malfunction, but during our cold weather testing, this was definitely a nice-to-have.
Rear passengers gain spacious headroom thanks to the Bronco Sport's raised roofline. Legroom is limited, however. A cool feature in the second-row are the large, zippered pockets on the front seat backs, offering a handy spot to store maps (if you're still using tangible maps) or a small tablet (Google Maps?).
Below these zippered pockets sits a Molle strap system: those surprisingly useful elastic band things you can attach objects to. This feature is also available on the second-level Big Bend.
The rear cargo area is clearly designed for utility with its rubberized and easy-to-clean surfaces (including clip-on rubber mats on the seat backs), a small light on the righthand side, 2 tie-down hooks per side, 12V and AC110 (400W max). And, of course, a bottle opener.
Badlands interior standards and options
This top-trim adds a long list of standard features, while the Badlands Package ramps things up inside.
Some notable standards in the Bronco Sport Badlands include the 6.5-inch LCD instrument panel, rubberized flooring and cargo floor, steering wheel with the Bronco logo and controls, the zippered pockets with Molle strap system, and velour seat treatment front and back with the embossed bucking bronco.
Badlands Package
Adding the Badlands Package (an extra C$3,000 in this tester) levels-up the interior with the following:
Front Row – Leather Seats
6-way Power Passenger (Fore/Aft, Up/Down,Recline)
4-way Manually Adjustable Head Restraint
Driver and Front-Passenger
B&O Sound System by Bang & Olufsen, 10- Speakers and Subwoofer
Door Handles – Body Colour
Dual-Zone Electronic Automatic Temperature Control (DEATC)
HD Radio
Power Moonroof
Reverse Sensing System
Steering Wheel – Heated and Leather-Wrapped
Wireless Charging Pad
Bronco Sport Power and performance:
2.0L turbocharged engine for the brawny Badlands
Whereas the Base, Big Bend, and Outer Banks find a 1.5L EcoBoost engine, Ford planted a burlier 2.0L turbocharged EcoBoost in the Badlands, good for 245-hp and 275 lb.-ft. of torque, geared more for high-speed off-road performance.
There's no V8 option (yet), but Texas-based Hennessey Performance can transform your Bronco into a 750-hp, V8-powered VelociRaptor for $225,000.
The Badlands' powerplant offers the most power in its class, according to Ford, equipped with a cooling system with additional transmission and rear-drive coolers keeping the 2.0L engine running strong over rough terrain.
Here's a quick engine comparison:
| | | |
| --- | --- | --- |
| | Horsepower | Torque |
| 2.0L EcoBoost (Badlands) | 245 horsepower | 275 lb.-ft. of torque |
| 1.5L EcoBoost (all other trims) | 181 horsepower | 190 lb.-ft. of torque |
All Bronco Sports gets an 8-speed automatic transmission but the Badlands steps it up with steering wheel-mounted paddle shifters (dubbed SelectShift) to help drivers maximize control both on- and off-road.
As mentioned earlier, Ford is offering a welcomed 7-speed manual stick shift option with the high-performance off-road Sasquatch Package, arriving a little later than expected this year.
Off-road performance: advanced 4×4, 7 drive modes, all-terrain tires
My son and I hit a local off-road playground to put the Bronco Sport Badlands to the test. Unfortunately, the site was closed for the season and only open to ATVs. Nevertheless, this rig is definitely equipped to go off-the-grid with an agile off-road architecture and optimized suspension for better control in all environments.
(Besides, Ford tested the Bronco Sport in extreme conditions, including the Johnson Valley desert in California, as part of Built Wild Extreme Durability Testing…so we'll take their word for it.)
Not found in the lower trims nor with its competitors, the Badlands gains advanced 4×4 with twin-clutch rear-drive unit as standard, with a differential lock feature to allow greater off-road performance by diverting nearly all rear axle torque to either wheel.
G.O.A.T. Drive Modes
This all works in conjunctions to 7 different drive modes in a system Ford calls G.O.A.T. (Goes Over Any Type of Terrain). Modes include Normal, ECO, Sport, Slippery, Mud/Ruts, Sand, and Rock Crawl.
Unlike the one-step down Outer Banks riding on 18-inch wheels with all-season tires, the Badlands finds smaller but performance-oriented 17-inch grey-painted aluminum wheels wrapped in burlier 28.5-inch all-terrain tires, with a full-size spare.
Few other off-road features of note include front tow hooks, Trail Control, metal bush plates, and roof rails.
Sport Mode: going beyond the rugged terrain
Upon picking up this tester, the first thing my friend Neal Hare at Universal Ford in Calgary said was, "make sure you put it in Sport mode."
Sure, I thought, every drive mode-equipped vehicle today has a sport mode that stiffens the suspension and tweaks the driving dynamics a bit for a more spirited drive. With the Bronco Sport Badlands it was a bit different.
The Sport's compact frame lends to a surprisingly fun and nimble vehicle to drive on the highway, making it easy to pass vehicles when needed, taking corners at higher speeds, and accessing that responsive turbo with more than enough horses.
This makes 2.0L-powered Bronco Sport a more compelling option for those who value performance and handling, capable of traversing mountains and trekking through the bush while offering abundant turbo and torque with a sporty suspension for more enlivened everyday driving.
Styling
In terms of looks, Ford leaned on the more boxy side of things, and that suits us just fine. The Bronco Sport pulls off a look that's conventional enough for the masses yet can still retain a rugged design courtesy of the Badlands and Big Bend models.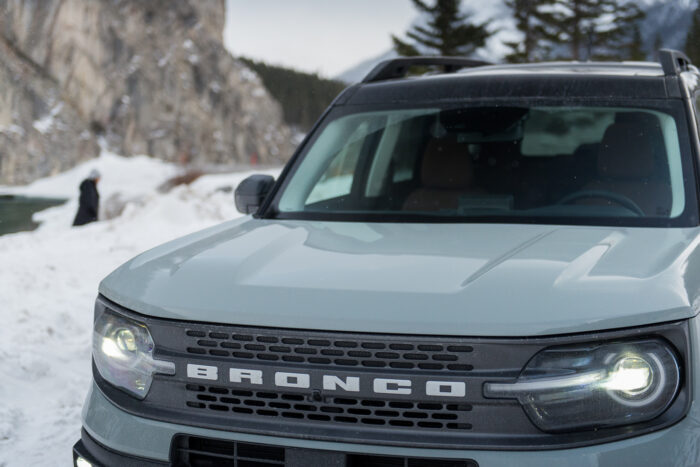 Aftermarket companies wasted no time with accessories. Check out these 5 accessorized Broncos for some inspiration.
Badlands standard exterior features:
Active grille shutters
Auto high beams
Daytime running lights
Fog lamps and FRT tow hooks
Keyless entry keypad
LED headlamps
LED taillamps
Liftgate with flip-up glass
Heated mirrors
Rear privacy glass
Rain sensing wipers
Roof rails
This model came in the muted Cactus Grey which looked great, especially with the contrasting yellow Badlands emblem by the front wheel on either side. All exterior colours include:
Alto Blue Metallic Tinted Clearcoat
Area 51
Cactus Grey
Carbonized Grey
Cyber Orange Metallic Tri-Coat
Iconic Silver
Kodiak Brown
Oxford White
Rapid Red Metallic Tinted Clearcoat
Shadow Black
Takeaway
There's no question Ford's Bronco reboot is catered to the masses, in hopes of big sales and success. Same could be said about the new Land Rover Defender. And while Bronco purists may cry foul, a good 25 year break should be enough to erase the mammoth, gas-guzzling model and that infamous white Bronco chase from our memories, while establishing a legion of new Bronco fans.
The Badlands serves as the top-level trim and really does separate it from the Bronco Sport pack with its 245-hp turbo engine, advanced 4×4, terrain management system with 7 drive modes, and other off-road goods and interior upgrades.
But even if a rock climbing subcompact SUV isn't a priority, the Badlands is a super-fun little hauler to drive on highways with Sport mode engaged. And that's really where this thing shines.
But even if a rock climbing Bronco 4-door isn't a priority, the Badlands' 245-hp turbo is worth the upgrade especially for those highway drives. And that's really where this thing shines.
Interior and exterior Bronco Sport Badlands pictures: