The Peugeot 2008DKR is Desert-Ready for 2015 Dakar Rally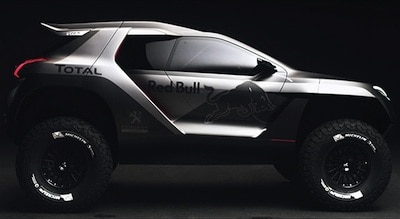 French car manufacturer Peugeot is ready to get down and dirty in the sand with their 2008 DKR, built specifically for the 2015 Dakar Rally. Peugeot won the grueling 15-day event every year from 1987 to 1990, but they have failed to recapture the glory since. Now, with the help of their sponsor Red Bull, the car maker is placing its bets on a design pulled from their showroom floor.
Also check out: Bentley Continental GT Rally Edition: A Dakar Inspired Off-Roader
The 2008DKR is based on the production model 2008, but it only has a passing resemblance after the addition of the racing teams demands. The wicked looking two wheel drive is going to be piloted by Carlos Sainz and Cyril Despres who are both respected Dakar veterans. The DKR was designed by Peugeot's Style Centre and Sport's Design Departments to handle a variety of terrain, especially the unforgiving sand the Dakar is known for. Carlos Sainz said about Peugeot: "I know that Peugeot Sport has the necessary know-how, technology and means to pull off what is a unique and stimulating challenge for everyone in the team"
As of now, there have been no releases as to the engine specs or the vital components of the Peugeot 2008DKR, so we will all wait with baited breath for the release of the specifics on this beast.